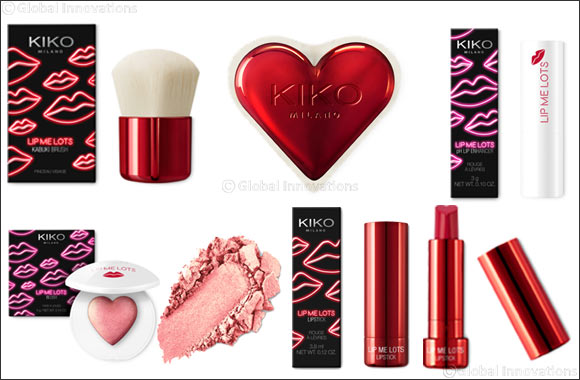 Limited Edition Valentine's Collection
Available from January in all KIKO stores and online.
Dubai, UAE, February 01, 2018: Made with love and for love, the new LIP ME LOTS collection by KIKO Milano aims straight for the heart. It's romantic, original and fun: an explosion of kisses!
With LIP ME LOTS, Valentine's Day makeup becomes irresistible: radiant complexion, defined gaze, kissable lips.
The collection includes products with which you'll fall desperately in love. Lips take centre stage with lipsticks in six different shades, which evoke the purity of emotions in the intensity of the colour, the uniqueness of the formula and ultimately the vivid packaging and heart-shaped tips. For lips, the collection also includes a pH reactive sheer lipstick for a unique and personalised colour, as well as a fun and original limited edition product for the eyes: a pen with a black eyeliner at one end for a defined and intense gaze, and a heart-shaped tip at the other for decorating the skin with romantic temporary tattoos.
For Valentine's Day, the complexion will appear young, fresh and radiant, thanks to the glowing effect on the cheeks provided by the collection's velvety blush and the points of light achieved with the highlighter. For applying powders, LIP ME LOTS includes an original brush with a heart-shaped handle and bristles. All the products in the collection can be kept in a fun and handy case.
For Valentine's Day, KIKO Milano presents essential must-have products that will steal your heart.
Find out more on the website. Kiko has dedicated an entire section to the lip me lots collection. There you can find out more about individual products with detailed product descriptions. It'll be love at first sight! KIKO will also be posting photos, videos, tips for applying the products and lots of other content on its social media channels.
Fall in love with beauty!