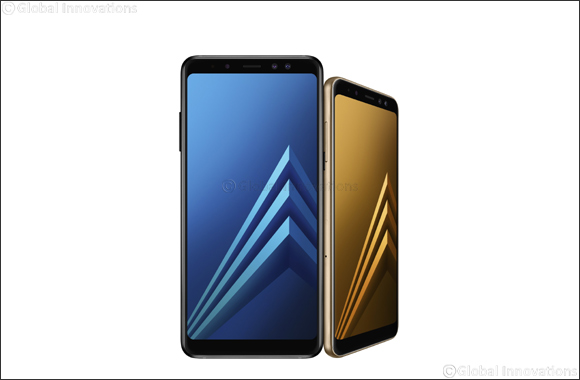 Dubai, UAE, January 24, 2018: The Galaxy A series has always been sleek and stylish – but with the Galaxy A8, Samsung adds industry-leading features and innovations to provide the ultimate mobile experience
All too often in the world of technology, we come to a crossroads between function and design, where we're forced to prioritize one while the other is compromised. Finding a device that perfectly blends style and taste with experience and performance can be difficult — but now, thanks to Samsung, the hunt for this ideal device is over.
The Samsung Galaxy A8 is the practical, stylish, and convenient smartphone that offers the ultimate mobile experience with industry-leading features and innovations only Samsung can provide. It enables you to capture the essence of who you truly are, adding Samsung's flagship design features to a classic smartphone series to ensure the convenience and usability Samsung customers value alongside the cutting-edge hardware and advanced functionality they have come to expect.
The Galaxy A8 is made with premium materials to create an eye-catching modern and sleek design that suits your personal style. Whether your taste is bold or classic you can take your pick of stylish colors on the Galaxy A8. And with its smooth curves and slim glass and metal frame creating an ergonomic grip, it's a beautiful phone that's comfortable to hold and use.
The Galaxy A8 also features Samsung's staple Infinity Display, enabling an expanded screen size without increasing the size of the phone. It allows you to enjoy an expansive and immersive viewing experience with a beautiful, large display that extends from side to side, offering a wide horizontal view to create a stunning cinematic experience when watching movies or playing games.
Epitomizing the practicality component and rounding out its functional design, the Samsung Galaxy A8 also features IP68 water and dust resistance, so it can withstand the elements wherever you go, making it suitable for nearly any activity or situation.
As for the experience factor, for the first time in the Galaxy A series, the Galaxy A8 features a 16MP+8MP F1.9 Dual Front Camera. Composed of two separate cameras that work in tandem to capture stunning photos, you can switch between the two to snap bright, clear selfies from crystal clear group photos to portrait shots with an impressive bokeh effect. The Galaxy A8 also features an advanced 16MP F1.7 rear camera with low-aperture lenses to capture high quality images in low-light conditions without compromising on quality, so you can capture every moment in stunning clarity and lifelike detail.
Beyond its advanced hardware features, the Samsung Galaxy A8 also provides a galaxy of software and services to suit your every need. From the Always On Display, which allows you to view information at a glance without unlocking your phone; to Samsung Pay, which enables you to leave your wallet at home and complete transactions quickly and easily from your phone — the Galaxy A8 brings you all the vital features of a premium smartphone in a practical and affordable device.
Style, practicality, and convenience are the cornerstones for the Samsung Galaxy A8, which seamlessly blends design with experience. Designed for users who aren't willing to compromise on style or function, the Galaxy A8 satisfies all your smartphone needs across the board.