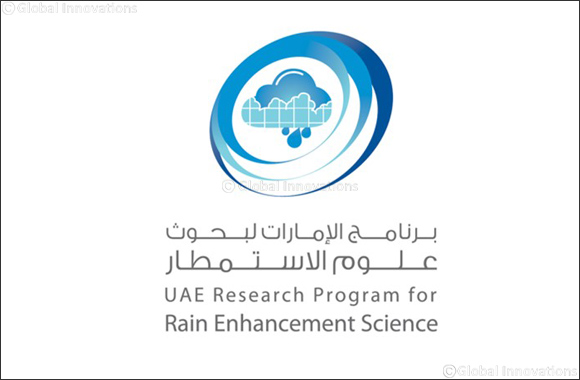 Three innovative projects seek to advance knowledge related toof rain and weather phenomena
Dubai, UAE, January 13, 2018: It is estimated that nearly three billion people around across the world globe are currently affected by water shortages. The dramatic scale of the challenge problem faced, which affects people living across all seven continents, is further illustratedunderscored by the fact that one out of every six people in the world today does not have regular access to clean drinking water.
Among As one of the many potential answers to this pressing sustainability challenge, the UAE has launched an initiative that stands out for its unique and innovative potential approach toin addressing the pressing challenges enhancing of water security.
The UAE Research Program for Rain Enhancement Science, launched under the patronage of His Highness Sheikh Mansour bin Zayed Al Nahyan, UAE Deputy Prime Minister and Minister of Presidential Affairs, offers a US $5 million program grant designed to encourage scientists and researchers to explore new horizons in developing rain enhancement science and technology.
Managed by the National Center of Meteorology (NCM), the Program seeks to advance rain enhancement research both locally and globally internationally by through fostering scientific and technological innovation and building the networking capacity needed for effective global research collaborations.
According to His Excellency Dr Abdulla Al Mandous, Director of the NCM, said: "As our country has a very arid climate, we are keenly aware of the need to effectively utilize our resources and capacitiesy for innovation to secure the sustainable supplies supply of clean water needed for our development. We are determined to develop rain enhancement as a viable and cost-effective tool method tohat can both benefit not only our own country and aidbut also other arid regions subject to the threat of water stress."

Due to the success of the Program, its First Cycle Awardees are already carrying out ground-breaking work is already being carried out by its First Cycle Awardees on precipitation enhancement in arid regions and beyond, the use of nanotechnology to accelerate water condensation, and cloud seeding optimization based on the specific study of convergence zones and land cover modification to enhance precipitation.
This year 2017 has also seen the launch of a further three other projects employing further imaginativecreative approaches to the study of weather- related phenomenon phenomena and methods for of enhancing rainfall.
One of these is being led by Dr Paul Lawson, who founded SPEC, Incorporated in 1979 a company tothat manufactures state-of-the-art airborne cloud physics instruments, in 1979, and, is a renowned for his participantion in over 50 international research projects related to weather phenomena.
Dr Lawson's project will investigates a new approach to rain enhancement that leverages ice production processes in cumulus clouds. Employing sophisticated instrumented aircraft and radar technology, tThe project will explores the potential for seeding in the updraft at cloud base with material thato facilitates the development of large drops. Employing sophisticated instrumented aircraft and radar technology, the project is set to study this process in the UAE to evaluate its potential for rain enhancement.
The US team has acquired a Learjet research aircraft and installed carefully calibrated measurement probes and sensors with the intention of conducting flights from Al Ain Airport in July 2018. Dual polarimetric radar data from the NCM has been analyzed to determine the best times and locations for the field project work to be carried out.
According to Dr Lawson said:, "We are looking forward to building on our previous research and experiments to enhance our knowledge of unique local conditions. These investigations, combined with effective radar tracking, could give us a better picture of the determination of convective clouds with base temperatures and drop size distributions that may be conducive to hygroscopic seeding and rainfall enhancement in the UAE. In developing our research agenda to date, Tthe excellent support we have received from the NCM and opportunities through the Program to share our research work with other international experts through the Program haves been particularly beneficial in developing our research agenda to date,." added the American expert.
Another Second Cycle awardee, Finnish Professor Hannele Korhonen from Finland, is a Climate Modelling Research Professor and Head of the Atmospheric and Ocean Modelling Ggroup at the Finnish Meteorological Institute (FMI). With over 16 years of experience in the research dealing withof atmospheric aerosols and as well as cloud and precipitation interactions, her expertise also covers artificial cloud modification for geo-engineering purposes and advanced statistical methods for complicated atmospheric models.
Her team is working onEntitled the "Optimization of Aerosol Seeding iIn Rrain Eenhancement Strategies (OASIS)", which her projectwill appliesy a multidisciplinary approach to comprehensively quantify the role of atmospheric aerosols in precipitation enhancement. The research will beis carried out by the FMI, the University of Helsinki and Tampere University of Technology.
OASIS aims toAimed at both advancinge the fundamental scientific understanding and to providinge practical guidance for future field exploration,s. Tthe OASIS project will employs simulations with highly advanced aerosol microphysics, quantum chemical calculations, and innovative statistical approaches.
Professor Korhonen commentedsaid: "Overall, we are pleased with the project's progress so far, with all the main scientific activities both on the experimental and as well as the model sides having started on schedule or slightly ahead of schedule. We are confident that our one1-year measurement campaign in the UAE will yield data that will provide very interesting insights and inform our simulations."
The Finnish team carried out a site survey in February 2017 in Sharjah. Subject to the survey being confirmed, the Finnish team will install LIDAR and measurement equipment to gather field data to complement satellite data from MODIS and AERONET platforms and MISR data currently being processed. The team intends to use the field data to simulate aerosol-cloud interactions and their rainfall enhancement effects during 12 identified weather events.
Professor Korhonen added: "The NCM has very generously assisted us in our operational campaign. I am grateful for to the UAE Research Program for Rain Enhancement Science's for its role in developing the international research agenda for understanding and enhancing rainfall.", added Professor Korhonen
Professor Giles Harrison, the third awardee from of this the Second Cycle, is Professor of Atmospheric Physics at the University of Reading who holds a PhD from Imperial College London and a prestigious Doctor of Science degree from the University of Cambridge.
His scientific research work concerns focuses on atmospheric electricity, aerosol -cloud physics, solar-climate interactions and scientific sensor development. He has authored or and co-authored over 160 papers in internationally refereed journals and a postgraduate textbook on meteorological instruments.
Entitled "Electrical Aaspects of Rrain Ggeneration", Professor Harrison's project will investigates the electrical properties of clouds through a combination of theoretical and experimental work, firstly to model the growth of charged drops to raindrops, and, secondly, to measure and modify the charges present in clouds using balloons and aircraft. An innovative aspect is the use of uUnmanned aAerial vVehicles (UAVs) to artificially modify the electrical properties of the clouds.
Commenting Speaking on his the project, Professor Harrison said: "Deepening our knowledge of electrical charges could create the scope needed to enhance rainfall without using artificial seeding substances and by while minimizing environmental impacts through the use of drone technology."
Professor Harrison'sHis team conducted site surveys in the Al Ain area in April 2017 to identify suitable areas for instrument installationpositioning, balloon launching and UAV flights. Once the installation of technical measurement equipment in onsite has been completed, the gathering of field data will be conductedcommence in early 2019. The project will also employ numerical modeling based on demonstration codes and associated visualization software for electrical modification of droplet interaction codes subject to their performance in the field.
Professor Harrison added: "The UAE Research Program for Rain Enhancement Science has already had a real impact in terms of forming international scientific networks and enabling the creative interchange exchange of ideas needed to help advance this scientific field.", added the British professor.
Reflecting the Program's outstanding success to date, the latest Third Cycle call for research proposals held this yearin 2017 led to 201 pre-proposal submissions from 710 scientists and researchers affiliated to with 316 institutions spread acrossfrom 68 countries on five continents. The significant level of interest evident from these figures testifies to the importance of the Program and reaffirms its status as a truly global initiative.
The forthcoming Third Annual Award Ceremony of the UAE Research Program for Rain Enhancement Science at the in Abu Dhabi will see the reward a selectannouncement of group a new batch of outstanding new awardees expected to maintain the research momentum spurred ondriven so successfully by the UAE.
The celebration ofHonoring these outstandingleading researchers will offer further validation validate of a dramaticallythe tremendous successful of the initiative that has capturedharnesses the imagination innovative capabilities of the global scientific community. By In serving as a focal point for international efforts to strengthen enhance water security through promoting scientific best practices in science and effective research collaboration, the UAE is taking solid steps towardsmaking great strides in positioning itself as a leading global knowledge economy.