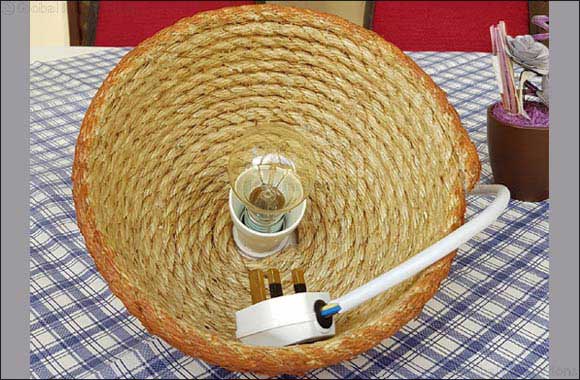 The event included a variety of workshops and activities focused on establishing ethical habits and values ​
[Dubai, United Arab Emirates – 11 January 2018] - Dubai Culture & Arts Authority (Dubai Culture), the Emirate's dedicated entity for culture, arts and heritage, has hosted its 'Carnival of Ideas' spring forum through the Department of Cultural and Heritage Programs and the Dubai Heritage Development Centers.
The two-week programme ran from 17th to 28th December 2017, featuring an innovative series of workshops and activities, as well as cultural and heritage events exclusively for fifth to ninth grade female students from aged 10 to 14 years old.
On the first day of the programme, a 'Lights from Hay' workshop was presented by Hind Al Ameri from the Attaba Center. On the following day, Mr. Yousef Al Shehhi introduced the 'Majlises are Schools' workshop, which highlighted different customs and values ​​in UAE society. The Dubai Women's Association also hosted a workshop, 'Decoupage on Minerals', while female students from the National Center of the Nad Al Hamr Centre for Cultural Development presented 'The World of Infographic' workshop and the Dubai Heritage Development Centre's team hosted the 'My Mother's Plate' workshop.
The second week of the programme featured a further five workshops including 'The National Basket' presented by Dalal Mohammed on the first day, followed by 'Al-Beshtakhta' with the Dubai Women's Association on the next day. Huda Al Harfi from the Attaba Center supervised the 'Winter Chairs' workshop while female students participated in the 'Portland Formation' workshop by Hind Al Ameri from the same organisation. The forum concluded with a 'Carnival Gardens' workshop by Dubai Heritage Development Centre.
Fatima Lootah, Director of the Dubai Heritage Development Centres, commented: 'Dubai Culture is delighted to have hosted this event, which attracted a large number of students who took advantage of their free time during the school holidays to participate in enriching activities. We would like to thank all of the governmental institutions and community centres that helped us to organise the forum and achieve our goals.'
The forum's main objective was to establish and strengthen ethical habits and values, while also demonstrating the Authority's eagerness to encourage students to put their free time toward beneficial and fun activities. Through the workshops, innovative ideas were supported and prizes were presented to the best participants, and each student was awarded a certificate of participation.
Dubai Culture aims to enhance Dubai's cultural scene and draw attention to the Emirate's rich heritage with a variety of initiatives that take place throughout the year. The Authority's mandate is to build bridges of constructive dialogue between different civilisations and cultures through enriching initiatives that benefit the Emirate's citizens, residents and visitors.