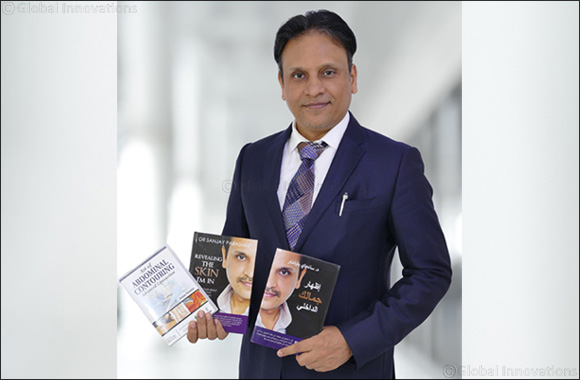 Dubai, UAE – December 20 2017: Plastic Surgery is gaining popularity faster than one thought. It is no more a rich man's choice. It is accessible and affordable for almost everyone. Indeed, Dubai today has the largest percentage of plastic surgeons to the population and has a large number of clinics offering cosmetic services and treatments. It can be a daunting task to choose a surgeon or a clinic, given the number of choices. Hence to help people make the right and informed decision, Dr. Sanjay Parashar, the Consultant Plastic Surgeon at Cocoona Centre for Aesthetic Transformation has written a book – Revealing The Skin I am In. Today, to help more people and to reach out to his Arab audience in the UAE, Dr. Sanjay Parashar has launched the Arabic version of his book 'Revealing The Skin I am In'.
Speaking about the launch, Dr. Parashar said: "We released the Arabic version of 'Revealing The Skin I am In', for two reasons, I always wanted to and because many of my Arab patients request for it. 90% of the Arab patients preferred reading an Arabic copy over English. Secondly it is also an opportunity for me to share my experience to the larger audience, especially Arabs. After all I live and practice in the Arab world."
Dr. Parashar's book 'Revealing The Skin I am In" throws light on the evolution of the aesthetic industry through the highly advanced and safe, procedures and surgical solutions involving skin, hair and various parts of the body. He further added: "It's not a book for mass circulation or sale. I am looking to reach out to the patients and fellow practitioners, their friends and family. It's a very personal book with the sole objective of helping patients make the right, informed decision and for fellow practitioners to remember and understand their role as a responsible doctor in the society, and not forgetting the Hippocratic oath."
Talking about the growth and the future of cosmetic and the aesthetic industry, Dr. Sanjay Parashar said: "The aesthetic industry is growing rapidly and will continue to grow as the need for people to take care of themselves, look beautiful will never end. As the choices for aesthetic treatments and the centres are increasing, it is extremely important that the consumers educate themselves and make the right choice; especially about surgery. My book is all about that. How to make an informed decision."
Founded in 2009 in Dubai, Cocoona is an all-in-one Centre for aesthetic transformation. The centre specialises in Plastic Surgery, Cosmetic Surgery, Hair Transplant, Dental, Orthopaedic, Med Spa Treatments, and Weight Loss and Dietary services. Headed by Dr. Sanjay Parashar, the Cocoona comprises of 16 specialist doctors from around the globe.
It's a self-published book and if anyone wishes to read it, they can visit Cocoona Centre for Aesthetic Transformation and request for a copy.