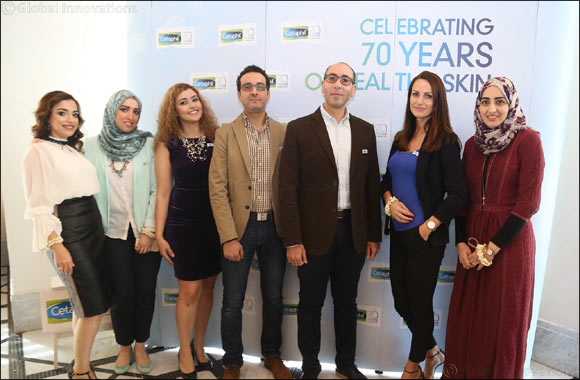 Dubai, 20 December 2017: Galderma is delighted to announce that 2017 marks the 70th anniversary of Cetaphil, their dermatologically formulated skincare range which is clinically proven to strengthen and protect even the most sensitive skin ensuring healthy skin.
Cetaphil Middle East has proudly hosted an event to commemorate the 70-year success of Cetaphil. The event has taken place in Jumeirah Al Naseem Hotel on the 13th of December and has been attended by members of the skincare industry, researchers, pharmacists, healthcare professionals and officials from the Ministry of Health.
Ahmed Matar, Galderma Marketing Manager, Consumer - Middle East commented; "We at Galderma are absolutely thrilled to be associated with this epic skin care brand. As a company committed to the future of dermatology, Cetaphil is one of the jewels in our skincare products portfolio. The product is renowned as one of the top skincare brands endorsed by dermatologists and other skincare professionals across 70 countries worldwide".
Invented in 1947 by a pioneering pharmacist in Texas, the first product "Cetaphil Cleansing Lotion"- known today as Cetaphil Gentle Skin Cleanser - still uses the same formula. Customers soon recognized its gentle cleansing power and from then on, the Cetaphil range of products started to grow. Now, 70 years later,
Cetaphil is available in more than 70 countries worldwide and offers a wide range of everyday products from, cleansers, moisturizers, sun protection to baby products and solutions for sensitive skin conditions such as acne, eczema and rosacea.
"Following Galderma's success in Dubai, we have embarked on a long-term strategy of offering holistic healthcare to enhance quality of life for all. We hope to achieve this by delivering science-based solutions for the health of skin, hair and nails over the course of people's lives. With the emphasis on maintaining, enhancing and nourishing skin to its healthy state, Galderma's vision is to contribute responsibly towards MERITA (Middle East, Russia, India, Turkey and Africa) communities along with developing medical education." Said Hesham Abdallah, Head – MERITA.
Specifically formulated to provide effective skincare for a variety of skin types and conditions, Cetaphil has become one of the top skincare brands recommended by dermatologists and other healthcare professionals across the world.
Mohamed Atef, Business Unit Head, Consumer - Middle East expanded with "To us, skincare is a life-long endeavor and we believe it's never too late to start taking care of your skin. What underlines Cetaphil's success is its special formulations which provide effective skincare for a variety of skin types and conditions particularly suited to Middle Eastern conditions."
The essence of Cetaphil is in the name: the 'phil' at the end means 'love', while the 'Cet' comes from the fatty alcohol which is used as an emollient – Cetyl alcohol. 'Cetaphil', therefore, is the love of softening and soothing skin.