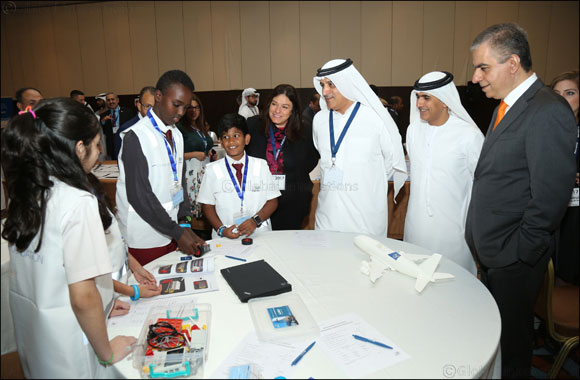 Dubai, UAE, 6th December 2017 – Students from across the UAE have participated in the Airbus Little Engineer A380 workshop during the Arab Aviation Summit in Dubai. Held under the patronage of His Highness Sheikh Ahmed bin Saeed Al Maktoum, President of the Dubai Civil Aviation Authority (DCAA), Chairman and Chief Executive of Emirates Airline and Group - who inaugurated this year's summit - the event represents one of the most prominent and important aviation and tourism events in the region.
Under the umberella of the Airbus Foundation, the initiative is committed to encouraging students to better understand and embrace innovative technology. It is also aimed at igniting a passion in the younger generation that could grow into an exciting career in the fields of Science, Technology, Engineering and Mathematics.
The two-day workshop, which commenced a day before the start of the summit, was attended by 55 students, aged between 13-15 years, from the Sheffield Private School. The initiative provides a platform for youngsters to familiarise themselves with various aircraft parts, and receive a rich understanding of the manufacturing and assembling processes of the A380 - the world's largest passenger aircraft.
The primary focus of the workshop is to build upon students' technical and soft skills by channelling their potential, and using science, technology, engineering, and mathematics (STEM) in practical ways as a team.
Fouad Attar, Head of Airbus Commercial Africa and Middle East, said: "Channelling the latent skills that are within our youth is one way that Airbus strives to develop emerging talent in the region.
"We believe that harnessing talent through initiatives like the Airbus Little Engineer is important in building the necessary capabilities that our industry needs to guarantee its future success. However whilst programmes such as this are indeed important in encouraging the younger generation to pursue meaningful careers in aerospace, they also provide wider benefits to society at large by inspiring a passion for science, innovation and related fields which will prove essential in enabling the UAE to achieve its vision to develop a thriving knowledge based economy"
Since its launch in 2012, the Airbus Little Engineer programme has successfully positioned itself as an effective vehicle for discovery-based learning, working to enlighten and empower youth in the areas of science and technology through robotics and aerospace. To date, the Airbus Little Engineers initiative has inspired over 3,000 students, whom have taken part in its activities in over 12 countries.