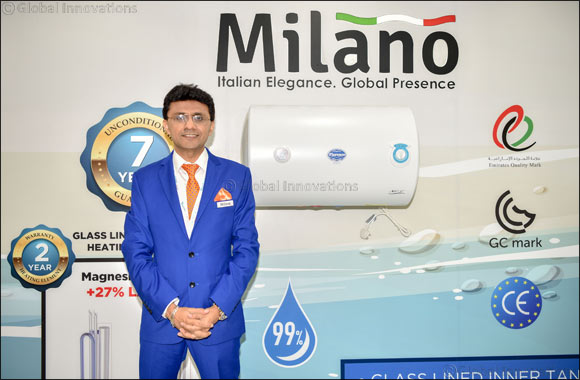 Dubai, November 27, 2017: Milano, a company having a decade of experience in design, production and distribution of sanitary ware and faucets in the global market under Danube Group is glad to announce its participation at one of the biggest and most credible construction show – The Big5. The show is from 26th until 29th November 2017 at World Trade Centre, Dubai. Milano stand is located in Hall No 3 A131 and RASHID A191. Adding more glitters to the event Milano launched and showcased an exciting array of products under its portfolio.
This year, Danube is placing a special emphasis on –
MILANO WATER HEATERS - With an Italian elegance and global presence Milano has been the first water heater to receive both EQM & GC MARK certificates offering a state-of-the-art product whose technology not only includes an enamel coated inner tank (glass lined), but also offers an enamel coated SS316L heating element (thermostat).
THE NEW RO WATER PURIFIER – This new Italian piece is one of the most stylish, modern and compact design of the water purifier. It is convenient to install with an option of wall-mounting or placing on the desk-top. The 4 stage purification ensures that you consume 100% pure water. It comes with free installation and a one year warranty including consumables (filters & membranes) and spare parts.
TRAVEL SHATTAF is your ideal travel partner. It's compact and portable device which offers non-irritating and clean wash, proving to be extremely important for people-on-the-go. It not only is a personal cleansing tool great for general health, but is also a useful tool for mothers travelling with children
MILANO DIY TILES are manufactured with light composite panels made up of two thin aluminum sheets and a plastic core. Protective layers cover the outer surface and a very aggressive adhesive is added to facilitate the installation. Available in several finishes and colours requiring a very short time to install.
LUXURY FAUCETS – Made in Italy and Spain They are a perfect combination of great design, automation and high quality. They come with a constant flow and water saving function. The mixer aerators are made up of brass for smooth flow of water and prevent splashing.
XXL TILES – Explore more sophistication and elegant architecture with a wide variety of designs in different styles such as white marbles, beige marbles, classic marbles, cement, stones and woods.
Commenting on the participation Mr. Anis Sajan, Managing Director of Danube Group, said: "We have been part of the Big 5 for years now and it has been an extremely good experience for us. The Big 5 is an annual meeting place for the international building & construction community in the UAE; it's a platform for like-minded people from all over the world. Moreover, we also look forward to meeting with new prospects as well as checking the market for all of its new products and services."
He further added: "Our mission is to provide best quality products which are both pocket-friendly and user-friendly. Like every year this year as well we used the Big 5 show to introduce our new products. We are the pioneer in providing complete home solution under one roof and as a company our only success mantra is hard work with no short cuts and customer satisfaction."
Mr. Venkatesan Sethuraman, Director of Business Development, said: "At the BIG 5 we have an exclusive stand dedicated to tiles. Our stand will have a vast collection of different shades and design for the visitors."
He further added:" The region is investing in billions of dollars in construction projects, mostly in preparations for World Expo 2020, Dubai and FIFA World Cup 2022, Qatar. With today's modern day architecture tiles is a perfect aesthetic solutions for floors, surfaces and furniture."