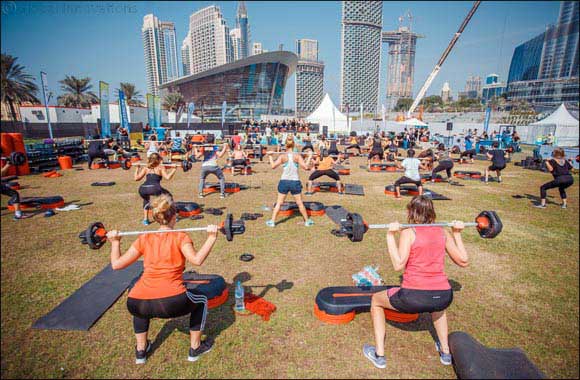 30-day initiative came to a spectacular end during closing weekend carnival at Dubai Festival City on 18 November
Appearance by World Heavyweight Boxing Champion Anthony Joshua
Guinness World Records verified new record set by attendees
Incredible fireworks display brought DFC to a close
Dubai, United Arab Emirates – 19 November 2017: The first Dubai Fitness Challenge (DFC) came to a spectacular close over the weekend, capping an immensely successful month of the inaugural movement that saw Dubai residents and visitors energised to clock in at least 30 minutes of daily activity for 30 straight days. This global first, which launched on 20 October with the aim of making Dubai the most active city in the world, closed with the last of its series of high-octane fitness carnivals at Dubai Festival City on 17-18 November. The event capped off the month-long challenge with a spectacular celebration of the people's individual and collective achievements with a stunning fireworks display sponsored by Al Zarooni Group.
With His Highness Sheikh Hamdan bin Mohammed bin Rashid Al Maktoum, Crown Prince of Dubai and Chairman of The Executive Council of Dubai Government and Dubai Sports Council, challenging the city to adopt the initiative and get active, DFC garnered overwhelming support and enthusiastic engagement from across government, public and private sector and the community of Dubai's residents and visitors. Stakeholders from across multiple sectors come together in various capacities to not only participate and encourage their own teams and clients to join the city initiative, but equally enabled the delivery of a full month of diverse, and free fitness activities that was accessible to all age groups and fitness levels at multiple locations across Dubai.
Performing at the events and endorsing the movement actively were a host of international and regional celebrities who participated in the Challenge and helped encourage participants to boost their physical activity and commit to a healthy lifestyle. Sporting talents included World Heavyweight Boxing Champion Anthony Joshua, former Manchester United footballer Rio Ferdinand, and award-winning fitness instructors, entrepreneurs and online personalities Cassey Ho and Kayla Itsines to name a few.
Commenting on the festivities, World Heavyweight Boxing Champion, Anthony Joshua said: "I was very excited to be part of the inaugural Dubai Fitness Challenge. It's a great initiative that encourages people to get active for 30 minutes daily for 30 days and it was amazing to see so many people participating at Dubai Festival City this weekend."
Rio Ferdinand, who played 81 times for England and is the winner of six Premier League titles and one Champions League medal said: "I was very happy to be involved in the Dubai Fitness Challenge, to share my training tips and to motivate people to remain active as part of their lifestyle."
Several Guinness World Records were set including a mass participation one at Dubai Festival City in association with New Balance for the 'Most People Attempting Squat Jumps' with 497 participants breaking the existing record of 473. Nilesh Ved, Chairman of Apparel Group said: "Apparel Group is proud to be part of the Dubai Fitness Challenge - an inclusive community initiative that has surely set Dubai on the journey to be the most active city in the world. By flagging off this initiative, Sheikh Hamdan bin Mohammed bin Rashid Al Maktoum, Crown Prince of Dubai has set a huge ball rolling which has gathered tremendous momentum in the last one month. To contribute to the Dubai 30x30 campaign, New Balance partnered with DTCM to attempt the Guinness World record at the closing ceremony of Dubai Fitness Challenge and with the support of the community we were successful in setting a new record."
Other highlights of the final weekend included action-packed Dragon Boat races on the shores of Dubai Creek plus a host of exciting free fitness activities and workouts from Les Mills' Body Combat classes to Zumba Fusion with Gold's Gym across Festival City, providing plenty of opportunities for Dubai's residents to achieve their 30×30.
HE Helal Saeed Almarri, Director General of Dubai's Department of Tourism and Commerce Marketing, said: "What an incredible month of fitness this has been. Dubai Fitness Challenge was conceived to motivate Dubai residents of all ages and abilities to adopt a more active lifestyle as we embarked on our quest to become the most active city in the world. We were confident our people would get behind the initiative wholeheartedly, yet what we have witnessed over this 30-day period has been truly overwhelming. It has been incredible to see how many people have taken part in the huge range of events and activities and their commitment to maintaining the fitness momentum over the duration of the Challenge. We are not only immensely proud of all the citizens, residents, government organisations, schools and businesses that have engaged in this programme, but are also humbled by the determination and perseverance of so many that have shared their inspiring journey of transformation towards a healthier life serving as a motivator to the wider community to make a positive change.
"I'd like to take this opportunity to thank His Highness Sheikh Hamdan bin Mohammed bin Rashid Al Maktoum for his inspiration and vision, and all the partners, sponsors, sporting talent and teams and most of all the people of Dubai, who made this unprecedented initiative come to life. While the Challenge has now have drawn to a close, we urge everyone to keep going and maintain the healthier, more active lifestyle as a choice for life."
Each of the five signature weekend fitness carnivals running over 2-3 days took place at iconic Dubai locations including Safa Park, Kite Beach, Skydive Dubai, Burj Park and Dubai Festival City. Thanks to the support and generosity of Al Futtaim, Dubai Holding, Dubai Municipality, Dubai Silicon Oasis, Emaar, Meraas, Nakheel and Skydive Dubai, the pulling power of these impressive locations drew in the crowds as they flocked to get involved in DFC, try new sports, push themselves to greater achievements and meet their fitness goals.
A huge range of partners, sponsors and fitness organisations joined the DFC movement, putting on a total of 1,500 free fitness classes at 85 locations across the city on a scale never before seen in Dubai. Each of the five signature weekend fitness carnivals drew in huge crowds with over 25,000 attending the opening weekend at Safa Park, reflecting the truly inclusive nature of participants from children to people of determination to seniors and varying levels of fitness abilities. Featuring a huge range of sports from beach cricket, cycling and football, to paddle boarding, team sports, walking, yoga and everything in between, the carnivals were completely FREE. Each event showcased a variety of stage performances, entertaining high-octane routines, celebrity fitness professionals that shred tips and interacted with the crowds, and even had picnic zones with healthy food options to make it a weekend out with family and friends for all. A number of existing and highly successful partner events being hosted during the 30-day period in Dubai were also brought into the DFC fold, including Dubai Color Run, Dubai Mass Swim, Pink Ladies Run, Dubai Schools Fitness Games and Yogafest, among others.
DFC mobile fitness units brought fitness to every resident, popping up in over 75 different spots across the city including malls such as The Dubai Mall, Mercato and Ibn Battuta, lifestyle destinations like City Walk and The Beach at Jumeirah Beach Residence, as well as residential neighbourhoods including Jumeirah Lake Towers, Jumeirah Village Triangle and Al Barsha.
Other special events hosted during the month-long initiative including the X-Spartan Workout and the X-Dubai Sunrise Yoga session in the middle of the Skydive Dubai runway. DFC also saw Dubai's first ever Superhero Walkathon, which saw Dubai Marina transformed into a scene straight out of comic book wonderland with participants dressed up as their favourite caped crusader, battling it out for fitness supremacy. Children were further spoilt for choice with the XDubai X3Junior Triathlon at Kite Beach encouraging kids of all ages to participate in a fun fitness environment.
In addition to official events under the DFC umbrella and the many organised events that were part of the Dubai events calendar, stakeholders ranging from government bodies such as Dubai Sports Council and public service entities, to educational institutions, healthcare and utility providers, and private-sector businesses large and small, unanimously pledged their commitment to the movement, encouraging their employees and customers to get involved through a variety of special fitness activities, events and stunts to ensure that every day had a jam-packed schedule of fitness opportunities for the city to be engaged with.
DFC was created to motivate Dubai's citizens, residents and visitors to boost their physical activity and commit to 30 minutes of daily activity for 30 days. The challenge ran from 20 October to 18 November 2017 and encompassed all forms of activity – from walking, team sports, intense fitness regimes, paddle-boarding and aerobics to football, yoga, cycling and everything in between. All ages and fitness levels were encouraged to participate individually or together with friends, family and colleagues, enjoying new and exciting ways to improve their fitness levels. Participants tracked their performance and their contribution to the city on the DFC app.