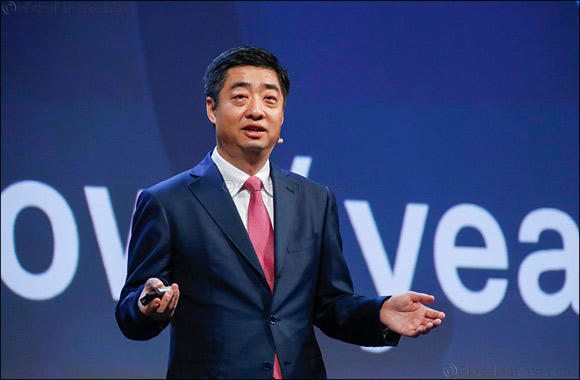 Huawei Rotating CEO Ken Hu: Building Intelligent Networks and Reshaping the World with Mobile
Dubai, UAE, November 19, 2017: The 8th Global Mobile Broadband Forum, which kicked off in London last week, gathered over 1,400 leaders from mobile telecom operators, vertical industries, standards organizations, and industrial alliances around the world. During the event, Huawei Wireless X Labs announced the 'Digital Sky Initiative' that aims to spur the development of drone applications and enable the low airspace digitized economy via enhanced low airspace network coverage.
Also during the event, Ken Hu, the Deputy Chairman and Rotating CEO at Huawei, outlined a world where all things are connected, presenting telecom operators with nearly limitless growth potential.
Today, there are 20 million shipping containers in the world, and 300 million LED streetlamps. There will be 1.8 billion water meters by 2025, and every year, 100 million new bicycles roll off the factory floor. 'Each of these is a potential new subscriber,' said Hu. 'But to support a future where all things are connected, telecom operators need to strengthen network performance and management. Future networks need to be application-centric, data-driven – and eventually, intelligent.'
'We have to believe that everything can be connected and will be connected,' he continued. 'These opportunities are real. But to seize them, we need a new model.'
Hu calls this new model the 'scale-out and scale-up approach.' First, he recommends that telcos scale out to provide more connections. This will generate revenue, and pave the way for scaling up. Next, they can work with partners to develop value-added services based on the specific needs of industrial applications.
Speaking about the 'Digital Sky Initiative', Zhou Yuefeng, CMO of Huawei's Wireless Network Product Line said, 'More and more activities that traditionally take place on the ground are now happening in the air. Flying taxis for personal transportation will soon be a reality. The combination of drones and cellular networks will redefine the airspace, transforming the way we travel, shop, and create. However, all current base stations are designed to serve humans and objects on the ground. Low airspace drones are supported by reflected signals and side lobe coverage. As a result, drones presently face severe signal interference challenges. The current network can only support a limited number of drone applications where aircraft fly below 120 m.'
The digital sky initiative aims to provide 300 m low airspace network coverage, and create an advanced test environment for drone applications. The initiative will also support non-line-of-sight (NLOS) flight control verification and large volume data transmission to enable the low airspace digitized economy.
Meanwhile, Huawei predicts that there will be 100 billion connections around the world by 2025. Beyond intelligence, Huawei's Rotating CEO, Ken Hu touched on the need to boost network performance. 'To support a massive number of connections between things, our networks need much greater capacity and lower, more reliable latency. Most importantly, behind the scenes they need intelligent systems driving performance. Networks are more complicated than ever before, with greater demand for agility. Traditional approaches to network management won't be able to keep up.'
Hu continued, 'All industries are now adopting digital technology and artificial intelligence. Not just manufacturing and agriculture, but also service industries like livestock management, logistics, and public safety. The mobile industry is no exception. Mobile is the enabler of this process – the foundation of digital transformation. We have to go smart first to help other industries do the same.'
Beyond technology, Hu pointed out that the industry needs to close gaps to strengthen the mobile ecosystem. 'In the past, we focused on connecting people. That was like planting a single tree. Now we're connecting things. That's like planting an entire forest. We have to integrate with the ecosystem, and build it out together.'
At the event, Huawei showcased its latest 5G technology, as well as the results of joint research spearheaded by its Wireless X Labs platform in domains like connected vehicles, connected robots, IoT, virtual reality, and augmented reality. The purpose of the Mobile Broadband Forum is to encourage more in-depth discussion and collaboration between global telecom operators, vertical industries, and other players across the value chain.