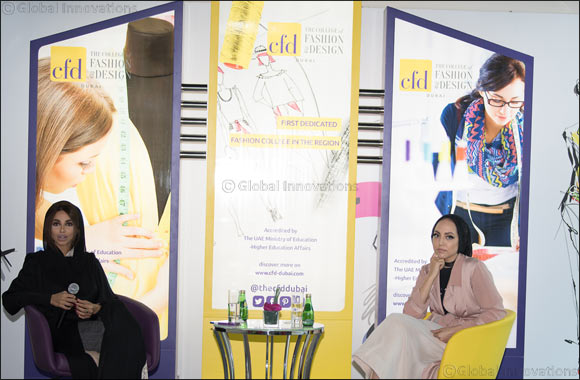 CFD- The College of Fashion and Design hosted the first ever Fashion Forum on their campus where H.E Sara Al Madani and Ms. Safiya Abdallah were invited as chief guests.
The event opened with a welcome note from Zeina, a first year student followed by Dr. Albalawi, Assistant Professor who announced the launch of short term programs at CFD.
Being a designer herself, Her Excellency Sara Al Madani spoke about developing a true sense of style and elaborated on the importance of being committed and dedicated in the field of Fashion. She emphasized that a designer should be confident about his/her work by understanding the market and research thoroughly to be sustainable. She also highlighted that there were limited options of studying Fashion Design when she started. And students at CFD are fortunate to have an excellent platform to study about Fashion Design and Fashion Business Management.
Ms. Safiya Abdallah gave her insights about influencers and how they have been changing the Fashion Industry. She discussed the value of choosing the right influencers who must stay true to aesthetics and embody the message/vision of the designers. She reiterated the role of social media in promoting or building a brand and how credibility of the influencers has played a key role in helping small businesses reach greater heights. She concluded by saying that the CFD campus has been well equipped with all the necessary elements required for students to venture confidently into the ever growing fashion market.
There was a Q&A session during which the audience was encouraged to interact with the chief guests and all their queries related to fashion trends globally, couture fashion and various other topics were answered with much grace and patience.
The event concluded with vote of thanks from the CFD team.