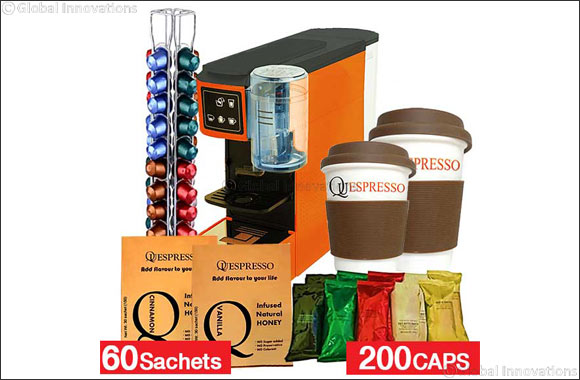 Dubai, United Arab Emirates, 14 October 2017: Gather around all you coffee lovers! Prominent Asian Direct-Selling Company QNET has launched the Quespresso Coffee Capsule Machine in the UAE and GCC through their online shopping portal/website.
The Italian made machine, that enables you to have your coffee at the touch of a button, is equipped with an extraordinary system that uses a pressure pump which, along with its unique shape, ensures that water flows evenly through the ground coffee beans at the perfect temperature to give you a power packed espresso.
Quespresso's bright orange colour will add the right spark to your kitchen or office space. The machine also comes with a tea bag compartment with its own separate water flow system, for those moments when you feel like switching over to a cup of tea.
Key Features
Energy-saving, high durability, environmentally-friendly
Slim design for convenient spaces
Easy-to-operate
Fixed automatic milk frother with lid safety sensor
Adjustable cup holder
Added tea compartment with separate water flow
Product Specifications
Dimension: 11 x 32 x h 26; Height: 26 cm; Weight: 3.5 kg
Machine temperature lamp
Empty capsule carrier: 8/15; Power supply cable: 3x1 m
Coffee exchanger: 800 W; Heating time: 60 seconds
Pump ULKA EP4 20 BAR
1 litre water tank