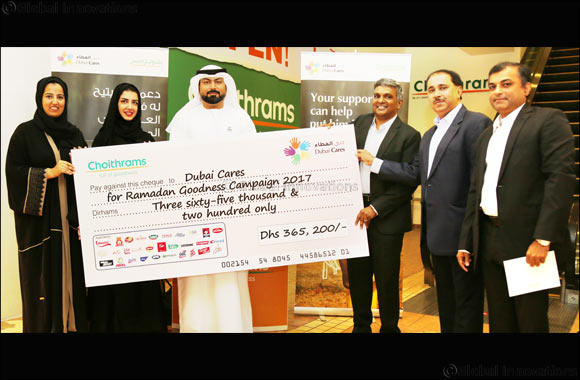 The ceremony recognized the efforts of those who showed outstanding dedication towards making the noble Ramadan Charity Drive a grand success
UAE, 10th September 2017: Choithrams announced the successful completion of the 'Ramadan Goodness Campaign' launched in partnership with Dubai Cares. The two-month charity campaign was a great success thanks to the generous contribution of Choithrams' customers and to the valuable support of its staff members. Mr. Rajiv Warrier, CEO, Choithrams handed over the cheque of AED 365,200 to Mr. Abdulla Al Shehhi, Director of Business Support Department at Dubai Cares, in a ceremony held at the Choithrams Al Ghazal supermarket last week.
This Ramadan campaign was initiated to support the education of underprivileged children and young people in developing countries. During this campaign, customers were either requested to donate AED 4 or more or purchase Choithrams products with red stickers to contribute to the charity donation. The ceremony also recognized the dedication of the supermarket staff, retail teams, HR, Finance & IT staff who demonstrated outstanding performance during the campaign, to help make a difference on children's life through education. The Choithrams stores at Greens, Al Ghazal and Palm Azure emerged as the top fundraisers for this noble cause.
Mr. L T Pagarani, Chairman, Choithrams said "In line with our planned initiatives for the Year of Giving in the UAE, we are delighted to announce the end of our two-month charity campaign with Dubai Cares and are happy to make a significant contribution towards their endeavors. We are thankful to our staff for their wholehearted efforts towards making this noble charity drive such a big success.
Speaking on this successful Ramadan campaign, Abdulla Al Shehhi, Director of Business Support Department at Dubai Cares said, "I would like to extend my thanks for Choithrams' continuous and generous support towards Dubai Cares. Choithrams run a successful campaign across all its stores in support of providing underprivileged children and young people with access to quality education in developing countries. Such initiative is a great example in exceeding the campaign's goals by mobilizing the company's employees and recognizing their efforts. We were very pleased with the overall outcome and are looking forward to many more charitable endeavors with Choithrams."
Mr. Subhash K, Corporate Marketing Manager, Choithrams said, "The generous contribution of shoppers and customers helped raise AED 265,197 from stores across the UAE and Choithrams suppliers contributed AED 100,000. Hence the final charity amount donated to Dubai Cares is worth AED 365,200."