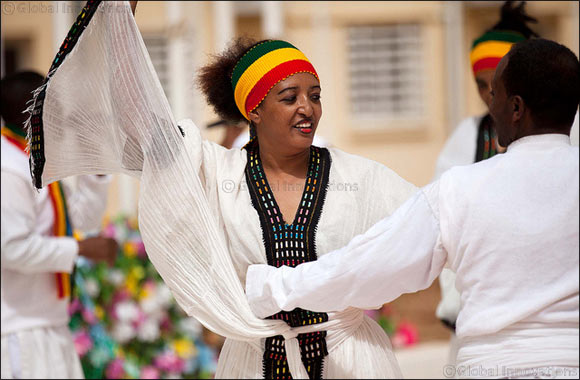 Gursha Dubai, an Ethiopian restaurant located in the heart of Palm Jumeirah, introduces its cultural show nights, Eskista Weekends, every weekend 9:00pm onwards
Eskista is a beautiful artistic dance form originating in Ethiopia. The weekly show encompasses different regional styles, choreographed and performed by artists from Ethiopia.
Gursha Dubai aims to introduce and promote authentic cultural experiences of Ethiopia and Africa at large through its food, music, and culture.
Dubai, United Arab Emirates, August 27, 2017: Gursha Dubai, an authentic Ethiopian restaurant located in Palm Jumeirah, launches its cultural show evenings at the restaurant. Eskista Weekends showcases the diverse traditional dancing styles of Ethiopia, usually presented by three females and a single male artist.
The Ethiopian eatery aims to introduce and promote Ethiopian and African culinary cultures in the UAE through its food and music. Gursha Dubai hosts various weekly entertainment evenings such as a ladies' night every Tuesday, all week happy hours, and Gursha Afro Thursdays with shisha and live DJ session, and is pleased to introduce its latest addition, Eskista Weekends.
Eskista is the traditional dance of Ethiopia performed by men and women both with emphasis on shoulder and chest moments. The show is custom curated and choreographed for Gursha's beach side atmosphere, and performed by artist from the mainland.
Beide Worku, Managing Partner and Executive Chef, Gursha Dubai said, "We are very happy to announce that Gursha is hosting an exclusive cultural show event on weekends to give our customers a culinary experience the go beyond the food, beverages, and shisha we already offer to help people unwind on the weekend. Our aim is to offer new experiences to a diverse audience eager to experience and learn new things. We are hopeful Eskista Weekends will add to that."