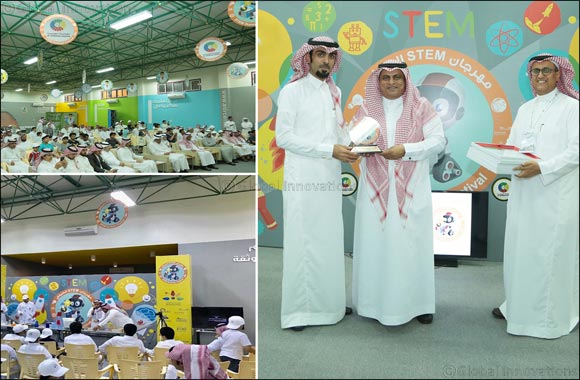 In Support of Promising Talents, Programs and Student Activities
Dubai, UAE, August 3, 2017: Asir educational administration, represented by the Scientific Center, is fulfilling several summer activities under the auspices of Al- Jazeera Paints, including the Summer STEM festival with its scientific programs combining between information and scientific entertainment, which will continue until the 11th of current August and will be held at the Asir scientific center in Abha.
This festival is a scientific demonstration that offers scientific programs and activities with STEM methodology, one of the modern global trends in the design of integrated curricula, in an atmosphere of fun and excitement and interaction to reach all segments of society during the current summer season this year.
Asir Educational administration, organized a ceremony at the headquarters of the scientific center in which Al-Jazeera Paints Company was honored for patronizing the festival, where Mr. Saad Bin Ahmed Al-Jouni, Asir Education deputy manager, delivered a commemorative trophy on this occasion to the company's representative Mr. Abdulwahab Bin Ali Al -Asmari, administration affairs supervisor.
Al- Jazeera sponsorship of these scientific programs is part of its social responsibility as a pioneering national company that strives to contribute to the service and development of the community and to achieve its aspirations to support promising talents, programs and activities of students in various branches, art exhibitions and scientific research to reach an effective role in society with its various establishments to be raised to knowledge society.
The CEO of Al-Jazeera paints, Mr. Abdullah Bin Saud AL-Romaih said,' as a national company, we take pride in sponsoring student programs because they have a great role in providing our male and female students with scientific expertise, providing them with the skills they need in their practical lives, expanding their five senses and opening the horizons for them to enjoy their ambitions and aspirations for a better future, as well as filling their spare time in summer holidays with the benefit as individuals, families and all society . '
Al-Jazeerah Paints signed a cooperation agreement with the General Directorate of Education in Asir region last March, which includes several programs, projects, studies, researches and activities that serve the community for three years, in line with its common vision with Asir education to build a sustainable community partnership.
The programs aim to develop scientific tourism in the region, create an environment suitable for scientific entertainment, and spread the scientific culture to all segments of society. It targets students of all age groups participating in seasonal clubs, neighborhood clubs and all groups of society and concentrates on combining sciences and technique concepts.
The programs include 'Scientific Tourism', 'STEM World', 'Electronic Garden' and 'Summer Academy' with its four projects 'Artificial Intelligence, Engineering Design, Fab Lab and I am an innovator.' The programs also include a number of scientific workshops, the most important of all are: future scientists workshop, future doctor workshop, the aviation world workshop, in addition to the STEM Challenge, and interactive public shows and scientific evenings.