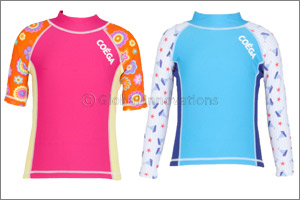 Summer Sun-protection Sorted
Dubai, UAE, May 14, 2017: As summer vacations draw near we've put together a few of our favourite pieces from the vibrant COÉGA Sunwear SS17 collection to help you get packing.
First up, footwear. We've all seen people doing a hop, skip and jump on the way to the sea, so keep your feet happy before hitting the waves by bagging a pair of COÉGA Sunwear pool shoes. Ultra-lightweight and comfy, the slip-ons come in a range of appealing colours and provide the ultimate in non-slip protection for tootsies. Pool Shoes for children cost AED50 and adult styles are AED55.
If your ideal holiday means spending time in the water, be sure to put a COÉGA Sunwear rashguard on your essentials list. Highly versatile, quick to dry and made with superior swim fabrics, both long and short-sleeved COÉGA Sunwear rashguards come with SPF50 protection built-in. So whether you're planning to unwind on a beach, get wet 'n' wild at a waterpark or ride the waves on a wakeboard you'll be ready for anything wearing this chart-topper. Styles come in a number of mix and match colourways for men, women and children and prices start from 125AED for the boys and girls collections.
Living under the tropic of cancer certainly has it's perks, but with the sun directly overhead, it also means protecting your noodle. That's why the dedicated team at COÉGA have designed and manufactured the ultimate swim hat in the UAE. Expertly constructed using light and breathable fabrics the snug-fit design means the hats are great for active, outdoor sports. Ladies can choose to complement their swimwear, whilst for children opt for the added protection of a flap hat (AED60) to cover the nape whilst they play.
The COÉGA Sunwear collections are now available in leading sport stores across the region.
In the UAE COÉGA Sunwear is available at: Adventure HQ, Atlantis Aquaventure, Beyond the Beach, Dreamland, GO Sport, Sun & Sand Sports, Sun & Sand Sports Kids and Wild Wadi.