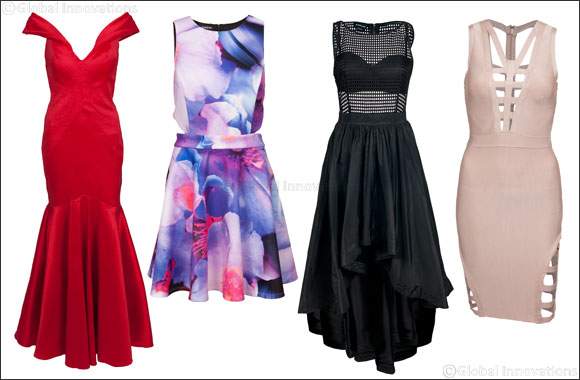 Dubai, UAE, August 7, 2016: This season bebe offers a contemporary collection of sensational cocktail dresses and fabulous special occasion wear to make the ultimate fashion statement. Featuring the summer's must-have pieces, the stylish lineup offers an exclusive selection of chic evening attire, as well as striking floor-sweeping dresses, elaborately designed with elements of delicate lace, sumptuous satin, and embellishment detailing.
In the spirit of summer, bright colors and pastel tones prevail. A kaleidoscope of subtle lilacs, blush pinks, bright fuchsia, radiant coral, and bright reds compose the dreamy hues of the season's glamorous assortment.
Eye-catching ensembles composed of colorful lace and overlaid with floral designs, grant an instant cosmopolitan flair and enchanting touch to any summer day-time look. Two-piece outfit sets the tone for the season's top trend of crop-tops and matching midi-length skirts.
For an elegant afternoon affair, we opt for summertime sunsets' bright hues. Cocktail hour moments call for mid-length styles, enriched by blooming floral prints, and scalloped edges. Fitted silhouettes are perfectly elegant for the occasion, and stylish adornments will add an opulent effect. To be daring, select symmetrical designs, contemporary cut-outs or even caged body-cons, for a modern take on the classical cocktail attire.
Make a statement in a sultry floor-length applique robe for an evening event, to exude charm and elegance. Lavish and lush, the two-toned lace detailing and superposed embellishments will give an irresistible and captivating appeal to any dress. Flowy or fitted, lace dresses take the spotlight this season - Its soft gilded textures and ornament effect, will give a feminine touch to any ensemble.
Dress to impress for a special occasion with a bold colored dramatic gown – with either a high-low mesh train or silky mermaid style tail. Gala allure and old Hollywood glamour are the way to go for a spectacular look this season, to show off sophisticated style and a sensual silhouette. Enchant the crowd with an audacious color and take on the off-the-shoulder-look for a little drama and the additional fashion flair.