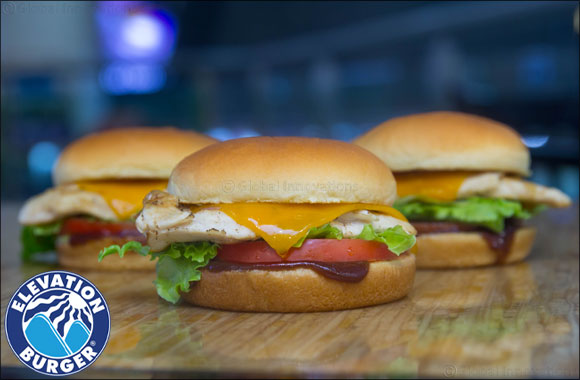 Buoyed by the success in the UAE,Elevation Burger expands its menu and further commits to being 100% Organic.
Dubai UAE, November 17, 2015: Elevation Burger, the Emirates first and only organic burger chain, announced the introduction oforganic chicken to its menu in all of its restaurantslocated across the UAE. Along with its wide array of menu,Elevation Burger is already a favorite among the nation, servingthe famous organic beef burger.
Over the past years, more and more loyal Elevation Burger guests in the UAE showed optimism towards adding chicken to the menu. Further to its commitment of being organic, the restaurant began looking for chicken that would meet their elevated standards. Elevation Burger was built on the belief that fresh, organic meat is healthier for people, is better for the environment, and tastes so much better.
Similar to the beef which is used for the burgers, any chicken served at an Elevation Burger restaurant across the UAE would have to be 100% USDA-certified Organic – no antibiotics, no hormones and no pesticides. It was also critical that the chickens be raised in an animal and environmentally friendly way- in cage freeopen pastures, not in industrial poultry houses.
Speaking on the launch, Mr. Khaled Al-Dhubaib, CEO of Tabco Emirates, said, "Elevation Burger is the leading organic restaurantchain in the country offering only 100% organic beef burger and chicken sandwichin a fast casual set up.We have always believedthat we arenot purely commercially constrainedbut quality driven, as our commitment is to provide easy access to organic products to a wider reach of people throughout the UAE. Elevation Burger's vision and long term investment is to create a healthier environment and standard, and a better ecosystem for the current and upcoming generation.We are currently the leaders in the market offeringour customers world class products."
The introduction of organic chicken to Elevation Burger's menu also represents a critical moment for the organic food movement in the UAE overall.
"People in the UAE are becoming more and more aware of the food they eat andoffer to their children.Nowadays healthy eating habits and wellbeing is shaping up to becoming a priority in the country. Elevation Burger is here to offerthat option in a convenient way to people with an organic, light, yet healthier burger. We guarantee to serve the best organicproductsbecause we care for our valued guests and their loved ones. The chicken sandwichwas an anticipated addition and we are confident that our guests will relish the new menu", further added Khaled Al-Dhubaib.