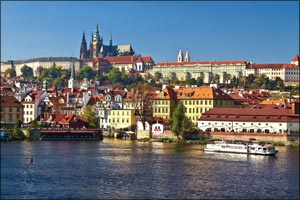 Corinthia Hotel Prague is inviting GCC travellers to indulge in an explorative holiday discovering cobbled lanes, hidden courtyards, medieval cathedrals, baroque art and some of the most beautiful castles in Europe. Step into a world of ancient and stunning heritage sites with centuries of history and, gothic and renaissance architecture in the capital city of the Czech Republic.
An UNESCO World Heritage Site, Prague has a lot to offer, from the Museum of Military History at the the Hradčany Castle to toy, art and history museums all around the city. Guests can explore its hidden gems and unique monuments scattered around the city. The Royal Palace and St Vitus Cathedral are packed with treasures from the Bohemian era, while the Prague Castle is known to be the largest and most popular castle in the world.
Long walks down the picturesque Charles Bridge and a visit to the historically prominent Old Town Square are a must-see to experience the true spirit
of the city.
The award- winning five- star, Corinthia Hotel Prague is located just minutes away from the city's main cultural and business highlights. The hotel's Apollo Day Spa offers guests a luxurious haven of relaxation, health and fitness. Among its delectable dining options. The Grill serves succulent meat and fish cooked over an open charcoal grill, while the award-winning Rickshaw restaurant offers world-class Far Eastern fusion cuisine.
Rates for this season start from 115 Euros for two persons per night inclusive of taxes & fees