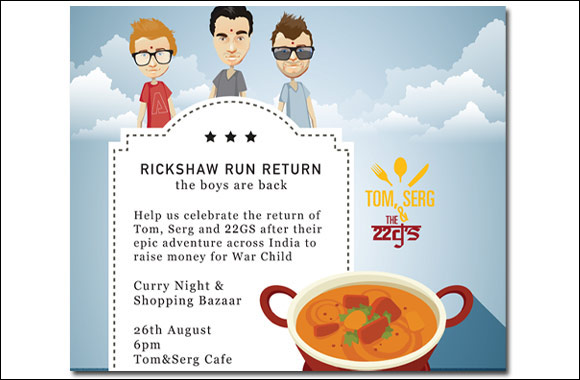 Curry night and shopping bazaar held at Tom & Serg to herald the return of Tom, Serg and the 22Gs
Dubai, UAE, 19 August 2015: Dubai's favourite café, Tom & Serg, is set to transform into a celebration of all things Indian to mark the return of the Rickshaw Run team on 26 August at 6pm.
The team, named Tom, Serg and the 22Gs, is embarking upon the final stretch of the Rickshaw Run – a 3,500km journey across India that has seen nearly 100 teams take on the most dangerous obstacles in the world. Tom & Serg have been supporting the challenge and sharing the team's progress with fans across its social media channels.
To celebrate the eagerly awaited return of Team Tom, Serg and the 22Gs (made up of Conrad, Philip and Kevin), Tom & Serg will host an Indian celebration like no other, with a wide variety of curries, market stalls from Shop the Night, along with an artist who will be on hand to give henna tattoos.
Commenting on the event, Tom said: "We are so proud of our guys taking part in such an incredibly brave challenge. Over the past three weeks they've come across every obstacle imaginable, from breakdowns to extreme weather. We can't wait to have them home and decided an Indian-themed curry night at the café would be the best way to celebrate."
"When the guys approached us for support, we immediately knew we'd like to be involved. It's an incredibly brave challenge and we're proud to be able to help them. We are all about giving back and this is such a great cause, which will genuinely make a difference to peoples' lives."
The Rickshaw Run is a rally famed for being the least sensible thing to do in three weeks. Presented with all encumbered danger and treacherous roads, the race has seen the team battle a myriad of elements, in a 7-horsepower rusty rickshaw. Proceeds raised by Tom, Serg and the 22Gs will go towards well-known charity War Child.
If you have a few dirhams to spare and want to show your support, you still can - head over to the donation page at: www.justgiving.com/tomandserg