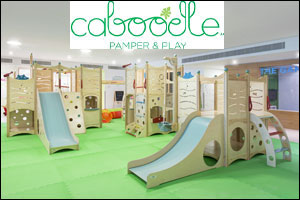 • Caboodle announces special offers for membership packages
• Caboodle introduces special discounts for City Walk and The Dubai Mall branches
Dubai, United Arab Emirates, July 22, 2015 – Caboodle Pamper & Play, one of the region's leading edutainment venues, launches a Back to School workshop across Dubai and Abu Dhabi branches. The children's venue has also introduced further discounts for Caboodle Membership packages.
Special Discounts
Caboodle Pamper & Play are now offering further discounted prices on events and workshops to Caboodle members exclusively throughout the month of August. Three month members receive a 40% discount on their eduplay classes, while six month members receive a 50% discount.
Additionally, guests can avail a special offer at the City Walk and The Dubai Mall branches where children can play for two hours at AED 70 only. The offer is valid until August 31st 2015, and can be purchased seven day a week.
Play & Learning at Caboodle
Caboodle Pamper & Play covers a variety of educational and interactive activities on a daily basis seven days a week, from 10:00am to 10:00pm (varied upon branches, check website for full details). Play themes conducted at Caboodle throughout August include Friendship Sundays, Summer Splash Mondays, Home Sweet Home Tuesdays, Around the World Wednesdays, Lovely Pets Thursdays, Sandpit Fridays and Flowers & Butterflies Saturdays. For more information, or to register for play sessions, please contact the respective branches.
Caboodle at The Dubai Mall is located on the 2nd floor, near Galleries Lafayette. For inquiries, please contact 04 325 3367. Caboodle CityWalk is located on Al Safa Street, Jumeirah.