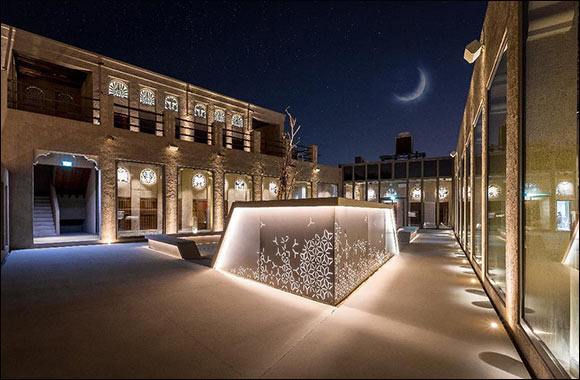 Dubai, UAE, 20 September 2023: Dubai Culture and Arts Authority (Dubai Culture) has announced the completion of preparations and the start of the countdown to the launch of the inaugural edition of the Dubai Calligraphy Biennale. Organised from 1 to 31 October, the biennale aims to highlight the importance of calligraphy as an expressive and aesthetic tool that reflects multicultural content. This comes within the Authority's commitment to support Dubai's creative scene and provide innovative platforms to support talent and motivate them to display their artworks inspired by the variety of calligraphy. This falls within the framework of Dubai's cultural vision of being a global centre for culture, an incubator for creativity, and a thriving hub for talent.

The biennale's programme, which extends throughout the month of October and is held with the participation and support of more than 200 local and international artists and creators, will include organising about 16 exhibitions and activating more than 30 locations across Dubai. It will display a wide variety of calligraphic artworks, and will also highlight the vitality and accuracy of traditional and contemporary typography written in more than 8 languages.
Dubai Culture unveiled details about several exhibitions in the biennale, starting with the Dubai International Arabic Calligraphy Exhibition at the Etihad Museum. This exhibition, featuring 90 works, explores Arabic calligraphy's visual language through pieces created by over 50 artists. It showcases both traditional Arabic calligraphy and ornamentation, emphasising the aesthetic value of the visual word. Additionally, an exhibition in Dubai Design District celebrates the medium as a means of cultural exchange, displaying 100+ artworks and calligraphy-inspired pieces that reflect diverse cultures. Finally, the AWC Gallery in DIFC Gate Avenue presents contemporary art masterpieces demonstrating the interplay of letters with shapes and colours.

The exhibition that will be held at Al Shindagha Museum highlights the UAE's interest in the history of the form through 25 works in addition to a collection of manuscripts and documents that recount the beginnings of Arabic calligraphy and writing in the country, while shedding light on its influence on contemporary Emirati art. The exhibition hosted by Al Jalila Cultural Centre for Children presents around 30 artworks that demonstrate the ability of calligraphy to integrate and interact with different media, and materials, such as ceramics, textiles, wood, stones, leather, glass, acrylic, iron, and others.
The Foundry presents visual arts as an essential element in the Dubai Calligraphy Biennale, whereby the artworks of the exhibition embody a journey that begins with self-communication and ends with spiritual communication and passes through a group of artistic pieces inspired by the methods of communication used in the absence of the written word. The exhibition hosted by the Cultural and Scientific Association - Al Mamzar, includes 30 artistic paintings that shed light on the creative abilities of the participating calligraphers in controlling formations and connecting letters using classical Arabic fonts, in addition to their interaction with ornamentation and their innovative materials and tones.

Al Safa Art and Design Library's platform sheds light on the arts of fashion and jewelry design and showcases through 40 creative pieces how to use calligraphy and its aesthetics as an inspiring means of expressing personal and societal identity.
The inaugural edition of Dubai Calligraphy Biennale is supported by Al Rostamani Group (Lead Supporter) and Sandooq Al Watan (Supporter), and is being held in partnership with a variety of entities in the local cultural scene, including: Dubai Design District (D3), The Cultural and Scientific Association, Mohammed bin Rashid Library, Expo City Dubai, DIFC Gate Avenue, Sultan Bin Ali Al Owais Cultural Foundation, Juma Al-Majid Center, Dubai's Department of Economy and Tourism, Dubai Media Office, Dubai Municipality, Alserkal Avenue, Art Dubai, Women's Museum, Tashkeel, Art Jameel, Mattar Bin Lahej Gallery, Boccara Gallery, Foundry, Khawla Art Gallery, Firetti Gallery, Efie Gallery, BEDU, AWC Gallery, Hobb Bookstore, Opera Gallery, Mondoir Art Gallery, thejamjar, Medaf, Mirzam, Kalimat, Slay Café, Frame Café, 3IXAM.