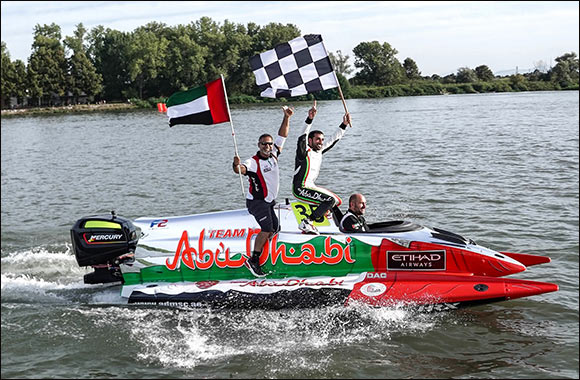 Team Abu Dhabi star can regain F2 crown with race to spare if he maintains 100% winning record
13th September 2023: Team Abu Dhabi's Rashed Al Qemzi will leave nothing to chance as he attempts to clinch the UIM F2 World Championship for the fourth time in Portugal at the weekend.
The Emirati driver heads into the first of two back-to-back races making up the season-ending Grand Prix of Portugal on Sunday holding a 16-point lead over Monaco's Giacomo Sacchi, with Estonian Stefan Arand another two points away in third.
After successive victories in Lithuania and Italy, Al Qemzi will be crowned champion again should he extend his 100% winning record on the Douro river at Peso da Régua in northern Portugal.
The final Grand Prix battle of the season follows a week later on the Tagus river in Vila Velha de Ródão, where Al Qemzi wrapped up the F2 title two years ago with a second race triumph in the space of eight days.
While he is clear favourite to land the F2 crown, the 2017, 2019 and 2021 champion knows he must be at his best again to regain the title. "Every year I have improved, and I feel very comfortable in races," he said. "But this year there are many other very fast competitors, and it's tough."
"The team is well prepared for this weekend, and we're ready for anything. I want to push for pole position, and of course try for maximum points on Sunday. But there is another race to follow and I want to stay safe."
Al Qemzi is looking to match the performance of Sweden's four-time F2 world champion, Erik Stark, who won his titles in successive years from 2011.
He gives enormous credit for his development as a driver to race legend Guido Cappellini, who took over as Team Abu Dhabi manager eight years ago, and has since delivered 16 powerboat world championships to the UAE capital.
"Guido is very important for me," says Al Qemzi. "If I have any problem, I go to him and he fixes it. If I'm not comfortable with anything on the boat, I talk to him and he takes care of it. He brings everyone together, and makes this team great."
Ten-time F1H2O world champion Cappellini will be using all his vast experience in Portugal to guide Al Qemzi safely through, and help team-mate Mansoor al Mansouri finish the season in style, after his earlier disappointments.
Al Mansoori drove alongside Al Qemzi to help Team Abu Dhabi secure the UIM World Endurance Championships two years ago, and wants to reproduce the form which brought him a first F2 Grand Prix victory last season, and a third-place championship finish.
2023 UIM F2 World Championship leading positions
1. Rashed Al Qemzi (UAE) 40pts
2. Giacomo Sacchi (MON) 24
3. Stefan Arand (EST) 22
4. Daniel Segenmark Sweden 15
5. Colin Jelf GBR) 11
5. Mette Bjerknæs (GBR) 10
5. Edgaras Riabko (LTU) 9
8. Samuel Lucas (AUS) 7
9. Johan Österberg (SWE) 7
10. Mansoor al Mansouri 4