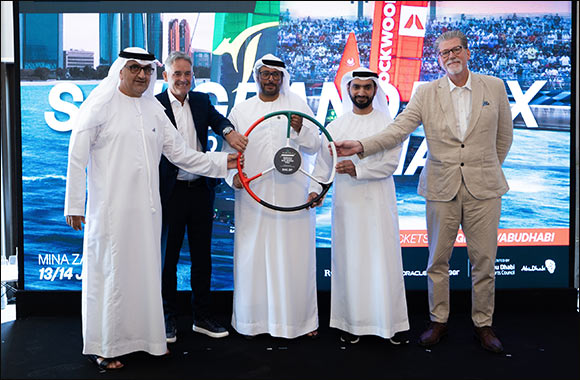 First ever Mubadala Abu Dhabi Sail Grand Prix Presented by Abu Dhabi Sports Council to take place at Mina Zayed, January 13-14, 2024
Abu Dhabi, UAE - September 13, 2023 - Abu Dhabi will host the world's most exciting racing on water as it gears up for the inaugural Abu Dhabi Sail Grand Prix. Tickets are now on sale to witness the sport's best athletes representing national teams from around the globe unleash their prowess on the waters of Mina Zayed, Abu Dhabi's historic port – on January 13-14, 2024. The event is presented in partnership with SailGP's Global Series Partner Mubadala Investment Group and the Abu Dhabi Sports Council.
The highly anticipated global event was announced at a press conference held at the Saadiyat Beach Club in Abu Dhabi, in the presence of Sheikh Ahmed bin Hamdan Al Nahyan, President of the Emirates Modern Sailing and Rowing Federation, HE Aref Hamad Al Awani, General Secretary of Abu Dhabi Sport Council, Mansour Al Ketbi, Executive Director of Digital and Corporate Services at Mubadala Investment Company and representative for Mubadala Foundation, and Russell Coutts, CEO of SailGP, along with a number of leading sports professionals.
With an exhilarating Season 4 schedule already underway, SailGP is ready to make history by bringing the global racing championship – and one of the world's fastest growing sports leagues – to the UAE capital. Fans will get to witness ten teams going head-to-head on the waterfront of Abu Dhabi's bustling port.

The city of Abu Dhabi will be the latest addition to the growing, purpose-driven series, becoming the latest stop on the global league's calendar for Season 4 – which also includes iconic venues such as New York, Los Angeles, Sydney, Saint-Tropez, and San Francisco.
Tickets are now on sale to witness this thrilling racing on water, with thousands expected to gather to watch the high-speed action. The event showcases world-class athletes as they compete in identical hydrofoiling F50 catamarans, capable of reaching speeds of nearly 100 km/h. National teams from Australia, Canada, Denmark, France, Germany, Great Britain, New Zealand, Spain, Switzerland, and the United States will engage in a fierce two-day competition, racing close to the shore, all vying for the ultimate victory.
Sheikh Ahmed bin Hamdan Al Nahyan, President of the Emirates Modern Sailing and Rowing Federation, welcomed the UAE hosting of the most enthusiastic and exciting sailing boat race in the world. He emphasised the hosting of the major event enhanced Abu Dhabi's role as a premier sporting destination in the region and the Middle East. Sheikh Ahmed praised Abu Dhabi's hosting of the upcoming event, which brings together the elite and stars of the sport of sailing in a challenge that brings together the best sailing techniques and modern scientific methods represented in flow and harmony with the work in a team of sailors.
"We appreciate the efforts of the organisers of the upcoming event, such as the Abu Dhabi Sports Council, Mubadala, and we are happy that Abu Dhabi will be a new theatre for a major international event," Sheikh Ahmed said.
"I am honored to announce that a new championship has joined the calendar of international events organized and hosted by Abu Dhabi," HE Aref Hamad Al Awani, General Secretary of Abu Dhabi Sport Council, said.

"This is a testament to the capital's infrastructure and huge potential. As SailGP is one of the latest sports that is growing rapidly, the Abu Dhabi Sports Council is keen to support the championship. We also have strategic and permanent partnership with Mubadala in hosting and organizing tournaments.'
Homaid Al Shimmari, Deputy Group CEO and Chief Corporate & Human Capital Officer, Mubadala, said: "We're excited to bring SailGP to Abu Dhabi, building on our strong maritime heritage, and showcasing our role as a responsible investor. Driving positive change has been our core mandate since our inception and our partnership with SailGP, a like-minded trailblazing organization, reinforces this commitment."
Mubadala Investment Company, as SailGP's event Title Partner and Global Series Partner of the Inspire Program, will be supporting SailGP's efforts to champion STEM education and sport across all levels, furthering their commitment to inclusivity. Across its three pathways – Careers, Learning, and Racing – the Inspire initiative has engaged more than 15,483 young people worldwide, smashing its target of reaching 10,000 young people by 2025 two seasons early. With Mubadala's support, SailGP Inspire has now set its sights even higher, with an ambitious goal of engaging 25,000 young people by the end of 2025.
SailGP CEO Russell Coutts said: "This is another great moment for our global championship as we continue our rapid expansion and I am delighted that we are adding another new capital city to our event roster for Season 4. Of course, this wouldn't be possible without our partners and in particular Mubadala Investment Company – who has increased its commitment to SailGP over the next three seasons – along with the support of the Abu Dhabi Sports Council. Together we will work to promote climate-positive solutions and foster transformative change within the region – through initiatives such as Inspire – and look at ways that we can make an impact long into the future."
Mina Zayed provides a spectacular viewpoint for fans to immerse themselves in the adrenaline-filled action as the high-speed foiling F50 catamarans race right in front of their eyes at Dhow Harbour. Fans will witness the ten national teams vying for points over two days across five races before a final showdown featuring the top-three teams to decide the event winner.
A number of ticket categories are available such as premier grandstand seats, which include complimentary drinks, snacks and upgraded grandstand seating, or for those keen to get to the heart of the action team base tours are available to take fans on an exclusive tour behind the scenes. Those with their own boats, can enjoy on-water viewing right on the racecourse perimeter.