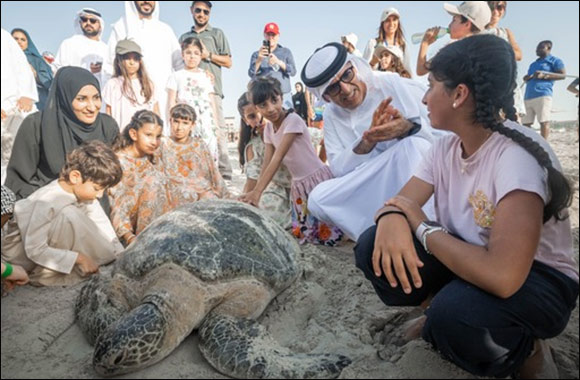 81 Turtles Released to Celebrate World Sea Turtle Day

Abu Dhabi, 16th June 2023: In line with the Year of Sustainability that focuses on the sustainable enhancement of natural habitats and biodiversity and minimising the effects of climate change, the Environment Agency – Abu Dhabi (EAD), in partnership with The National Aquarium (TNA), released 81 turtles back into their natural habitat at Saadiyat Rotana Resort & Villas in celebration of the World Sea Turtle Day on June 16th.
The turtles were released by His Excellency Dr. Mugheer Khamis Al Khaili, Chairman of the Department of Community Development in Abu Dhabi and EAD Board Member, Her Excellency Dr. Shaikha Salem Al Dhaheri, Secretary General of EAD, His Excellency Saleh Mohamed Al Geziry, Director General of Tourism at Department of Culture and Tourism (DCT), Dr. Mohammed Salman Al Hammadi, Undersecretary of the Biodiversity and Marine Life Sector at the Ministry of Climate Change and Environment (MOCCAE), Mr. Manuel Rabaté, Director of Louvre Abu Dhabi as well as members of the community.

The Agency announced that since the Wildlife Rescue Programme was launched in August 2020, a rescue and rehabilitation programme developed in collaboration with TNA, a total number of 800 turtles have been rescued and a total number of 500 have been released. Since August of last year a total number of 178 turtles have been rescued and a total number of 81 have been released so that they can grow and reproduce, ensuring an increase in their numbers.
Stranded turtles are rescued by a team of scientists from EAD and the TNA, which first checks their health and then investigates how the turtles were stranded. Depending on the turtle's health diagnosis, a rehabilitation programme is initiated until they are fully recovered. Once the sea water temperatures are warm enough, they are then released back into the wild.

Her Excellency Dr. Shaikha Salem Al Dhaheri on the occasion said: "More than once a year, we are always keen to release turtles back into the wild so that they can return back to their natural habitats and thrive. We are always on the lookout for stranded turtles as part of the Wildlife Rescue Programme in partnership with The National Aquarium and, once found, we pay very special attention to ensure they are well rehabilitated and healthy enough to survive in their habitats. Our greater goal is to ensure that Abu Dhabi's waters are abundant with species so that future generations can learn and enjoy nature."
"Today we released the rehabilitated turtles and some were fitted with satellite tracking devices on their back to monitor their movement and swimming patterns, as well as their path of migration. This helps our scientific experts learn more about them. Abu Dhabi's waters are home to more than 5,500 sea turtles, both Green and Hawksbill turtles, and we would like this number to increase. That is why we are eager to always return them into the water as opposed to keeping them in an aquarium."

Paul Hamilton, General Manager at TNA, commented: "2023 has seen further growth for the Wildlife Rescue program with the inclusion of the Louvre Turtle Sanctuary, increasing our capacity to care for turtles as large as 100kg. 2023 will also see the launch of the Wildlife Rescue ambulance, providing immediate first aid to endangered marine life at the rescue site. With over 800 rescues performed over 3 years, Wildlife rescue is now one of the largest turtle rehabilitation projects in the world, having a significant impact on the wild populations of these endangered species. We remain focused on bonified marine education and conservation."
Last year, EAD signed a Memorandum of Understanding with the Department of Culture and Tourism – Abu Dhabi (DCT Abu Dhabi) to create a pre-release turtle rehabilitation area at Louvre Abu Dhabi, in the waters surrounding the museum. The sea turtles are able to convalesce under the expert supervision of marine biologists from both EAD and TNA.

Shaikha Al Nowais, Vice President Owner Relationship Management, Rotana Hotel said: "At Rotana Hotels, we hold the preservation of the environment as one of our highest priorities. The turtle release initiative holds profoundly a very special place in our hearts. Saadiyat Island, known for being home to a diverse range of wildlife, including turtles, has inspired us at Saadiyat Rotana Resort & Villas to be eagerly dedicated to not only safeguarding the environment and preserving Abu Dhabi's wildlife but also to the transformative power of education. Through this initiative, we are able to engage with the community, particularly children, and raise awareness about the vital importance of environmental preservation. We firmly believe that every action taken, contributes to creating a better world for future generations."
The Agency has been researching, monitoring and protecting marine turtles in Abu Dhabi since 1999 and has succeeded in maintaining a stable population in Abu Dhabi's territorial waters. The emirate houses two of the seven species of turtles found on the planet – both of which are threatened – the critically endangered Hawksbills, and the endangered giant Green Turtles.

The rehabilitation programme has revealed that several turtles showed signs of cold stunning – a condition in which sea turtles become very weak and inactive from exposure to cold temperatures. The cold-stunned turtles become lethargic and are eventually unable to swim causing them to float on the surface of the water. In some cases, cold stunning can also lead to a build-up of barnacles on their shells, which hampers the turtle's ability to move.

The satellite tracking of rehabilitated turtles over the past few years has revealed that the turtles have remained mostly within the Arabian Gulf. An earlier study on the migration of green turtles (2016-2019) showed foraging green turtles in Abu Dhabi water use Ras Al Hadd in Oman as their primary nesting destination. Findings from satellite tracking help inform local and regional management strategies, population assessments, and threat management.

Saadiyat Island Abu Dhabi which is located within Al Saadiyat Marine National Park where the turtles were released is home to a diverse ecosystem of protected marine and wildlife animals, connecting residents and visitors to Abu Dhabi's pristine and bountiful nature. The 'Middle East's Leading Beach Destination' reaffirms its commitment to protecting its natural surroundings and its inhabitants and offers guests the opportunity to observe native animals in their natural habitats.