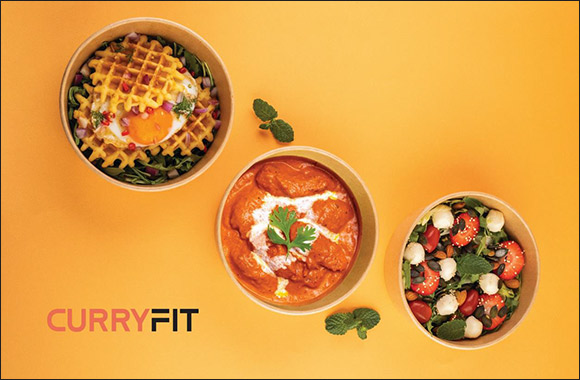 Curry Fit , UAE's home grown brand over the last 2 years has taken the concept of healthy lifestyle through wholesome and unique blend of aromatic spices to create nutrious flavourful Indian and Asian inspired meals.
With a growing need for maintaining a healthier lifestyle, Curry Fit has created bespoke, healthy and delicious meal plans that caters to different individual requirements. Curry Fit Meal Plans cater to the needs of working professionals with a busy schedule as well as fitness enthusiasts looking for a healthy, yet delicious diet. Curry Fit meals are freshly prepared using high quality ingredients, with a focus on providing all the essential nutrients that the body needs. Curry Fit offers a wide variety of meal plans namely : Keto, Balanced Meals, Athletic and their newest addition , New Mums – A meal plan to help lactating mothers ease the stress of ensuring nutritional yet flavourful food. Catering to over 1000+ customers over the years have been keeping them consistently on the look-out to curate newer and flavourful options yet keeping it budget friendly.
Curry Fit combines the concept of healthy eating with its traditional Indian cuisine , making it the perfect balance between flavour & nutrition. The meal plans offered are a variety to cater to various dietery needs. Curry fit has embarked on a journey to revolutionize the meal plan industry with its unique offerings, which is its diverse flavours and health benefits by combining traditional recipes with creative techniques to make it healthier.

"Curry Fit was born from my passion for healthy living and my love for the rich flavours and spices of the Indian cuisine. Our vision over the last 2 years have always been to provide flavourful healthy food with the combination of the vast Indian & Asian flavours to cater to the diverse needs of our customers. Our focus on the Indian and Asian diaspora sets us apart from other service providers. We believe healthy eating doesn't have to be boring and bland, which is why we work very hard to curate your favourite Indian dishes the healthy way. May it be a butter chicken, Galouti kebabs , tikka's, Roti , biriyani , extensive veg options or even Rasmalai and kheer for those with a sweet tooth. We strive to ensure that our culinary experts and nutritionists curate flavourful and balanced meals , leaving each of our customers energized and satisfied" says Vanessa Lena Crasta , Founder - Curry Fit, Certified Diet & Nutritional Advisor.
Curry Fit provides daily delivery to all major cities within the UAE, with convenient time zones , to ensure that the customers don't miss out on their healthy meals while they leave for the busy day ahead. Newer plans and customized plans are being offered as well as a part of their consistent efforts for those who wish to spice up the health and wellness routine.