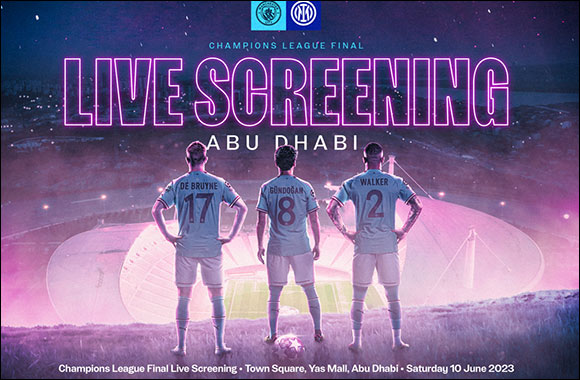 Abu Dhabi, UAE, 7 June 2023: Manchester City is delighted to announce the club will host a screening of the UEFA Champions League Final in Abu Dhabi on Saturday 10 June.

This screening, which will be held at Yas Mall, will allow fans from across Abu Dhabi to come together and celebrate City's appearance in the 2022/2023 UEFA Champions League Final.

Yas Mall will boast a large screen to watch the game (Kick-Off 11pm UAE) with lots of pre-match entertainment including Official City mascots Moonchester and Moonbeam, face painters, freestylers and other fun activities – making it the best place to be in Abu Dhabi to soak up the occasion alongside fellow blues.

The event is free to attend but please pre-register for a chance to win the 'Best Seat In the House' for you and a friend to be seated on the VIP Sofa. This great prize includes an amazing perspective of the match, signed shirt and City giveaways!