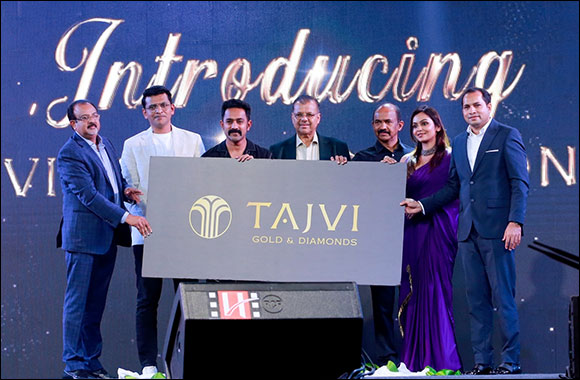 Dubai - UAE: Tajvi Gold and Diamonds, a renowned jewelry group that has been delighting gold enthusiasts in major Indian cities for the past 25 years, is embarking on an exciting new venture in Dubai. With a fresh brand identity and a fashion-forward approach, Tajvi Gold and Diamonds is set to open approximately 10 new locations this year, including Deira, Bur Dubai, Karama, and Sharjah. This expansion brings a wave of opportunities for jewelry lovers in the region.
To celebrate this significant achievement, a grand logo launch ceremony was held at the prestigious Sharjah Expo Center. The event saw the presence of esteemed personalities such as Asif Ali, Tovino Thomas, Kunchoko Boban, Vineet Srinivasan, Chairman Muhammad Hanifa Taha, Vice Chairman Hanifa Abdul Manaf, CEO Shameer Shafi, and Managing Director Mujeeb Rahman. Together, they marked the beginning of an exciting chapter for Tajvi Gold and Diamonds.
Building upon their global success, Tajvi Gold and Diamonds now introduces a wide range of gift schemes and investment opportunities. The company's first showroom will be located in Dubai's renowned Gold Souk, followed by upcoming locations in Sharjah Rolla and Karama Center. With a commitment to providing customers with authentic Indian traditional jewelry, Tajvi Gold and Diamonds aims to offer the most sophisticated fashion pieces at affordable prices. Furthermore, customers can expect a dedicated section showcasing a wide variety of dazzling diamonds. The company specifically targets customers from Asian backgrounds, catering to their unique preferences.
Officials have announced significant investments of 100 million dirhams in the region for this year, with plans to invest an additional 300 million dirhams in the coming years. As a result, approximately 10 new showrooms are set to open across the emirate of Dubai, providing customers with easier access to Tajvi Gold and Diamonds' exclusive collections. During a press conference held at the Flora Inn Hotel in Dubai, Chairman Muhammad Hanifa Taha, Vice Chairman Hanifa Abdul Manaf, CEO Shameer Shafi, and Managing Director Mujeeb Rahman shared their excitement and vision for the company's expansion plans, highlighting their commitment to serving the region's jewelry needs.
The company focuses on establishing retail jewelry stores in the Middle East region, led by Mr. Mohammed Haneefa Thaha (Chairman), a veteran businessman with over 40 years of experience in operating successful businesses in the Middle East and India.
Other members of the team include:
- Mr. Haneefa Abdul Manaf (Vice Chairman): A business professional with over 30 years of experience in the Middle East and India, specializing in industries such as Oil and Gas, Trading, Hospitality, and Real Estate.
- Mr. Mujeeb Rahman (Managing Director): With over 25 years of experience as Director of Supply Chain in retail and wholesale jewelry trading with reputed brands in India.
- Mr. Shameer Shafi (CEO): An accomplished entrepreneur with over 15 years of business professional experience, having established multiple successful businesses in the construction and trading industry in the Middle East.
Looking ahead, the group is committed to establishing a prominent presence in the Middle East and international jewelry business with a carefully crafted business plan. The first store will open at the heart of Gold Souq Deira, at the Gold Center on the 24th of June, with the blessings of Panakkad Munevar Ali Shihab Thangal. This will be followed by the opening of additional locations in Rolla Sharjah and Karama Center in August. Furthermore, the company is actively exploring the feasibility and conducting market studies for other potential locations. In Stage 1 of their plan, Tajvi Gold and Diamonds has allocated an investment of AED 100 million to open 5 stores within this financial year. Additionally, they plan to invest an additional AED 200 million in the coming years, resulting in the opening of over 10 stores in the region.
In addition to their retail business, the company also operates gold mining operations in the African region. They have plans to expand their business portfolio to include wholesale, manufacturing, and bullion verticals, optimizing the supply chain and providing added value to customers and investors.
While the initial phase of the plan is executed by the current group of investors and promoters, the company will be inviting investments through an independent investment Pr. jSC company formulated under the guidance of M/S Kreston Menon Consultants. This platform will offer investment opportunities to the general public through the issuance of valid share certificates.
Tajwee Gold and Diamonds is committed to offering the latest fashionable and high-quality products at reasonable making charges, placing utmost importance on customer experience and care.
The upcoming launch of Tajwee Gold and Diamonds' new locations in Dubai signifies a major milestone for the brand. With their rich heritage and expertise in the jewelry industry, combined with their fresh approach and commitment to customer satisfaction, Tajwee Gold and Diamonds is poised to make a significant impact in the Middle East jewelry market. Jewelry enthusiasts can look forward to an exquisite collection of traditional Indian jewelry, as well as a dedicated selection of stunning diamonds.
As Tajwee Gold and Diamonds sets its sights on expanding their presence and establishing a strong foothold in the Middle East, they are positioned to become a leading destination for jewelry lovers, offering a blend of timeless elegance and contemporary style.