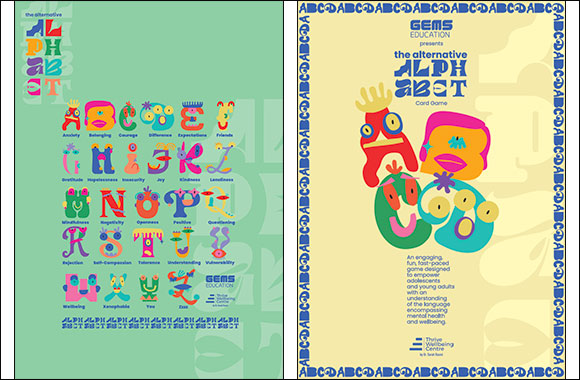 • GEMS partners with UAE-based Thrive to encourage open, safe discussions
• Alternative Alphabet builds understanding of language around mental health
• 7 in 10 teens won't talk to peers about mental health, GEMS research indicates
• 73% of respondents believe more needs to be done to support their wellbeing
DUBAI, United Arab Emirates: GEMS Education, one of the world's largest private K-12 education providers, has joined forces with Thrive Wellbeing Centre by Dr Sarah Rasmi to introduce a free mental health tool called The Alternative Alphabet, which aims to empower young people with an understanding of the language around mental health.
The Alternative Alphabet is backed by a GEMS Education survey of 4,500 UAE-based students aged 10-18 years that shows 42 per cent often feel anxious or stressed, with 73 per cent saying more needs to be done to support them in this important area.
The survey also indicates that, while today's young people show an increased awareness of mental health issues, seven in 10 won't speak to friends or classmates about their mental health challenges.
Directly addressing this, The Alternative Alphabet facilitates a deeper understanding of mental health and provides adolescents with essential related skills, allowing them to better identify, define, and discuss the potential challenges they may face.
To facilitate and ease communication around mental health further, GEMS Education and Thrive Wellbeing Centre gamified The Alternative Alphabet by creating an original card game complete with 26 original characters – one for every letter of the alphabet. Each character represents a different facet of mental wellbeing, from kindness and tolerance to self-compassion and insecurity.
The engaging card game enables adolescents to navigate their own wellbeing and offer support to their peers, all while actively involving parents, guardians, and educators in the process.
Ranju Anand, Senior Vice President – Education at GEMS Education, emphasised the significance of The Alternative Alphabet in providing young adults with a means to comprehend and articulate the language surrounding mental health.
She said: "As infants, we learn to associate letters with visible objects, such as A for Apple or C for Cat. However, as children grow older, they encounter new emotions and feelings that they struggle to describe, such as anxiety, vulnerability, or insecurity.
"The Alternative Alphabet is specifically designed to empower young people by helping them comprehend and understand this complex terrain. It does this by matching each letter to an emotion or concept, such as A for Anxiety and M for Mindfulness. With this simple, yet interactive format, young people are introduced to the language of mental health.
"We are immensely proud to have partnered with Dr Sarah Rasmi and Thrive Wellbeing Centre, demonstrating the importance of community in fostering mental resilience among teenagers and young adults."
To bring this to life, GEMS Education and Thrive Wellbeing Centre conducted a series of workshops with students from diverse schools and backgrounds. During these workshops, students were able to learn about mental resilience, engage in activities designed to amplify emotional awareness, and participate in mental health discussions.
Dr Sarah Rasmi, founder of Thrive Wellbeing Centre, expressed her enthusiasm for the collaboration, stating: "We are excited to partner with GEMS Education in our shared dedication to bringing awareness of mental health issues and promoting overall wellbeing. The Alternative Alphabet is a unique resource that can be used to de-stigmatise mental health, and we believe it has the potential to positively impact thousands of young teens as they enter a transformative phase of their lives."
To further increase the impact of the campaign, GEMS Education engaged celebrities, entrepreneurs, influencers, athletes, and media to spark critical dialogue around the topic. Twenty-six prominent figures from widely differing backgrounds across the UAE were invited to 'own' a single letter and its associated word from the Alphabet that resonated with them, with each sharing anecdotes, advice, and fostering non-judgmental discussion on their social media channels.
The Alternative Alphabet marks another mental resilience milestone for GEMS Education, following the successful release earlier this month of 'The Mock Exam', a cinematic film featuring real students. This thought-provoking film, aimed at raising awareness about the significance of open conversations around mental health, has further solidified GEMS Education's commitment to addressing and supporting the mental wellbeing of its students.
GEMS Education is making The Alternative Alphabet Card Game freely available for schools, teachers, students, parents, and anyone interested. Visit the website for more information.