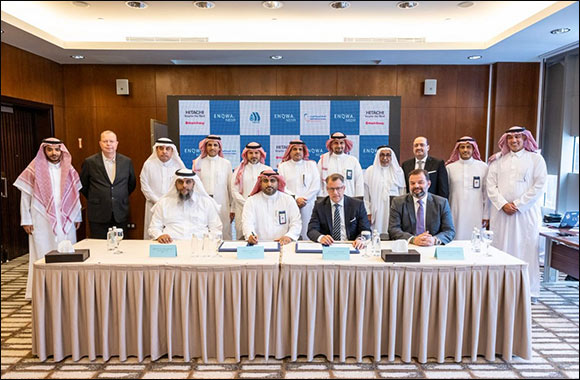 Collaboration to accelerate the development of NEOM in Saudi Arabia with up to 9 gigawatts of power transmission capacity
Dubai, May 30, 2023 - Hitachi Energy, a global technology leader advancing a sustainable energy future for all, has signed agreements under the supervision and management of the Ministry of Energy with the Saudi Electricity Company (SEC) and with ENOWA. The agreements include the supply of three high-voltage direct current (HVDC) transmission systems to end customer ENOWA, the utility company for NEOM in Northwest Saudi Arabia. Built with sustainability in mind, NEOM is among Saudi Arabia's Giga-Projects1 reshaping the future of development. The three HVDC links will have a total power capacity of up to 9 gigawatts (GW).
The agreements include an order from ENOWA's engineering, procurement and construction management (EPCM) partner, the Saudi Electricity Company (SEC) awarded to Hitachi Energy and its consortium partner, Saudi Services for Electro Mechanical Works (SSEM), to provide one of the world's first 3 GW, 525 kilovolt (kV) HVDC Light® transmission system connecting Oxagon, NEOM's regional development, with the larger Yanbu area more than 650 kilometres away in Western Saudi Arabia.
Hitachi Energy's scope of supply includes design, engineering, procurement of HVDC technology and commissioning of the HVDC Light converter stations. Whilst SSEM – a leading Saudi EPC specialising in power, water and industrial projects – will design and supply the AC equipment portion and perform the construction and installation. The converter stations convert the power from AC to DC and then back to AC for integration into the receiving grid. The converters will be sourced by and supplied to Saudi Electricity Company, who was contracted in 2022 by ENOWA to act as their EPCM to build this first HVDC system for NEOM.
Further to this, Hitachi Energy and ENOWA have signed an early works and capacity reservation agreement for two additional HVDC projects, each rated up to 3 GW. Under this agreement, both companies commit to having the resources and capacity necessary to implement these two HVDC systems. As part of a new scalable and modular regional network design that is targeted to seamlessly integrate future renewables and energy storage technologies in the NEOM Energy System, making it unique in terms of size and complexity. The co-operation will also explore opportunities to develop local competencies in the Kingdom, including ways to sustainably assemble the necessary HVDC Light components locally.
"We are delighted to strengthen our collaboration with ENOWA and Saudi Electricity Company in order to power one of the most visionary development projects of all time," said Niklas Persson, Managing Director of Hitachi Energy's Grid Integration business. "As the world progresses towards a more sustainable future, our expertise and HVDC technologies are true enablers of the electrification of the global energy system and the transition to renewables."
"By securing the first capacities for such an important part of our future grid in only one year since the decision to use this technology, we show ENOWA's commitment to supporting Saudi Vision 2030 in collaboration with Saudi Electricity Company and Hitachi Energy," said Thorsten Schwarz, Executive Director of Grid Technology & Projects, Energy of ENOWA.
ENOWA, NEOM's energy and water company, produces and delivers clean and sustainable energy for industrial and commercial applications. The company benefits from NEOM's greenfield site and strategic location in the northwestern part of Saudi Arabia, with abundant solar and wind resources. ENOWA will act as a catalyst and incubator for developing new, sustainable energy and water businesses while creating a robust economic sector regionally.
ENOWA seeks by its commitment to renewable energy and efficient water management, to become a global reference for industry leaders and setting a benchmark for sustainable economic circular systems around the world. Formed in 2022, ENOWA is the principal shareholder in the world's largest green hydrogen production plant set to be commissioned in 2026 and will enable NEOM to be a global green hydrogen hub.
NEOM will be powered by 100 percent clean energy, through renewable solar, wind and green hydrogen-based energy. The region is designed to be a blueprint for sustainable urban living with minimal impact on the environment and enhanced livability.