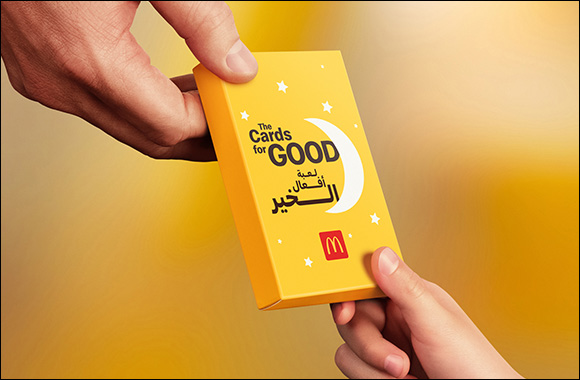 • McDonald's UAE is putting a fun twist on its annual Ramadan program by launching The Cards for Good, a pack of playing cards priced at AED 5 designed to encourage acts of good, boost family fun, and enables you to live the child within
• One hundred percent of the proceeds from the cards will go towards supporting Emirates Red Crescent, of which McDonald's UAE has been a longstanding partner
• The Quick Service Restaurant raising a total of more than AED 1.5 million over the past 5 years for Emirates Red Crescent, with more than AED 310,00 raised in 2022 alone
DUBAI, UAE – 28 March 2023: This Ramadan, McDonald's UAE is bringing the spirit of the Holy Month to life across its annual Ramadan program with Emirates Red Crescent by launching The Cards for Good – a deck of playing cards designed to bring families and friends closer. For AED 5, you can purchase the playing cards in McDonald's UAE restaurants or via delivery and one hundred per cent of the funds from the sale of the cards will be donated to Emirates Red Crescent's Ramadan programs.
The inspiration for The Cards for Good comes from McDonald's 'Live the Child Within' campaign, which encourages adults to draw inspiration from children and connect with their inner child during Ramadan. The campaign focuses on children's innate kindness, actions, and experiences, inspiring adults to perform light-hearted acts of kindness that promote the giving spirit of the Holy Month.
McDonald's UAE has been an established partner of Emirates Red Crescent for over 5 years now, collectively raising more than AED 1.5 million. In 2022 alone, the Quick Service Restaurant raised more than AED 310,000 through the sale of books for Al Ghadeer UAE Crafts, an initiative by Emirates Red Crescent.
Commenting on the program, Walid Fakih, CEO at McDonald's UAE, said, 'One of our proudest achievements is our community work through partnerships such as Emirates Red Crescent. Our annual Ramadan program collects funds each year to assist those in need within the UAE, and it receives full support from our customers. We are confident that this year our customers will once again show their unwavering support and we look forward to seeing families come together to make a difference this Ramadan."
His Excellency Rashid Mubarak Al Mansouri, Deputy Secretary-General for Local Affairs at Emirates Red Crescent, praised McDonald's UAE's humanitarian initiatives and social involvement, stating "McDonald's UAE plays a crucial role in promoting social responsibility, by providing continuous support for humanitarian causes, charity events and activations." He added, "We at Emirates Red Crescent, are excited about the prospect of growing our humanitarian partnership with the company in the future.'
The cards will be available to purchase for AED 5 from the restaurant front counter, drive-thru and delivery. For more information please visit: https://www.mcdonalds.com/ae/en-ae/buy-the-cards-for-good.html