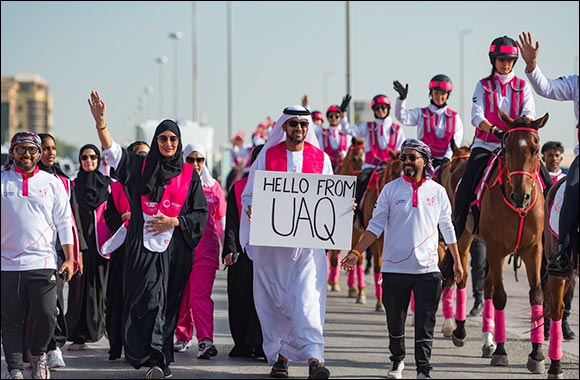 50 percent of horse riders in the 11th edition of the breast cancer awareness campaign are men
● 2,114 men screened in 5 days
● Over 100 horse riders raising awareness across the nation, 50% of whom are men
Sharjah, February 8, 2023
The 11th Pink Caravan Ride (PCR) continued its seven-day trek in Umm Al Quwain, offering free check-ups and heightened awareness on the significance of routine screening for women and men. With over 100 horse riders, 50% of whom are men, the annual awareness campaign marks a historic achievement and sends a strong message that breast cancer affects the entire community, not just women.
On Tuesday, the Pink Brigade trekked across UAQ and was greeted by Sheikh Abdullah Bin Faisal Al Mualla at Kite Beach after starting their journey from UAQ Wall and Fort towards UAQ Hospital, where they were received by HE Mohamed Al Kashef, Federal National Council Member.
One of the riders who participated in raising awareness in UAQ was Yousef Al Gargawi, a computer science student from AUS. Al Gargawi emphasized the crucial role of male advocates in the Pink Caravan Ride and its objectives, as men are not exempt from breast cancer. The 19-year-old Dubai resident said: 'The notion of male equestrians advocating for breast cancer awareness may seem unconventional, but it is imperative to challenge and change such perspectives in order to effectively communicate the crucial message that this disease affects men and women.'
The second leg of the day's activities started at Al Hamriyah Fisherman's Marina in Sharjah. PCR ventured towards the Al Hamriyah Ladies Club before reaching the day's final stop, Hamriyah Beach. Thrilling activities were held along the pristine coastline of Sharjah, creating a memorable experience for all volunteers and the cheering crowds.
Emirati equestrian, Omar Abdullah, has expressed his support for the pink brigade in raising awareness for breast cancer. By riding alongside female horse riders, he hopes to encourage more men to avail PCR's free check-ups and, at the same time, inspire them to join the annual campaign and raise awareness of the community.
Abdullah believes that it is crucial that PCR reach every corner of the UAE, to ensure that both men and women are well informed about the importance of early detection in the fight against breast cancer, which will contribute to the overall well-being of the community.
Commenting on the increased participation of men in the annual PCR awareness campaign, HE Reem BinKaram, Chairperson of PCR's High Steering Committee, said: 'Since its inception, the volunteer-based awareness campaign has always been inclusive. That said, the increased participation of men in breast cancer awareness is a positive development for the entire community. By involving more men in the conversation, we not only raise awareness about the disease but also break down the stigma surrounding male breast cancer, which is often underdiagnosed.'
As of Day 4, PCR has carried out 2,114 screenings for men through its fixed clinics, Pink Caravan Mammogram clinics and the Daily Minivans across the nation.
Pink Caravan Mammogram clinics offered free check-ups at the Umm Al Quwain Hospital, while the daily Minivan stopped at Kite Beach and Al Hamriyah Ladies Club. PCR fixed clinic will continue offering services at the Lulu Hypermarket in UAQ Mall from 4-10pm until February 10.
Day 5 in Fujairah
Today, the pan-UAE awareness campaign is trekking on the country's eastern coast, with riders starting at Kalba Waterfront at 8am reaching East Coast Fishing Charter Kalba Corniche at 9.20am. The March from the second starting point at Kalba Corniche will begin at 10am ending in Fujairah International Marine Club at 12:15pm. The final route for the day will commence from Old Souq Khorfakkan at 3:15 pm, with an estimated arrival at 5pm in Khorfakkan Amphitheatre.
The Pink Caravan Mammogram clinics in Fujairah will operate at Al Diwan Al Amiri on day 5 (February 8) from 12-6pm. Daily Minivan Stops will be available at Kalba Waterfront from 9am-3pm and Oceanic Khorfakkan from 4-10pm.
Day 6: Ras Al Khaimah
The pink brigade will campaign in Ras Al Khaimah on Day 6, with riders starting at Saqr Hospital at 9:30 am, passing by Cove Rotana Resort and ending at Mina AlArab Lagoon at 4:30 pm.
The Daily Minivan will be at Saqr Hospital from 9am-3pm as well as Al Quasim Corniche from 4pm-10pm, while the Pink Caravan Mammogram clinic will be available at Mina Al Arab from 1pm-7pm.