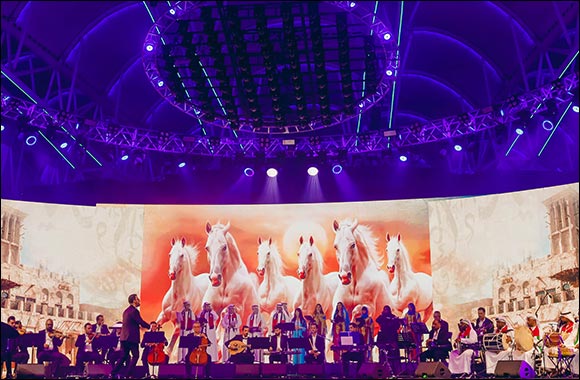 UAE, Dubai, December 2, 2022: Global Village welcomes guests from around the world to celebrate the UAE's 51st National Day with inspiring performances by a special 33-piece orchestra, playing classical Arabic music, until December 4th.

The hour-long show entitled 'Nation of Sun and Moon' begins with the UAE's national anthem 'Ishy Bilady' as the musicians honour the UAE's unique heritage and achievements through a selection of traditional songs and tunes.

A violinist and harpist also perform popular Emirati songs to commemorate the UAE National Day celebrations. Alongside these performances, and showcasing the spirit of tolerance of the UAE, the Global Village Main Stage hosts a number of cultural shows from the 27 pavilions represented at Global Village.
Celebrating National Day under the theme "Brighter Together" Global Village's different landmarks are adorned in the colours of the UAE flag, along with a spectacular fireworks display lighting up the skies with the colours of the UAE flag.

Guests visiting Global Village can continue to enjoy the themed performances and special fireworks display until the end of the long weekend, until Sunday December 4.