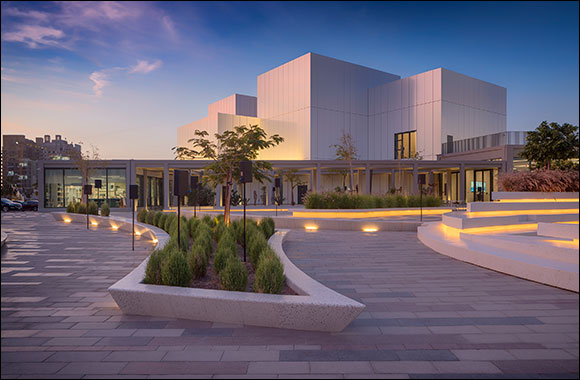 Coming Soon
Down to Earth 2022
November 27, 2022 | 10am - 8pm
Jaddaf Waterfront Sculpture Park, Jameel Arts Centre
Down to Earth, the UAE's annual festival celebrating all things green, returns for its third edition on Sunday, November 27, 2022 from 10am to 8pm. Jameel Arts Centre invites both veteran and new gardeners, nature and crafts enthusiasts, the eco-conscious and sustainability-aware to experience a range of entertaining and informative activities for all ages.
Free and open to everyone, Down to Earth features rolling, day-long, drop-in workshops for all ages in the festival's outdoor arts and crafts zone, demonstrations and information stalls for children, teens and adults themed around sustainable living, plus a programme of talks by eco and sustainability experts. Spanning across Jameel Arts Centre and the Jaddaf Waterfront Sculpture Park, the yearly festival also includes a Green Bazaar, which offers a broad variety of indoor and outdoor plants, plus related eco-conscious and sustainability-aware gifts and products from local businesses, while the Art Jameel Shop features a special festival-themed collection of books and design objects.
New to this edition of Down to Earth is the first Farmer's Market – a collaboration with Teible, the farm-to-fork restaurant located at Jameel Arts Centre. The Farmer's Market invites local farmers offering fresh seasonal produce directly to the community while raising awareness about sustainable practices
Watch this space for the full programme of talks.
'Artist's Rooms': Risham Syed, Daniel Genadry, Ayesha Sultana
December 7, 2022
Project Space
RSVP here
Drawn largely from the Art Jameel Collection, Artist's Rooms is a series of solo exhibitions by influential, innovative artists, with a particular focus on practitioners from the Middle East, Asia and Africa. These capsule shows are collaborative and curated in dialogue with the artist. Autumn 2022 – Winter 2023 features rooms by Ayesha Sultana, Risham Syed and Daniele Genadry in galleries 1, 2, 3.
A conversation with artists Risham Syed and Daniele Genadry - 6:00 pm - 7pm
To mark the opening of 'Artist's Rooms', join us for a conversation with exhibiting artists Risham Syed and Daniele Genadry, along with exhibitions curator Nadine El Khoury.
The conversation will focus on the research and thinking behind each artist's work as well as engage with the broader thematics of their individual exhibitions.
Risham Syed delves into her series The Seven Seas, (2012), where she connects the intricacies of contemporary geopolitics with the 19th and early 20th Century cotton trade of the British Empire. Daniele Genadry expands on her project Blind Light (2017) as well as the recent body of work following her research in la Rochelle, France and the Grand Canyon, USA.
RSVP required. Attendees are welcome to stay after the talk for a preview of the exhibitions, 7-8pm.
6:00 - 7:00pm
Night School 2023: Make History
January 8-29, 2023 | 7:00 pm – 9:30 pm (click here for the full schedule)
Project Space
In Dubai, you witness history being made. It happens most emphatically across the landscape, in the construction of towers, ports, roadways and bridges. You could say that builders, architects, engineers, and planners are hired to write that history. And the work requires creative engagement with both the past and the future.
At Night School this year, we will encounter assembled skylines alongside other ways that history gets made: filed inside halls of institutions, resurfaced during a garage renovation, concealed in the ground below, or sprouting from the landscape around us. Gathered in a city that arises through its connections to the world, we will examine how the evidence of Dubai's history streams through places nearby and far.
Join architect and writer Todd Reisz for the second Night School at Jameel Arts Centre. This year's theme is Make History. Local and international scholars will join a seminar of Dubai residents over three weeks in January to explore how history gets written, and constructed, in Dubai and the greater region.
The seminar will meet from January 8 until January 29, on Sunday and Wednesday evenings at 7:00 p.m. There are also some planned evening film screenings.
Professionals, students and everyone who is curious are welcome to register for the free course. No prior academic experience is necessary. The only requirements: a commitment to all 7 seminar sessions and proficiency in reading English texts.
Submit your application until November 25. Accepted candidates will be contacted by December 10, 2022.
Todd Reisz is the author of Showpiece City: How Architecture Made Dubai (Stanford University Press, 2020) explores architecture's packaging to sell Dubai on a global stage. At Jameel Arts Centre, he curated the exhibition Off Centre/On Stage (2021), wrote the eponymous publication (Khatt Books, 2021) and led the first Night School (2022). He also co-edited with Sultan Sooud Al Qassemi Building Sharjah (Birkhäuser, 2021), an archival investigation of that city's vanishing 20th-century landscape.
Workshops and programming
Bimonthly workshops from September 2022 to January 2023:
The Water Diviners IV: Collective Story-Making Inspired by Folklore and Water
September 10, 2022 - January 14, 2023
Online, Sahaab
RSVP here
This workshop is related to the exhibition 'An Ocean in Every Drop' (see below)
As part of her long-term practice on Palestinian folk tales and their connection to landscape and water sources, artist Jumana Emil Abboud will be leading a participatory workshop exploring natural water sources in Dubai and the wider U.A.E. Through discussions, collective readings and writing exercises, workshop participants will contribute to the co-authorship of a story of water; thinking through both personal histories and relationships to sites of water as well as tackling broader questions of humanity's entanglement with 'the natural'.
Water divining- the ancient art of locating natural sources of water- is the conceptual driver for this workshop series, where storytelling is used to locate sites of water geographically, historically and culturally.
The workshop series will culminate in a performance based on the co-authored texts and imaginaries, to be performed collectively at selected sites of water on Sunday, January 15th 2023.
The initial meeting for the workshops will take place at the Jameel Arts Centre, continuing online approximately every two weeks. Please note this is a series of workshops and participants are expected to commit to the full series.
Session will be led in English but writings can be in a language of choice
Jumana Emil Abboud uses drawing, video, performance and text to navigate themes of memory, loss, and resilience. Her creative practice is inspired by Palestinian oral history, with a focus on folktales and their connection to actual sites within the landscape, and to water sources in particular. Abboud lives and works in Jerusalem and London where she is currently a PhD candidate at Slade School of Art.
The dates, times and locations of the workshops are as follows:
Saturday 10 September 2022 Online, 11am-3pm with lunch break
Saturday 1 October, 2022 Online 3pm-5pm
Tuesday 11 October, 2022 Online 6-8pm
Saturday 29 October 2022 Online 3pm- 5pm
Tuesday 08 November, 2022 Online 6-8pm
Saturday 26 November 2022 Online 3pm- 5pm
Saturday 10 December 2022 Jameel Arts Centre 3pm- 5pm
Saturday 14 January 2023 Jameel Arts Centre 3pm- 7pm with break
Expert-led gardening programme: My Winter Garden
September 24, 2022 - December 10, 2022 | 9:00am-12:00pm
RSVP here
The Friends of Jaddaf Community Garden and Dr Nasser Rego, founder of SoWeGrow and Zoë: farm for life, are back this summer with an inspirational programme for all gardening enthusiasts. In collaboration with Art Jameel, 'My Winter Garden' is a twelve-week programme designed for all to learn firsthand how to grow organic vegetables as experts do.
The programme allows participants to cultivate gardens that thrive in the high temperatures of Dubai and is facilitated by an organic farmer. The sessions are workshops that range from theoretical to practical and deep dive into permaculture, transplanting, composting, and community building. The programme takes an organic approach to building and looking after your garden while reconnecting with nature to boost your holistic well-being. Participants will get a chance to nurture gardens and explore how they can contribute to their community by learning about agriculture, education and sustainability.
Join Dr Nasser Rego, organic farmer and educator, and gardening enthusiast Amin Rashidi, from The Friends of Jaddaf Community Garden, for an introductory session about 'My Winter Garden' on Wednesday, 7th and 14th, September at 7:00pm at Jameel Arts Centre to learn more. Whether you're a beginner with basic knowledge of plants or an experienced grower looking to hack the art of growing abundantly, this course is designed for you.
The programme is aimed at participants aged 16+ and runs every week for 3-hour sessions; limited spaces are available (early booking recommended). The programme cost is AED 2,200 (USD 600) per person, and course fees include a take-home starter kit to kick-start your gardening journey!
If you book with friends and family, you can avail a 10% discount on your total bill. On the payment page:
A. Select the number (Qty). of persons (has to be more than one person) registering for the programme and
B. Apply the following discount code: JAMEEL10OFF
Terms and Conditions apply.
Currently on view
Exhibition: An Ocean in Every Drop
September 22, 2022- April 2, 2023
Galleries
Water is a force that produces history, culture, language and social relations. Bodies of water shape human development, sustain trade and empire, and offer means of escape and refuge. The belief in water as the wellspring of life is a tale as old as time itself, held in memories written and recited, from the ancient Greeks and Egyptians, to the indigenous North American origin story of Turtle Island, to the Bible and the Holy Quran.
Over time, much has shifted in our understanding of water. Currently, water is in crisis; simultaneously scarce, through drought, and threateningly over-abundant, through floods and rising sea levels.
How can we understand this life force through its production of myth and its anchoring of spiritual beliefs? Can connecting to a range of world views relating to bodies of water as living beings transform our own approach to the climate emergency?
Bringing together works from around the globe that explore human relationships to water, 'An Ocean in Every Drop' asks us to think with water, following its flows through the past to inform our present.
With works by: Jumana Emil Abboud, al-Istakhri, Martha Atienza, Raven Chacon, Cian Dayrit, Léuli Eshrāghi, Asunción Molinos Gordo, Abul Hisham, Candice Hopkins, Sohrab Hura, Hussein Naserreddine, Thảo Nguyên-Phan, Daniel Otero Torres, Karan Shrestha, Fatima Uzdenova, Munem Wasif.
Detailed media alert and high-res images available here
Library Circles: Rashed Qurwash
September 14, 2022- February 13, 2023
Jameel Library
Library Circles is a series of research, talks and experimental interventions by UAE practitioners in the Jameel Library and Jameel Arts Centre. The programme explores alternative research methodologies and representations with a focus on "thinking in public".
For the Fall iteration of Library Circles, Jameel Library presents a research display by artist Rashed Qurwash.
Qurwash investigates the Jaddaf neighborhood in Dubai and the practices it had once held through images, documents and interviews conducted with people who have occupied the area at various capacities. In addition to individual accounts, Rashed investigates Jaddaf's urban planning prior to the development within the local area in the 2000s.
This iteration of Library Circles will feature two public programmes – announcements to follow.
Rashed Qurwash (b.1990, Dubai, UAE) lives and works between Dubai and Los Angeles. Qurwash's practice joins film, set design, and sculpture to explore themes of collective identities shaped through traditions, rituals, religion and trade. His practice relies on subtextual content to mirror collective identities, heavily coded existences and their functionalities within society.
Rashed is a recipient of the Salama bint Hamdan Emerging Artists Fellowship (2018), the Cultural Foundation Residency in Abu Dhabi (2022)
He has a BSc in Political Science and a Minor in Architecture from Drexel University (2014). He is currently pursuing his Film/Video MFA at the California Institute of the Arts (2025).
Jameel Library Commissions: Khalid Mezaina
July 15, 2022 - July 15, 2023
Online + in Jameel Library
Jameel Library's upcoming digital commission features a study of regional textile and talismanic practices with entries released every fortnight starting July 2022 on Jameel Arts Centre's website.
Exploring themes and techniques on surface design, ceremonial textiles, costumes for the stage and the magical world of talismans, Khalid Mezaina's commission is two-fold: writings and a physical textile piece that unfolds throughout the year-long duration of the commission.
This project expands on the textile and talismanic folk practices to create new connections between traditional craft practices, contemporary textiles and the library's collection.
Khalid Mezaina is an illustrator and textile artist from Dubai. Along with a BS in Visual Communication from the American University of Sharjah in 2006, Khalid graduated in 2018 from the Rhode Island School of Design, with an MFA in Textiles. His commissioned and self-initiated projects range from art prints, installations and murals, to designs for apparel, stationery and publications.
Khalid has participated in projects and residencies both in the UAE and abroad. He has also been featured in regional and international exhibitions including 'Emirati Expressions IV: Conventions of Art' (2015); 'Portrait of a Nation' (Abu Dhabi Festival, 2016 and Berlin Art Week, 2017); and 'From Barcelona to Abu Dhabi: Works from the Barcelona Museum of Contemporary Art (MACBA) in dialogue with the Emirates' (2018).
World Weather Network
June 21, 2022 - June 21, 2023
Jameel Arts Centre, Online
Art Jameel is one of 29 arts organisations from around the world forming the World Weather Network, a global 'weather reporting' project running from June 2022 to June 2023 bringing together artists, writers, scientists and environmentalists from around the world to reflect on changing climates and relationships to the weather from a variety of contexts.
Art Jameel's weather station explores atmospheric humidity, a central climatic marker of the Arabian Gulf, issuing reports in the form of narrative podcasts by commissioned artists and writers exploring humidity through three main thematics: The Threshold, Sweat and Labour, and Technofutures.
More information, weather-related projects and Podcasts can be accessed via jameelartscentre.org
Exhibitions:
'Proposals for a Memorial to Partition'
June 18, 2022 - February 19, 2023
Proposals for a Memorial to Partition' brings together proposals by artists and writers for an imagined memorial to the partitions that produced the modern nation-states of South Asia. Curated by Murtaza Vali, these proposals range from artworks and texts to sketches and maquettes, presenting a multitude of poetic and speculative approaches to a historical event that resists narrow categorisations.
Conrad Shawcross in the Park
Formation III: The Dappled Light of the Sun, 2015, Weathering steel, 792.1 x 792.1 x 475 cm, Art Jameel Collection.
Throughout his career, Conrad Shawcross has experimented with geometries and topologies; these constructions are conceived as systems, sometimes modular, sometimes mechanical, which could be theoretically extended infinitely into space. Formation III: The Dappled Light of the Sun, revolves around the natural patterns of geometry: from a simple, mathematical form, Shawcross has created an immersive work that stands on three tripods, six metres high. The geometric structures give an impression of being organic, comprised of branching, tree-like forms made up of thousands of tetrahedrons, creating a canopy over part of Jaddaf Waterfront Sculpture Park.