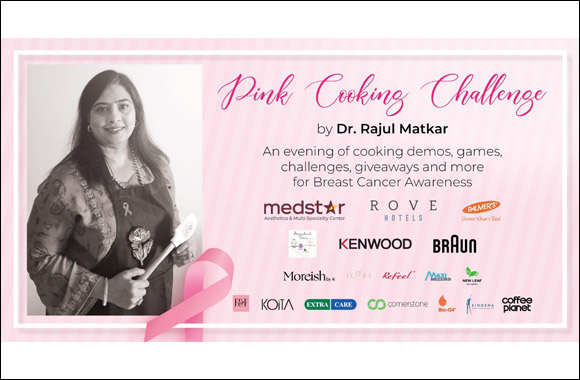 Dubai 26th September 2022, United Arab Emirates – Pink Cooking Challenge 7th edition
Dr Rajul Matkar, a Dubai based well known obstetrician and gynecologist, is organizing the 7th edition of the Pink Cooking Challenge for Breast cancer awareness, an event happening on Saturday 15th October 2022 between 3pm to 6 pm at Rove Hotel Citywalk.
This year the event will be in person, and about 100 participants are expected to attend.
The event will be attended by breast cancer survivors, influencers as well as participants in the cooking Challenge.
About Dr. Rajul Matkar
Dr Rajul Matkar is a specialist Obstetrician and Gynecologist at Medstar Aesthetic and Multispeciality center Oud Metha, a dedicated multi-speciality center that aims to transform lives and heal with passion, compassion and commitment. Their success stems from the expertise and concerted efforts of their incredibly talented and highly skilled medical and support team that form the backbone of the institution.
Dr Rajul Matkar blogs about food and lifestyle because it is her passion. Every October she organizes an event called the Pink Cooking Challenge where participants can take part by presenting a dish which will be judged and winners will be given prizes.
The aim of this event is to raise awareness for breast cancer as October is breast cancer awareness month, and also inspire women to eat healthier so that they know how to identify symptoms of cancer early and even know how to prevent it. Along with the cooking challenge there will also be other fun activities for the women attending and Dr Rajul will give a short talk as well where she will highlight how food plays a role in reducing your risk for disease.
This year too she aims to have demonstrations of anti-inflammatory and healthy recipes along with a cooking challenge and talk about how food and lifestyle impacts the risk for cancer.
More about Dr. Rajul Matkar
Instagram page: @rajul_25
Facebook page: @ToBornot2BRajul
Facebook profile: Rajul Matkar
Blog is: To B or not 2 B Rajul