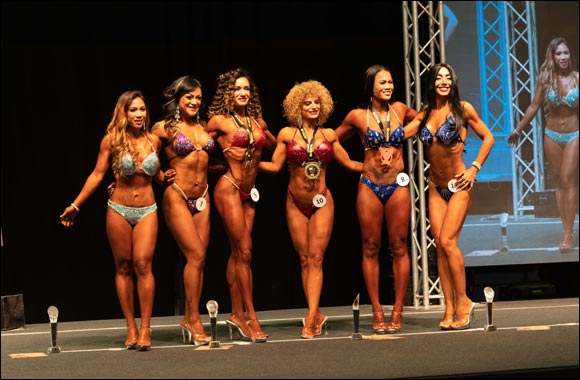 Women set to earn more than men at the ground-breaking Dubai Muscle Show
The biggest prize money sum in the competition's history has been contributed by women's only gym group, FitnGlam

Dubai, United Arab Emirates, 19th September 2022: One of the region's biggest bodybuilding events, the Dubai Muscle Classic, is shining a spotlight on female bodybuilding talent this year by offering its biggest sum of prize money to date to the women's competition.
Dubai Muscle Classic is giving female bodybuilders the chance to win an incredible AED 100,000, as well as 18 Pro Cards, which means that for the first time in the event's history, the female competitors will be able to win more prize money than the male competitors.
In collaboration with Dubai Sports Council and IFBB Pro Elite, the competition is set to take place at the Middle East's biggest annual fitness and wellness exhibition, Dubai Muscle Show, and invites female bodybuilders to take to the stage from 28th to 30th October 2022.
Contributed by FitnGlam, the women's only gym group which has been created by women for women, the AED 100,000 prize money makes Dubai Muscle Show the host of the only women's bodybuilding competition in the region to be offering prize money of this sum.
Nick Blair, Co-Founder and Exhibition Director commented: "The Bodybuilding sport is growing in popularity year on year in the UAE and we are proud to have grown Dubai Muscle Classic to be one of the biggest competitions in the region. We are so pleased that with the generous support from FitnGlam we can celebrate women in the sport by offering the biggest prize money in the competition's history to the female category."
Helena Hijazi, Founder of FitnGlam commented: "Our number one goal at FitnGlam is to build a strong community of empowered women and work towards equality in the fitness community across the Middle East and globally. Dubai Muscle Show is the biggest fitness event in the region and we wanted to make sure that the amazing female competitors are rewarded just as much as their male counterparts."
The prize money will be split across all overall category winners at this year's event which includes the Bikini, Masters Bikini, Bodyfitness, Masters Bodyfitness and Wellness sectors of the competition.
Dubai Muscle Show is organised by HBG Events in collaboration with Dubai Sports Council and this year is sponsored by Team Nogueira, Basix, Makalu and C4 Energy. Every year, Dubai Muscle Show brings together like-minded lifters from around the world and gives attendees the chance to discover and sample the latest supplements, apparel and equipment from more than 300 leading brands, as well as attend speaker sessions and exclusive meet-and-greets with the headliners.
Registration to take part in Dubai Muscle Classic is now open and tickets for Dubai Muscle Show are now available to purchase. For more information about the exhibition and for the latest news, updates and tickets please visit, https://www.dubaimuscleshow.com/
ENDS