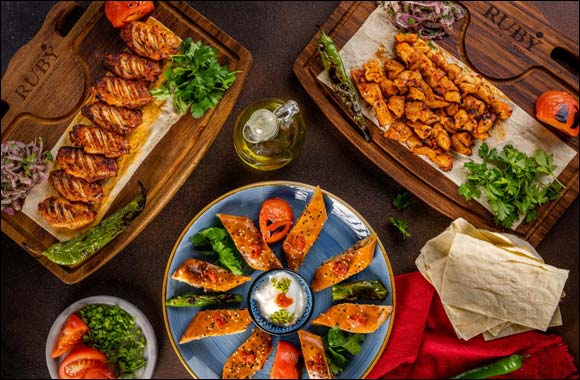 Ruby Passion for Meat has announced the opening of its outdoor seating area for anyone looking to dine al fresco.
Every Friday and Saturday, dinner guests at the stunning Turkish steakhouse in the heart of Jumeirah will also be regaled with the gentle sounds of the Qanun.
Abdulkader Makansi, a master of this traditional string instrument, will be showcasing his talent from 8pm to 11:30 pm providing a soothing score to the delicious Turkish fare Ruby Passion for Meat is renowned for.
And that's not all! The Ruby Passion for Meat menu has been enhanced this season to include traditional breakfast dishes like eggs with pastrami, eritme cheese and mihlama, steak tartar and cig kofte for starters and the most delicious seafood entrees including grilled seabass with salted vegetables and oven-roasted seabream.
From a traditional Turkish breakfast with more than 16 authentic dishes to a premium selection of mouth-watering meats and mezze, not to mention an in-house butchery, bakery and patisserie and signature coffee bar, Ruby is a real culinary gem. The chef's creativity and inventiveness is on full display in the live kitchen and on the restaurant floor where a wide variety of steaks, kebabs, lamb racks and other cuts of meat are cooked over charcoal, then brought over for some theatrical tableside carving.
Home-made desserts and breads of all shapes, sizes and flavours are freshly baked in the restaurant every day and can be enjoyed with a signature specialty coffee drink made by the in-house barista.
Barring the carefully locally sourced produce and meats, all the ingredients are flown in from Turkey including spices, cold cuts, cheese, flour, oils, jams, and signature breakfast items for added authenticity.
-END-