Ramadan Big Bazaar 2018
Thursday, May 31, 2018 to Monday, June 11, 2018
12 Days, Past Event
Location : Dubai World Trade Centre, Dubai
Price : Free
Event Type : Ramadan Events


Celebrate the festivities of the season and stock up on Eid gifts for family and friends at the Ramadan Big Bazaar which returns on 31 May. Bigger and better than ever, the event is a shopper's paradise with amazing offers on a wide choice of products from clothing and jewellery to perfumes and toys, among others. The event features a fantastic mix of well-known brands and regional retailers where you can find some truly unique buys.

Perfect for all the family, the little ones will be kept fully entertained at the kids' play area and a grand majlis will offer henna painting for ladies. With free parking, free entry and a wide selection of dining options, this is a must-visit event this Ramadan.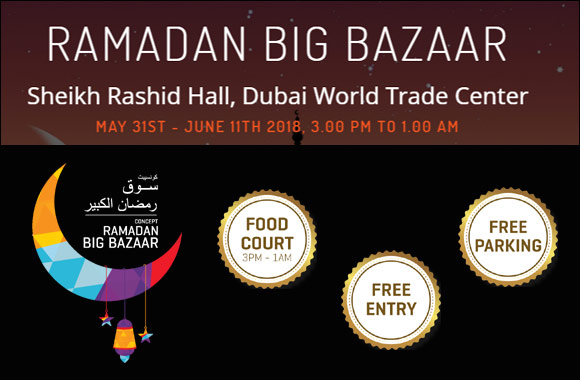 Past Event
Event Website : http://https://ramadanbigbazaar.com/

Location Map of Ramadan Big Bazaar 2018
Share this article with your friends and followers
More Events During Ramadan in Dubai

Capital Majlis 2018
Event from Wednesday, May 16, 2018 to Saturday, July 14, 2018
Total Days 59, Past Event
Location : Abu Dhabi National Exhibition Centre, Abu Dhabi
Event Type : Ramadan Events
Details : Discover the luxurious setting of Capital Majlis and celebrate the Holy Month of Ramadan with our distinguished Iftar buffet and Suhoor with your family and friends. AED 150* per person Package includes: Authentic Iftar buffet ... More

Ramadan Big Bazaar 2018
Event from Thursday, May 31, 2018 to Monday, June 11, 2018
Total Days 11, Past Event
Location : Dubai World Trade Centre, Dubai
Event Type : Ramadan Events
Details : Celebrate the festivities of the season and stock up on Eid gifts for family and friends at the Ramadan Big Bazaar which returns on 31 May. Bigger and better than ever, the event is a shopper's paradise with amazing offers on a wide choice of ... More

Eid Al Fitr 2018
Event from Thursday, June 14, 2018 to Saturday, June 16, 2018
Total Days 2, Past Event
Location : Everywhere, Dubai
Event Type : Ramadan Events
Details : Dubai and United Arab Emirates being a Muslim country celebrates Eid with great joy and a respect. The Eid is celebrated in UAE on the 1st of Shawwal the 10th Islamic calendar month. The celebration of Eid is a thanksgiving of the end of Ramadan. ... More

Ramadan 2018
Event from Thursday, May 17, 2018 to Saturday, June 16, 2018
Total Days 30, Past Event
Location : , Dubai
Event Type : Ramadan Events
Details : Ramadan, the period of mental, physical and spiritual elevation, is celebrated throughout the world. Indeed this auspicious time is also honoured in Dubai, as the city obliges later operational timings, plus a more enlightened, charitable mindset. ... More

Home and Soul Ramadan Bazaar Event
Event on Monday, May 21, 2018
Total Days 1, Past Event
Location : Al Wasl Road, Villa 6 Dubai, Dubai
Event Type : Ramadan Events
Details : Home and Soul is a unique lifestyle retail concept based on Al Wasl Road, Dubai. Featuring an irresistible combination of furniture, accessories, fashion and it's own coffee shop. Home and Soul is created and curated by owners Carol and ... More

The Majlis
Event from Friday, May 11, 2018 to Monday, July 30, 2018
Total Days 80, Past Event
Location : Dubai World Trade Centre, Dubai
Event Type : Ramadan Events
Details : The Ramadan Majlis at Dubai World Trade Centre embodies the true spirit of Arabian hospitality, with traditional Ramadan delicacies in an ideal setting to dine with family and friends. All through the Holy Month, Za'abeel Hall 6 is ... More

Ramadan 2017
Event from Saturday, May 27, 2017 to Sunday, June 25, 2017
Total Days 29, Past Event
Location : , Dubai
Event Type : Ramadan Events
Details : Ramadan, the period of mental, physical and spiritual elevation, is celebrated throughout the world. Indeed this auspicious time is also honoured in Dubai, as the city obliges later operational timings, plus a more enlightened, charitable mindset. ... More

Ramadan Night Market 2017
Event from Thursday, June 1, 2017 to Saturday, June 10, 2017
Total Days 9, Past Event
Location : Dubai World Trade Centre - Hall 7 & 8, Dubai
Event Type : Ramadan Events
Details : The Ramadan Night Market is a haven for shoppers with ten exciting days of entertainment and incredible offers just in time to help celebrate Eid. Bigger, better and more exciting than ever, the 2017 Ramadan Night Market will feature a huge ... More

Ramadanization
Event from Monday, June 13, 2016 to Saturday, July 9, 2016
Total Days 26, Past Event
Location : The Gallery of Light, Dubai Community Theatre and Arts Centre, Level 2, Mall of the Emirates, 117748, Dubai
Event Type : Ramadan Events
Details : Ramadanization The Gallery of Light | June 13 – July 9 Opening Reception, Monday, June 13, 2016, 9:30 PM Building on last year's social media series which explored artists and designers' personal versus collective memories of ... More

Football Summer Camp at FC Dubai - Ramadan Special
Event from Sunday, June 12, 2016 to Thursday, June 23, 2016
Total Days 11, Past Event
Location : The FC Dubai, Football Center, 15A Street, Al Quoz 1, Near to Times Square, Dubai, United Arab Emira, Dubai
Event Type : Ramadan Events
Details : If you are looking for a way to keep the kids active during the holidays then we offer the perfect solution. Our air conditioned pitches and fun camps ensure the kids will escape the heat and have a great time! Each day there will be exciting ... More

Ramadan Night Market 2016
Event from Thursday, June 23, 2016 to Saturday, July 2, 2016
Total Days 9, Past Event
Location : Dubai World Trade Centre, Dubai
Event Type : Ramadan Events
Details : 10 day shopping fiesta at Dubai World Trade Centre from 23rd June – 2nd July 2016 A Bigger, Better and more Exciting Ramadan Night Market returns this Ramadan and Eid to offer fun, frolic, family time and loads of shopping with irresistible ... More

Ramadan 2016
Event from Monday, June 6, 2016 to Thursday, July 7, 2016
Total Days 31, Past Event
Location : everywhere, Dubai
Event Type : Ramadan Events
Details : The most important time in the Islamic calendar, the holy month of Ramadan will happen this June until July. The exact dates will be annnounced soon. During this holy period, there are Ramadan-related activities for families and friends ... More
Sehr and Iftar Timing for 13 June 2018
Imsak
3:55
Iftar
7:11

Sehr and Iftar Timing for 14 June 2018

Imsak
3:55
Iftar
7:11
Ramadan 2018 Imsak and Iftar Timing
Date
Day
Sehr
Iftar
13 June
Wednesday
3:55
7:11
14 June
Thursday
3:55
7:11
Dubai Floating Restaurants