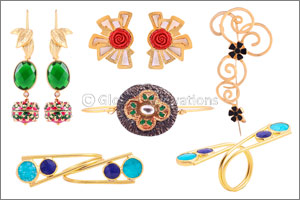 Dubai, UAE, May 10, 2017: Juvelista brings its custom made range of designer jewellery for the occasion of Ramadan and Eid. Since the festivities are around the corner, we have put together the must have mix of traditional and contemporary accessories for the season.
HOW TO ORDER JEWELLERY FROM JUVELISTA: The brand offers customisation to their older or existing designs according to their client's choice of colour, material, stones or studs. The statement pieces are currently available for private viewings. Juvelista also delivers in the UAE free of charge.
Customers who would like to buy from any of the below designs can get social with Juvelista on their Facebook and Instagram pages and place their orders by messaging the brand directly on their social media pages given below.
Ceramic rose earrings from Juvelista AED 200 each
These exotic rose earrings are hand-made using turquoise and red flower centres enhanced with mother of pearl and a tinge of gold.
Bracelet AED 120
Intricately delicate gold plated bracelet with a black paved nugget and emerald detailing.
Dangling emerald earrings AED 120
Limited edition gold plated studs hand-crafted using emerald green oval agate and artisanal meenakari drop.
Brooch AED 200
Monochrome brooch with metallic gold finishing and black flowers also available in other colours as per request.
Knuckle ring AED 150
Gold plated gemstone ring with double toned blue agates. Customisation available upon request.