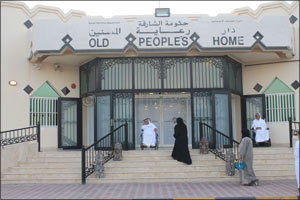 Sharjah, UAE, May 29, 2018: Celebrating the spirit of Ramadan and in line with the Centro Sharjah Corporate Social responsibility, the hotel hosted Iftar for the residents of the Old People's Home in Sharjah.
The hotel management, through the support of the center headed by Mr. Mansour Mohammed Haji, joined the elderly for an Iftar feast that was delivered with benignity.
"Celebrating and expressing the essence of Ramadan to the seniors in our community is something we hold dear to us and we are honored to be part of them every year during the holy month." said Mr. Michael Kasch, General Manager, Centro Sharjah.
The hotel management was involved in serving Iftar as well as interacting and inspiring a sense of belonging among the elderly.
Centro Sharjah has served in several community initiatives as well as supporting non-governmental organizations. This initiative affirms the hotel's commitment in its core values of respect and integrity towards giving back to the community.
Old People's Home in Sharjah is a Centre under Social Services department of Sharjah Government, established in 1986 supporting and assisting the old people from Sharjah aging 60 and above. The government of Sharjah provides them their necessity from food, clothing, shelter, hospitalization, medicine etc.