Article by : Karen Thomas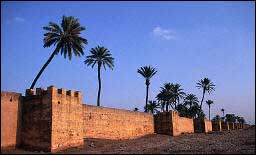 Red mud city walls crouching under lush green palm groves, the distant snow-capped Atlas mountains glinting under azure skies - everything seems brighter, bolder, more alive in Marrakech. No wonder so many acid-tripping, sixties tourists came a cropper in this most vibrant of North African cities.
But the sixties hippie drop-outs were mere arrivistes -the city has bewitched visitors since medieval times. 'Marrakech, pearl cast over the Atlas', sighed twelfth century Andalusian poet Hafsa bint El Hadj. Seven hundred years later, the city's 'flowers of a thousand species, forming carpets of varied colours' seduced French painter Eugene Delacroix.
A Berber trading post between the Mediterranean and Atlantic coasts and the African interior, Marrakech had a turbulent past, a frontier for rival cultures and continents - the first great city north of the Sahara. Its most glorious era was during the third Almohad dynasty of Sultan Yacoub El Mansour, whose court drew poets and scholars from across the world, including the philosopher Ibn Rochd. The sultan dominated a lucrative trade in Italian-made textiles using the profits to build the Koutoubia Mosque, whose minaret remains the best-known landmark in Marrakech.
In the sixteenth century, the Saadian dynasty drove the Portuguese colonists from Morocco's Atlantic coast in the Battle of the Three Kings. Sultan Ahmed El Mansour used the proceeds to build a palace in Marrakech, El Badi - the Incomparable. Ahmed El Mansour took Timbuktu, gaining control over the trans-Saharan gold trade, the most valuable caravan route in Africa. He bolstered his wealth trading in sugar and slaves with Britain, Italy and Spain. Today, only the mausoleum of El Badi palace survives intact.
Rediscovered in 1917, the Saadian Tombs lie in a lush garden enclosed by high walls, the graves covered with dazzling zellige tiles. The last sultan buried here was the so-called Mad Sultan, Moulay Yazid, who died in 1792 after a brutal 22 month reign. His tomb is inscribed with the legend: and the works of peace they have accomplished will make them enter the holy gardens.
Modern Marrakech is less regal than Rabat, less industrial than Casablanca, less impenetrable than Fez, less trashy than Agadir. Above all, Marrakech is a city of living arts. Other Moroccan cities may offer more in terms of architecture - but none can rival Marrakech for its lush gardens and exuberant, African party spirit. The city comes alive at dusk, as food hawkers and performers flock to the fabled Djemaa Al Fna, whose acrobats, story tellers, fire-eaters, African herbalists, faith healers and fortune tellers are the stuff of legend, the smell of charcoal and haunting notes of the ghaita drifting above the excitable crowds.
Best of all, the carnival exists despite - not because of - tourists. The wide-eyed audiences flocking to the square every night are mostly Moroccan: tourists - not to mention their tips (of which more later) - are welcome, but they are not the raison d'etre for the festivities.
The men of Marrakech are known across Morocco for their gregarious good nature and the liberated women for their sense of style. Whether dressed in rainbow-hued jellabas, demurely Pucci-Guccied or buzzing through town with their girlfriends in a convoy of little motor scooters - Marrakshi women make an impact.
Accommodation
Backpackers flock to the cheap hotels and guest houses inside the old medina, which are both central and easy on the pocket. Marrakech has accommodation to suit every budget and some of the nicest hotels are away from the action in Gueliz, the French-built Ville Nouvelle and in Hivernage, the modern western suburb.
Hotel Islane opposite the Koutoubia is moderately priced, if noisy, and a mere stone's throw from the medina. Residence El Hamra in Gueliz offers self-catering apartments suited to family groups. La Maison Arabe, set in a nineteenth century mansion, is an upmarket choice, each suite boasting its own private terrace.
When money really is no object, however, there is only one choice. The legendary La Mamounia is Morocco's most beautiful and most expensive hotel, a former Saadian royal palace set in lavish gardens, five minutes from the Djemaa Al Fna. Winston Churchill's suite, his books and vast bed, has been preserved for posterity. Everyone who is anyone has stayed at La Mamounia - princes, presidents, pop stars.
Eating out
Moroccan food is the jewel in the crown of North African cuisine. London restaurateur Mourad Mazouz describes regional cooking as 'the art of taking time to live, to do what needs to be done - the art of presentation'. Blessed with abundant agriculture, Moroccan cooking is a blend of Berber, African, Arab, Jewish, Ottoman, French, Italian and Spanish influences. 'The cuisine resembles the landscape,' Mazouz says. 'Warm, colourful, aromatic and mysterious. The subtle harmonies of herbs, spices and smells combine delicately, without aggression, to caress the palate.'
There is so much more to Moroccan food than couscous and tagine - salads such as mechouia and zaalouk, harira soup and melting pastilla, a sweet/savoury pigeon pie from Fez, topped with mint and icing sugar.
At night, the cafes and restaurants flanking the Djemaa Al Fna boast spectacular views, but the food is often indifferent and over-priced. Far better to drop by for snacks or iced drinks during the day, seeking shelter from the blazing sun as you watch the world go by.
After dark, join the action on the square: wander between the food vendors' lanterns and choose a stall that attracts local Moroccan families - don't be bullied into filling an empty stall. Most offer the same grilled meats, soups, salads, fresh juices and soft drinks. Point out your choice, and the vendor will prepare it.
If eating al fresco is not your thing, the Hotel de Foucauld on Ave El Mouahidine offers hearty, well-made and competitively priced Moroccan specialities. The Agha Khan and Jackie Kennedy have graced the upmarket Palais Gharnatta, a sixteenth century palace on Derb El Arsa with magnificent food, decor and live music.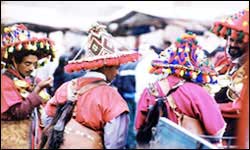 Sight-seeing
The magic of Marrakech extends beyond the Djemaa Al Fna. Escape into a lush, tropical 12 acre garden at the stunning Jardin Majorelle, created in the 1920s0 by French painter Jacques Majorelle, now owned by the legendary Yves Saint Laurent whose fashion designs draw heavily on North African colour, mood and texture. The garden is a riot of towering bamboo, sprawling lily ponds, dramatic geraniums and unruly bougainvillea, its walls, pots and tiles painted an electric purple-blue - bleu Majorelle. Birds chatter in the hedgerows and the ponds are alive with fish and tiny turtles. The private home of Algerian-born Saint Laurent is off-limits, but his personal collection of Islamic arts is open daily, bar Mondays.
Closed to non-muslims, the Koutoubia is Marrakech's tallest landmark, its chunky 70 metre minaret glowing red in the light of the setting sun. Work is underway to excavate the ruins of the surrounding complex, a kasbah that was once the capital of an empire spanning modern Morocco, Algeria and southern Spain.
South of the Djemaa Al Fna towards the mellah, or Jewish quarter, the nineteenth century El Bahia palace pays camp homage to Andalusian art, its unbridled opulence tamed only by its coolly contrasting courtyards and gardens.
Nature lovers should organise a trek into the High Atlas, famed for its birds, butterflies and flowers, particularly in early summer when orchids burst into bloom near resort village Oukaimeden, which in winter doubles up as Morocco's premier ski resort. Trekkers head for the Djebel Toubkal, at 4,167 metres North Africa's highest peak, an hour's drive south of Marrakech.
Shopping and night-life
Mid-afternoon sees the first stirrings of life on the Djemaa Al Fna. Juice hawkers set up shop, water carriers dressed in traditional red robes topped with huge, cone-shaped hats start touting for photographs, troupes of acrobats warm up for the night's performance and lone animal hawkers thrust sorry-looking monkeys and baskets of cobras at every passing tourist.
As dusk gathers, the square starts to fill. Groups cluster round the Gnaoui trance dancers, Chleu transvestite boy dancers, Sahrawi faith healers, fire-eaters, child boxers, jugglers, story tellers and acrobats from Tazeroualt.
Tourists are pushed to the front and are expected to pay - a dirham is standard, and the performances are worth it. Take a photo, however, and the price soars to ten dirham; refusing to pay can provoke a heated confrontation, so be on guard. Guide books also warn against pickpocketing.
Morocco is a poor country where half the 24 million inhabitants live below the bread line. Many others earn as little as 200 dirham a month. Touting to tourists is a money-spinner for cities like Marrakech - initially, you may feel besieged by beggars, limpet-like store-owners and youths moonlighting as 'guides' or hawking kif. Otherwise, it takes a few days to learn the difference between a hustler on the make and a genuinely friendly approach. A little cultural sensitivity, politeness and common sense goes a long way - but don't be a pushover.
North of the Djemaa Al Fna, the winding souqs blaze late into the night. Each is home to specific trades - carpenters, blacksmiths, slipper makers, leather goods, jewellery, copper, carpets, sheepskins, textiles and wool. More recently, a handicrafts market has set up camp in tents west of the square, heading towards Boulevard Mohammed V. Moroccan carpets are not cheap, and your guide will pocket up to 30 per cent of the price as commission. Silver jewellery has declined since the mass exodus to Israel and France of the Moroccan Jews who specialised in silver wares. Pottery is a good buy: cone shaped tagines, dining sets and tiles or inlaid wooden tables and intricately carved chess sets make desirable and lasting holiday souvenirs.
Travel essentials
Getting there
National airline Royal Air Maroc operates scheduled flights to both Saudi Arabia and the UAE. Passengers arriving in Casablanca can transfer to one of RAM's daily flights from Casablanca to Marrakech. Travellers either love or loathe ONCF's train services between Tangier, Casablanca and Marrakech. However, the fast and efficient ONCF inter-city express bus service, linking Marrakech with Agadir, Casablanca and Fez, is highly recommended.
Visas
GCC and most EU nationals possessing a full passport valid for six months will be issued with a tourist visa on arrival. However, Morocco has introduced advance visa requirements from Benelux nationals, after these states stepped up restrictions for travelling Moroccans. Best to double-check well before you plan to travel.
Climate
Temperatures in urban Marrakech range from an average daily minimum of 4C in January to an average maximum of 38C in July. While mid-summers can be stifling in town, temperatures plummet in the High Atlas, whose ridges remain snow-capped as late as May.

Language
Educated older Moroccans are bilingual in French and Arabic, a legacy of French colonial rule. Younger (and poorer) Moroccans are educated mostly in Arabic, however, although nationals of Berber origin speak at least one of the three Berber dialects. Many Gulf Arabs find Morocco's spoken dialect impenetrable (and vice-versa). Tourist industry veterans often speak at least basic Italian, German, Dutch, Swedish or Spanish.
Where to stay
Hotel La Mamounia, Avenue Bab Jdid (04 448981). Five-star luxury the old-fashioned way and a guest book to die for. Read the prices and weep.
La Maison Arabe, 1 Derb Assebbe Bab Doukkala (04 391233). Widely admired since its recent restoration. Five star facilities and prices to match.
Residence El Hamra, 26 Avenue Mohammed V (04 448423). Four star, but a little spartan: self-catering to suit families and groups of friends.
Hotel Islane, 279 Boulevard Mohammed V (04 440081). Three-stars and a fabulous location overlooking the Koutoubia and one of the busiest roads in Marrakech.
Ibis Hotel, Avenue Hassan II (04 435929). Four star property from one of Morocco's most reliable - if unexciting - hotel chains, recently taken over by the international Accor Group
Courtesy: Arabian Woman