In conversation with Supriya Srinivas




 New Zealand – A Slide Show


 Over 100 hotels in New Zealand. Book Now!


Days 1 - 4 (Auckland/Coromandel)


Days 5 - 8 (Rotorua/Martinborough/Wellington)


Days 9 - 12 (Blenheim/Christchurch)


Days 13 - 16 (Queenstown/Fox Glacier)
In a family album packed with a childhood and youth spent in faraway Europe and America, a lakeside family lodge near Auckland stands etched in memory. As part of Trade New Zealand, it is Leigh Cairns-Hay's job to promote her country. Strangely enough, despite the many familarisation trips with travel agents in tow, 'Product' New Zealand continues to appeal to her. This enduring fascination prompted her to set off recently with her husband on an impromptu tour of the picturesque vineyards in Blenheim.

Armed as we were, with just media-inspired images of a flightless bird that is the national symbol, a Haka-performing Rugby team and Bungee jumping crazies, Leigh's ready-to-use New Zealand itinerary made our presentation a simple case of html coding. Your job should be easier still with over 100 hotels to choose from, throughout New Zealand, on GoDubai's Travel Network, Insites. Please Note : Hotels mentioned below have been recommended by Leigh and can be booked or requested for on GoDubai's travel network – Insites
Day 1 – Arrive in Auckland
Day 2 – Auckland : The city of sails
Day 3 – Auckland to Coromandel Peninsula
Day 4 – Coromandel Peninsula : Hot thermal pools and mining towns
Click here for map
Auckland, 'the city of sails' has its sightseeing tours, duty-free shopping, harbour cruise and casinos. Leigh recommends all this and a unique sailing experience on the Waitemata Harbour, the home of the America's Cup Challenge onboard NZL40.

"New Zealand is the approximately the size of Great Britain with a population of just 3.8 million – making us one of the least crowded countries in the world," says Leigh. This elegant spokeswoman for New Zealand recommends renting a car and driving at a leisurely pace to the Coromandel Peninsula.

Hot thermal pools, a legacy of an exciting geo-thermal past and adventure walks through old gold mining towns await our traveller. Watch out also for the thousands of glow worms!

Recommended Hotels :
Auckland - Stamford Hotel/Hilton
Coromandel - Puka Park Resort
Back to top
Day 5 - Coromandel / Rotorua / Taupo : Maori cultural performances
Day 6 - Taupo- Martinborough : The thundering Huka falls and more
Day 7 - Martinborough to Wellington : National museum
Day 8- Wellington to Blenheim
Click here for map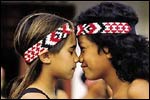 "New Zealand is home to so many different cultures," says Leigh proudly and rightly so. In a world torn apart by racial squabbles, this country celebrates its blend of European, Maori, Pacific and Asian influences.

At Rotorua, enjoy a Maori cultural performance at a Te Aronui a Rua Meeting House and a visit to the Whakarewarewa Thermal Reserve. "While here, you will experience a powhiri (welcoming ceremony) as well as enjoy a hangi - a traditional Maori feast cooked in an earth oven," says Leigh.

After the essential photo-stop at the thundering Huka Falls (Taupo) and the picturesque vineyards of Martinborough, drive down to the capital city Wellington. Extending just two kilometres in diameter, you could just park your car at the hotel and walk around. In Wellington, do not miss the Te Papa – New Zealand's national museum.

Recommended Hotels :
Taupo - Copthorne Manuels Resort Taupo
Martinborough - The Martinborough Hotel
Wellington - Intercontinental
Back to top
Day 9 – Blenheim : Picturesque vineyards
Day 10 - Blenheim to Christchurch : Whale-watching & Garden City
Day 11 - Christchurch to Queenstown
Day 12 – Queenstown : Four-season Alpine resort
Click here for map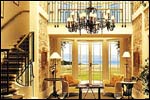 Say goodbye to backpacking and impersonal hotels. Leigh recommends luxury lodges for the discerning travellers from the Middle East wanting to stay in one place with their families . "These exclusive retreats," Says Leigh " are located in some of the most dramatic and tranquil locations you can imagine - in mountains or forests, beside lakes, the sea, or amidst vineyards as in Blenheim."

Return your car and take a 3-hour ferry ride from Wellington to Picton. A short drive will take you to scenic vineyards of Blenheim. The country's diverse landscape allows you to explore wine trails on one day and watch whales on the other. The family will simply love the day out in Kaikoura – the whale-watching capital of the world. Experts will tell you that New Zealand's diverse landscape is something "to die for".

Taking a break from nature's splendour, visit the city of Christchurch, on Day 11. With an elegant English-style cityscape, and renowned for it gardens, Christchurch's key attractions include the Botanical Gardens, Avon River and the Canterbury Arts Centre.

Recommended Hotels :
Blenheim - Hotel d'Urville
Christchurch - The Chateau on the Park

Back to top
Day 13- Queenstown / Milford Sound / Queenstown : Bungeeeeee...
Day 14 - Queenstown to Fox Glacier : Trek snow-clad mountains
Day 15 - Fox Glacier / Hokitika
Day 16 - Hokitika to Christchurch / depart New Zealand
Click here for map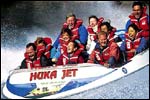 "Previously a stopover destination for Aussie-bound travelers," says Leigh, "New Zealand is becoming popular as a destination by itself. And at current exchange rates, New Zealand makes for a very cost-effective holiday as well."

After just a day's halt each in Blenheim and Christchurch, Leigh recommends a 3-day halt in Queenstown. A city "fit for a queen", Queenstown is a four-season Alpine resort. "Queenstown attracts the European, Arab and Asian travellers from the UAE," says Leigh, "for it packs fun for both the adventurer and leisure seeker."

Take the plunge on day 1 in Queenstown with a bungy jump, a shotover jet ride and a skyline Gondola trip 450 metre above Queenstown to Bob's Peak to enjoy views of Lake Wakatipu and the surrounding mountains. For those who need a larger shot of adrenaline, tandem skydiving, hot air ballooning and white water rafting are great options.

While the world is all agog about the Harry Potter movie, another all-time children's classic, Tolkien's massively popular novel, Lord of the Rings, is being shot on location in New Zealand. Tolkien's magical 'Middle Earth' comes alive in this multimillion dollar Hollywood trilogy, set as it is in New Zealand's stunning scenery, with its lush bush, rugged mountains, high open plateaux, and beautiful misty river valleys.

Fiordland, a world heritage site can be viewed by air, water or just on foot. Take a cruise to view the dolphins and other marine mammals and top it with a spectacular flight over crystal clear lakes, glacier carved fiords and endless snow clad mountains.

The grand New Zealand tour finally comes to an end as you say good-bye to your rental car at Christchurch Airport. For those who have energy enough for some more touring, Leigh suggests, "If you have the time, a visit to the International Antarctic Centre which adjoins the Christchurch airport complex is well worth the visit."

Recommended Hotels :
Queenstown- Millbrook Resort
Fox Glacier - Glacier Country Hotel
Hokitita - Wilderness Lodge
Back to top