By Shanti Kalyaan



Singapore Sojourn


Majestic Moscow


70 Singapore Hotels at Special rates! Book Now!


What's your favorite destination? Tell us!

Travel does not mean simply hopping from one place to another. You'll agree that it's a lot more than that. When you travel to a new country, an opportunity presents itself to get to know the place and its people better. All you need is an adventurous spirit, a willingness to adapt to new situations and of course a keen desire to understand and imbibe the culture, customs, food and festivals of the country you visit.
It is a delight to meet someone who enjoys travel and Sulaiman Abou Zaki is definitely one such person. He has been privileged to travel to different parts of the world and feels he has immensely gained from these experiences.
Sulaiman Abou Zaki is Journalist cum Press Relations Manager for Channels Exhibitions, a leading trade exhibitions organiser and publisher in Dubai. 'We organize major exhibitions through the year like, Gulf Beauty Fair, InterSec, Premium, and Arabian Stone Fair. Exhibitions have become an important promotional tool in a company's marketing kit and it has become increasingly important that such prestigious trade fairs are professionally managed and organized.'
On his travels
Sulaiman perks up when asked about his travels. 'Oh, travel is one of my favourite pastimes. I love to travel. I travel both on business and leisure. Over the past few years, I have traveled extensively to many countries. Every country has an inherent charm and appeal, which I have learned to recognize and appreciate immensely over the years. Russia and the Far East surely rank among my top favourite destinations.'
Singapore Sojourn

Show the statue of the Merlion, (a mythical creature that is half-lion and half-fish) and anyone will identify it with Singapore, an exotic destination which is a fascinating blend of Asian peoples, varied cultures, and myriad tourist attractions.


'Singapore has always been one of my favourite travel destinations. There is an old world charm and mystique about Singapore, which I love. The Chinese culture, in particular is captivating. What also struck me was the harmonious nature of its multicultural people. The daily life of the people here is fascinating to watch. It is also one of the cleanest and safest cities of the world, where even littering is against the law. I loved experimenting with the mind-boggling variety of Singaporean cuisine, and let me tell you that the Chinese food served here tastes quite differently from the same food served here in Dubai or elsewhere.' - Sulaiman
Chinatown
Chinatown is Singapore's cultural heart and still provides glimpses of the old ways with its numerous temples, decorated terraces and its frantic conglomeration of merchants, shops and activity. . It's still a fascinating place to explore though, especially in the early morning hours when activity is more pronounced. The Thian Hock Keng Temple in Chinatown is arguably the most interesting in Singapore.

Little India
This modest but colourful area of wall-to-wall shops, pungent aromas, and Hindi film music is a relief from the prim modernity of many parts of the city. The Zhujiao Centre is the main market, but there are also interesting spice shops nearby. The best temples are Veerama Kali Ammam, Sri Srinivasa Perumal and the glitzy Temple of 1000 Lights.

Sentosa Island
Sentosa Island, the city-state's most visited attraction, especially on weekends. It has museums, aquariums, beaches (with imported sand), sporting facilities, walks, rides and food centres. More Attractions of Singapore

Transport Services
Singapore has a frequent and comprehensive bus network and a convenient Mass Rapid Transit (MRT) subway system. Both are cheap and simple to use. There is also a good supply of taxis and all are metered.
Tipping
Tipping is not common or expected in Singapore-in fact, it is prohibited at the airport as well as at restaurants and hotels where a 10 percent service charge is added to the bill. Taxi drivers don't expect tips but will certainly appreciate some extra small change.
Best time to visit
Go anytime. Climate is not a major consideration, as Singapore gets fairly steady annual rainfall. You may like to co-ordinate your visit with various festivals and events: Thaipusam is one of the most spectacular festivals, occurring around February. If shopping and eating are your major concerns, July is a good month as the Singapore Food Festival and Great Singapore Sale are held.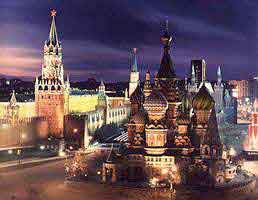 Majestic Moscow
'A place steeped in a 850-year old history, Moscow's famed Red Square and Kremlin can quite take your breath away! Indeed, Moscow is replete with historic events and is a treasure-house of arts, literature and cultural heritage.' - Sulaiman
Kremlin
The Moscow Kremlin is the chief architectural ensemble of the city. It has few rivals in the number of unique masterpieces or architecture and other arts concentrated within its walls. The skyline of the Kremlin is strikingly majestic and pic turesque. The might of its walls, its ridge-roofed towers and the three-dimensional expressiveness of the buildings clustered on its grounds offer panoramas of rare beauty. The Kremlin has always been perceived as a symbol of power and mighty of the Russian state, the national idea expressed in stone. Each era in the history of Russia left its significant architectural trace in the Kremlin.
Along the South wall of the Kremlin, overlooking the Moscow River, you will find the Grand Kremlin Palace. The new imperial residence, commissioned by Czar Nicholas I in 1838. It was the largest structure in the Kremlin, some 500,000 square feet, that cost 11 million rubles to build. It was designed to link the older Terem Palace and Palace of Facets, with its new and glorious reception halls, a ceremonial red staircase, and private Imperial Apartments.
Red Square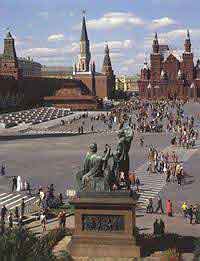 Located just outside the Kremlin, along it's Eastern wall, Red Square evokes memories of those famous May Day parades, from the years when the Soviet Military displayed it's might. But Red Square's history stretches back way before the Communist Soviet Union, back to the days of Czarist Russia. In the late 15th Century, people came to this square, called Torg, or marketsquare, to purchase food, livestock, or other wares. By the late 16th Century, it was renamed Trinity Square, and served as the main entrance to the Kremlin. A place where people gather to celebrate official state events, to be photographed in front of favorite sites, or just to drink in the historic splender.
On the Western edge of Red Square, nestled up against the exterior of the Kremlin wall, stands a monument to the founder of the Soviet Union, Vladimir Lenin's masoleum. Also famous is the brilliant Cathedral of St. Basil the Blessed (Cathedral of the Intercession), buillt in 1552 by Czar Ivan IV, also known as Ivan the Terrible in celebration of the Russian victory over the Tartars.
Be alert
You have to be alert all the time while in Russia. Unlike Singapore or Dubai, Russia is not so safe a place. Especially, be careful while you are looking to exchange money., says Sulaiman.

Dos and Don'ts
You can change your money for rubles in commercial banks, numerous exchange offices, in hotels, just try to find a board with the inscription Currency Exchange on it.
You may be approached by fartsovchiki (gamblers), who may offer their services for currency exchange. Better better stay away from these people, who may easily cheat you. Don't give your address or telephone number to people you don't know.
Avoid walking through dark, unknown, deserted streets in the evening.
Always check your pockets and purses, while walking along the crowded streets, do the same in big stores and market places. Don't you ever carry a lot of money in cash with you. Practically, in all central stores and restaurants of Moscow they accept credit cards.
Learn Russian phrases
It helps to know a few Russian phrases in this place. Sulaiman recalls an alarming encounter he had in a kiosk once, 'I wanted some water and said 'vada pajolsta' which means (Water, please) and instead got the words mixed up and said 'davia pajolsta' (which means 'quickly, please'.) The man in the kiosk thought I was rushing him and gave me a hostile look. Some things which one gets used to in Dubai are not readily available there, like paper napkins for instance.
Sulaiman advises fellow travellers, 'One thing I have learned during my visits to various countries is that it is always wise to prepare oneself thoroughly before going to a new country. Read up brochures or travelogues, study the maps, look up websites, and chalk up your schedule, including sightseeing trips with the help of a travel agent. I have learnt through experience that going through a travel agent is a lot better and safer than going on your own. Travel agents can give contact numbers etc of tour operators whom they are in touch with regularly, offer useful and practical tips that come in handy when you are in a strange country.'
Share your travel experiences