Article by Deepanjali B Sarkar



 Bordeaux


 Saint Emilon


 Arachon


 Saint Jean de Luz


 The French Alps


 Paris


 French Festivals


 French Cuisine
See your writing on the Web! Send us your travelogue
A place steeped in history, each house over a hundred years old, narrow winding lanes, a river flowing by, small local museums, some vineyards and wine tasting and lush greenery all around. If you thought this place had it all, there's more! It has towering mountains at a distance, the Atlantic Ocean at its edge and vast stretches of coniferous forests, with giant pine trees soaring up towards a Mediterranean clear blue sky.
Are you raring to know more about this lovely locale? Is your curiosity adequately kindled? This is a first hand account from a young French student, who spent his holidays exploring and relishing the towns tucked away in south west France. Nicolas Serval(in pic) is completing his marketing degree in Paris and is presently on a 3-month stint as a marketing trainee in Dubai.

Bordeaux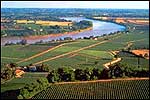 Nicolas was brought up in Bordeaux, a city close to the Atlantic Ocean and of course famous all over the world for its wine! It is an old city. "Not at all like Dubai", says Nicolas! "No tall buildings at all. Only 3 storey high houses that have been there for ages." The city goes back into antiquity.

A bit of History

As far back as 58BC, Romans planted the first vineyards along the river Garonne that flows by Bordeaux and by the 14th century Bordeaux had a flourishing trade in wine exports. At every corner a tourist will find superb 18th century architecture, preserved as it was 200 years ago. Infact, Bordeaux is Europe's showpiece for the age of enlightenment - it has the largest collection of intact 18th century architecture.
A quaint feature of this city is its "non car streets". "On these roads, you are meant to walk, saunter along", says Nicolas. So you have roads that are clear of traffic and the rush of automobiles. Quite a refreshing way of life we thought!


In our interview, we found Nicolas to be astonishingly alert about the requirements of tourists. So even when reminiscing about his favourite spots, he would pause for a moment and quickly think of what a tourist might look for in the same place. This only made it easier for us since it meant we did not have to scout for additional information for our surfers! Bordeaux has a pretty good shopping street called 'Rue Sainte Cathrine' and quite an idyllic picnic spot along the Garonne river by the name of Quai", Nicolas added very conscientiously! While a tourist cannot hire a boat, he can avail of local boat rides or "peniche", which is a lovely cruise along the river. You get to see the entire stretch of the city with its low houses, winding lanes and marketplaces. Bordeaux is not a sleepy old town. Its residents are avid theatre goers with both classic and contemporary plays being staged regularly. Its Grand Theatre was built in 1780. The Grand Theater is one of the oldest opera houses in Europe. Infact it is unique in having preserved its neo-classical façade, exactly the way it was built over 200 years ago.The warehouse on the quai hosts quite a large number of exhibitions throughout the year, especially book (and comic) exhibitions and shows. Its skating parks are quite popular, especially over weekends. The visitor should visit the café lined Gambetta, the city center, built during the time of Louis XV. The houses that face the square are decorated with rows of carved masks and in one corner you

Things to see in Bordeaux

Rue Sainte Cathrine
The Quai
The Grand Theatre


Highlights

Cruise along the river
Skating Parks
Cafe lined Gambetta
Houses with carved masks
Arch of Porte Dijeaux
World famous center of Oenology

have the 18th century arch of Porte Dijeaux spanning the street. Incidentally, Bordeaux boasts of Europe's largest muncipal square, the Espanade des Quinconces. And not to be forgotten, Bordeaux is one of the centers of oenology or the science of wine. It is home to one of the most reputed Colleges of wine in France.

Hotels are located in the Bordeaux lac area, which overlooks a beautiful placid Lake. "By the way, buses plying along lines 7 and 8 are the ones to take if you want to look around the city", Nicolas informs us.
Back to top

Old French town tucked away in the countryside

If like us, you would rather tour the countryside, Saint Emilon, near Bordeaux is the place to visit. It produces the finest Bordeaux wine, which is stored in rock caves. Obviously we found that pretty intriguing and asked Nicolas to explain. It seems in order to age the wine and maintain a constant cool temperature, wine is stacked in bottles inside these caves all year round. A visitor to Saint Emilon will not be disappointed! It is a quintessential French town steeped in history, in the heart of the French countryside. The village is built out of a limestone comb, in the shape of an amphitheatre. It houses Europe's greatest monolithic church, carved out of a single gigantic piece of rock between 9th-12th centuries. Here's a "things to see" list from GoDubai!

Hermitage

Unique Monolithic Church and its bell tower (you get a spectacular view of the town and the vineyards in the surrounding countryside from the top of the bell tower above the Monolithic Church)

Catacombs

Collegiate Church

Chapels, cloisters and the ruins of a number of monastic buildings

Fortified town walls

Tower at Chateau du Roy (the King's Castle)

The one-time underground stone quarries and the wine cellars into which they have been partly converted.

And to breathe in the fresh countryside air, hire a bicycle and ride down the little paths that wind through the vineyards, around the combs, the Romanesque churches or along the footpaths by the Dordogne river.


If you are still in two minds about visiting Saint Emilon, here's something that will help you make up your mind! Nicolas tells us the entire town, all the houses in the town are made of stone. When is the last time you came across a town devoid of concrete, that too in Europe!
Back to top

Nicolas voted for Arachon, its beaches lapped by the Atlantic Ocean. "It's a very popular sea resort with tourists. You get a lot of European, American and Japanese tourists here. It is known as 'La ville des quatres saisons' or the city of four seasons for its year round mild temperatures". And Nicolas goes on to describe Arachon, gesticulating with his hands, drawing the dune, the sea and the forests in the air, as he tries to put across how enchanting and picturesque a place it is. "Right on the beach, you have this huge, tall dune", the Dune du Pilat - a 340 feet high sand dune that stretches over a mile and half. You can climb right upto the top to view the spread of the blue ocean on one side and the dark green forests at a distance".

Things to see & do in Arachaon

Dune du Pilat
Les Landes forest
Mushroom gathering
Water sports

The "Les Landes" forest is vast and is a place of exciting, pungent smells. "You know," said Nicolas, "it's a fresh, tingly smell of pine. But it's much more than just that! Infact whenever I enter the forest I feel it gives out the smell of freedom, of soaring through blue open skies and singing with an open heart!" It stretches for miles at an end. It's easy to get lost in it, says Nicolas. But it is popular with the French who often go hunting for mushrooms in it. If you can catch hold of someone who knows his way around, you could be adventurous and plunge into the deep dark pine forest. The trees are massive, rearing up to the sky, growing tall and strong over innumerable years. The forest is a source of paper pulp, says Nicolas.

Arachon has plenty of motels and Bed and Breakfast homes.

Godubai tip courtesy Nicolas!

A good place to stay in is Villa L'Oustalou, 3 avenue des arbousiers, 33115 Pyla-sur-Mer, France. This a typical country Bed and Breakfast house in this part of France, between Arcachon and La Dune du Pilat. Such homes are obviously far cosier than hotels; you can imbibe some authentic French ambience as a paying guest in these small houses. All day long you could laze around on the beach, swim, boat, surf, climb the dune, hike in the forest and at night, if you still haven't had enough, you could visit the many nightclubs in Arachon. Keeping in mind that most foreign tourists would first land in Paris, Nicolas provides us with some helpful information on how one could reach Arachon. He advises a TGV train - they are the best. Very fast and direct from Paris to Arachon. Back to top

A source of inspiration to artists


Saint Jean de Luz is a small city with uniform white, single floor houses, surrounded by green undulating hills from all sides. The natural colours of the city, the white rooftops, against the green hills and the deep blue sea, make it a vast painted canvas. Artists come here to breathe in the delicately interwoven palette of colours, the fresh smell of the ocean, the cool breeze from the adjacent hills. The landscape is so picturesque, it acts as a recurrent theme is many of their works. Saint Jean de Luz has some hotels to stay in. A tourist could throw in some water sport activities to liven up his stay. You can hire sailboats or do some water skiing. The best time to visit is spring since in summer it gets rather hot (hence the white houses).


Saint Jean de Luz has gone down in the annals of history as the place from where Louis XIV married Maire Therese. So the thing to see is of course their country residences, the 17the century Maison Louis XIV, Maison de l'Infante and the Basque style church of Saint Jean Baptiste where they were married.
Back to top

The Alps
Nicolas' favourite is Chamonix Mont Blanc - base of Europe's highest peak, Mont Blanc. "The Alps are simply gorgeous at Chamonix!" He stresses tourists must not trek all by themselves, without a trained guide. The French Alps cause quite a few casualties every year. A tourist should approach "La Maison des guides" for experience guides who are familiar with the mountains that can be quite treacherous. But there are also lower lying slopes, which are not dangerous at all, and ideal for family treks. Chamonix Mont Blanc is very tourist friendly and has signs all along the mountain slopes indicating the danger area, where to halt for rest (in pretty wayside cottages), the distance of popular tourist slopes and well laid tracks for hikers and earnest trekkers. Summer is beautiful with snow-capped peaks, verdant coniferous forests, clear skies and a gurgling, clear Arve gushing by. The Arve is ideal for white water rafting and canoeing.

Paris. The City of Lights!
Nicolas has been staying in Paris for the last couple of years and it seemed a shame not to tap his "insider" knowledge of the city for our GoDubai surfers. "For people from Dubai, if they want to go for some major shopping spree, Rue de Rennes is the place to go", says Nicolas. Then there is La Samautaine and the "Bon Marche" ("The Good Market"), which is a good place for international brands and French perfume. "By the way, I personally feel Parisians can be quite snobbish and aloof, not like other French people who are friendly by nature", comes this disclosure from Nicolas.

Sightseeing in Paris

Shopping in Rue de Rennes, La Samautaine, Bon Marche
Cathedral of Paris
Saint Michel
Champs Elysee
Latin Quarter
Montmarte
Nightclubs

"Okay, there is so much to see in Paris. Where do I start! " So we made it easier for him and told him to choose the ones which were his favourite. "Definitely the Cathedral of Paris on Ile de la ate." This is the cathedral that has been immortalized in the classic "Hunchback of Notre dame". Then there is Saint Michel, an enclave filled with French, Greek and Chinese restaurants, old bookstores, music shops and roadside cafes. All the shops and restaurants here have maintained their old façade, so if you want to get a feel of Paris as it was a hundred years ago, this is the place to saunter in. Saint Michel has a fountain in the center with beautiful statues all around. A charming place to spend one's evening. By the way, Nicolas warns us that the Cafes are . "Too expensive" he says. It's far better to eat in one of the many Bistros around the place.

Champs Elysee is of course very well known. It has dimly lit narrow streets with restaurants, old markets, and a Square which houses outlets for all kinds of luxury products - upper end watches, international fashion brands. The Latin Quarter in Saint Germain des Pres is the place where through centuries students have browsed through bookshops, met in groups to discuss at length a thesis or why socialism was on its way out. The Quarter has not changed much over the centuries.

Close to Moulin Rouge is Montmartre, a hill from which you can see the whole of Paris. The view is breathtaking and is definitely recommended. A lot of French poets lived around this area and are said to have received inspiration from Montmarte. Gerard Depardieu of "Cyrano de Bergerac" fame is one of the many celebrities who live in this area, most of whom frequent the Lapin Boiteux restaurant. Lapin Boiteux has become famous as the place where you can spot the intelligentsia, contemporary and upcoming poets, artists and filmmakers.

Can you imagine a vineyard right in the middle of a city? Houses, shops, roads, everywhere and suddenly, inconceivably, from out of nowhere you find a neat, verdant vineyard in the heart of the city! Just another illustration of what makes Paris so extraordinary! On the Montmartre slopes, in central Paris, you will find a small vineyard, lush with grapes, busily producing wine as the city bustles around it! This vineyard has been handed down over generations and jealously guarded from real estate vultures.


Paris and nightclubs: Well of course there is the Moulin Rouge Cabaret. One of the biggest nightclubs in Paris is Locomotive and Nicolas recommended the Queen for its hip-hop techno music. A tip from him! The dance floors in these nightclubs are sometimes prohibitively expensive. A better idea is to head for the discos and bars, especially bars where you pay only for your drink, and the dance floor is all yours (no entrance fees for bars).
Back to top

Festivals
The Fete de Bayonne is held in August, a Spanish spillover. Everyone comes out dressed completely in white with red hats and red scarves and run ahead of bulls which are let loose. There is a lot of revelry; excitement is hot in the air, with everyone out to let their hair down. Unlike in Spain, the bulls are led into an arena and then set free. They are not killed. Once the heady race is over, the entire night is devoted to celebration. "Its one huge party. Everywhere you will find men and women dancing, drinking and breaking into a song", says Nicolas. This continues all night, right upto daybreak. This festival is a common feature in not just one or two towns but in the entire Basque country.

The entire country abandons itself to 2 whole days of music and songs during the Fete de la Musique, usually held around the 21st of June. Right from Paris to every single village in France, one finds performers in every street, strumming their guitar, warbling their compositions! From international pop bands to amateur college bands and street performers, one finds singers and musicians of every kind, throughout the length and breadth of France. Nicolas tells us tourists can clobber up their own band and set themselves up on a roadside corner and no one will object! It's a 'free for all' kind of a heady atmosphere. Even public transport is free during this period.

It's not for nothing that France is called the cultural capital of the world! Its government goes all out to promote the arts with festivals being held throughout the year. Its film festival (Fete du cinemas) is enormously popular and is held throughout the country around 3rd of July every year. The government encourages moviegoers by subsidizing tickets. You have to pay 50 francs for the 1st movie, after which by paying a mere 10 francs you can see as many movies as you want, anywhere in France. The film festival is a big event with major multinationals like Coke sponsoring the tickets.
Back to top

We asked Nicolas what his favourite dish was and pat came the reply "tandoori chicken"! We refused to let it go at that and insisted he give us a few pointers on the best things to eat when in West France. "Meals here are generally heavy. I enjoy choucroute. Umm it's great to eat! It's a full meal with cabbages, sausages and ham and whole potatoes, all cooked in lard. You should eat it with mustard and down it with some beer!" Another delicious dish is Magret de canard (a typical south- west France dish). That's roasted duck with potatoes and herbs fried in lard. The smell is simply divine! Nicolas' grandfather makes this dish particularly well and he has wonderful childhood

Be sure to try out!

Escargots as starters
Pepper steak
Choucroute
Margret de Canard
Profiteroles

memories tucking away steaming hot Margret de Canard. This should be had with green salad and red wine.

A popular restaurant is Manray near the Montparnasse railway station in Paris. We asked him what he would order in Manray. "I would start with snails as starters. We call them escargots, followed by pepper steak with red wine. And for dessert I would have profiteroles (that's pastry with vanilla ice cream and hot chocolate sauce). I would end my meal with some cognac and a good cigare."

A little diversion here. Nicolas informs us that duck should always be had with southwest red wine, never with central France red wine. Here we get to learn that he had worked in a wine shop in Paris for a while, where he had become quite an expert at recommending the different kinds of wine that go along with different dishes. While working in the shop you are entitled to a holiday at any of the chateaux that produce wine in South West France. You can take your colleagues with you. You will be expected to taste the wine there and if it is of good quality, recommend it to your shop owner. These chateaux are very popular with tourists and students from wine colleges, especially during September to October when one gets to work in the vineyards and earn some money as well as taste the wine straight from the vineyard. It is a good idea for tourists to buy wine from these chateaux since they are a lot cheaper than elsewhere.

France has been synonymous with Romance since time immemorial. A lot of tourists have come away mesmerized with their experience of France. It is not just the landmarks, the scenery and the cuisine. It is the entire French way of life, the ethos of living through history, of enjoying music, dance and laughter, of breathing in air which is humming with magic! It's love at first sight for most, the minute they step onto French soil. And this invariably develops into a life long love affair with the country. You keep going back for more.
If you love traveling and would like to share your experiences, write in to us.
Back to top