You love traveling. And you'd love to have the world know about the hidden valley you came across or about the flower that blooms only once in 12 years! Some of you might have had a nasty little experience - snakes, cheats or getting mugged. You feel it your moral duty to let fellow travlers know. The GoDubai Safar Majlis

(for the uninitiated that's Travel Club in Arabic) is a place for swapping traveler tales and hopefully getting wiser, forewarned, and better prepared, in the process. Other than all those high sounding noble intentions, Safar Majlis basically wants you surfers out there to have fun doing some arm chair traveling!


Crossroads of Civilization - Istanbul

The Coast that has it all - Gold Coast

Send in your travelogues!
A sample travelogue - just in case you want to know what we are looking for!
The Cradle of Civilization - Jordan
By Linda Adra Yamak

The Hashemite Kingdom of Jordan is a land as old as time itself, where true antiquity meets with modernism. For over 10,000 years, people have travelled this bridge between the vast sea and tranquil desert, between east and west. For thousands of years, travellers have been captivated by the natural beauty of this land. A symphony of coloured land stretches as far as the eyes can see. The fertile and lush Jordan Valley, contrasts with the mammoth and still desert canyons. Visitors flock to Jordan on religious pilgrimages, to explore virgin deserts, to walk along the paths of history where ancient civilisations have left their footprints, or simply to relax and revel in the beauty of nature. On my five-day visit to Jordan, I managed all three: adventure, relaxation and a stroll along the exciting lanes of history.

The City in White - one of the oldest continuously inhabited cities



Day one: We arrive at Amman airport on Royal Jordanian Airlines a little after 9am. We are greeted by Maha the lady who will be our guide for the next five days and who actually becomes a close friend in less than the first few hours. She is the perfect example of Jordanian hospitality, and her passion for the rich history of her country soon rubs off on all six of us. During our drive to the hotel, I manage to take in the beauty of Amman, quiet, clean and structured. "It is sometimes known as the white city," explains our guide, and we can see why. Limestone has been used as a base for most of the houses and buildings. Amman serves, as the modern ancient capital of Jordan, being one of the oldest continuously inhabited cities of the world. The name of the city is returned to its Semitic origin Rabbath or Ammon during the Iron Age. It was also known as Philadelphia during the 3rd century and at the time of the Ptolemaic ruler Philadelphus. Amman is basically a combination of seven hills providing an enthralling mixture of old and new. Modern, skyscraper hotels stand side by side with old historic remains. The everyday bustle of city life delicately interweaves with the enchanting echoes of the prayer-calls from the multitude of mosques.

After a short drive, we reach our hotel the luxurious Meridien Amman, which is conveniently located in the heart of the city. Maha gives us a choice: a two-hour rest, or ten minutes to put our bags in our rooms and start our journey to Ajloun. We all agree on the second option. The road to Ajloun which winds into a group of hills lined with olive groves turns out to be a mere 75km drive from Amman. Once there, we visit Qalat arRabad, which has been built upon the apex of a hill 12,500 meters above ground level. It is the perfect place to start off our adventure. We climb up to the top of the fortress, a fine example of Islamic architecture, and get a breathtaking view of the Jordan Valley, the Dead Sea, Lake Tiberius and the West Bank. Palestine.

By the time we leave Ajloun, our stomachs are rumbling and we stop at Al Beit Al Lubnani for a late lunch. Once our energies are restored, we head off to Jerash.

Jerash

Jerash is one of the oldest and best preserved sites of Roman architecture

in the world, coming only second to sites in Italy. The history of the city is a blend of Roman, Byzantine, Greek, and Omayyad civilisations. We enter through the south gate, which opens on to a large spacious oval plaza and a long arcade of Ionic columns. As Maha tells us of legends of the place, I can clearly imagine ancient citizens roaming the stone paved grounds of Jerash. We are all tired but satisfied. Our long day culminates at the classy Ristorante Romero. Enjoying a candle-lit dinner, we chat about the day's events and Maha informs us of our next day's adventure: Petra.

Petra

Day two: I wake up before dawn. I had only had a five-hour sleep, but I feel as fresh as if I had slept all night. After a hearty breakfast buffet, we head to Petra. On our way there, Maha fills us in on the history of the city. Petra is the legacy of the Nabataens, an assiduous Arab people who settled in south Jordan more than 2,000 years ago. The Nabataen Kingdom endured for centuries, and Petra became widely popular for its polished culture, immense architecture and clever complex of water channels. The city had been carved into rose-coloured stone, and hidden from view by the mountains.

Once in Wadi Mousa and within the vicinity of Petra, we are all starving so we head to the Movenpick hotel where we feast on a scrumptious lunch buffet. We then take a walk on foot to see the Rose Red City of Petra. Even the modern houses close to Petra are all rose coloured thanks to Queen Noor who provided the villagers with buckets of paint in order to preserve the history of Petra and keep it looking like it did thousands of years ago.

I had often heard about Petra, but I certainly am in no way prepared for what I am about to see. It is 4.30 pm. "The perfect time to visit this city," explains our host. "You should only come here either early in the morning or late in the afternoon. Otherwise you will melt in the heat," she laughs. The sun has warmed the multicoloured stone, and the majesty of Petra is beyond words. As we enter the siq or chasm that ripped through the rock in a prehistoric quake, we are all stunned by the splendour of this city that has stood the tests of time. We walk between cliff walls that soar as high as 200 metres, passing inscriptions in ancient languages and rock cut chambers carved in the whorls of sandstone.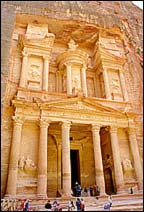 As we reach the famous Khazna, or treasury we are awed by its striking proportions. "It is almost 40 metres high," explains our guide. The other thing that amuses us is that this is the place where the academy award winning film Indiana Jones had been shot. Unfortunately, at that point some of my fellow travellers start to get tired and we have to head back. We decide to go back on a carriage, but if you are feeling more adventurous, a camel ride is also available. True, I am in the mood for adventure, but I must admit, the sight of the camel staring at me made me decide against that. Before we leave Petra we purchase little bottles filled with beautifully designed coloured sand. Maha tells us that it is the best place in Jordan to buy those traditional bottles because of the natural shades of sand. As we go back to our hotel, I make a mental note to come back and visit Petra some time soon. A short afternoon is not enough to fully explore the site.

We head to our hotel Taybat Zaman. Actually the place is more of a resort village, with stone rooms scattered all over the area. It is the ideal place to be after viewing Petra as it makes one feel that you haven't quite left the grandeur of Petra behind.

Ma'in
Breathtaking therapeutic waterfall

Day three: We are off to Ma'in today. Waking up earlier than the rest of the group again, I take a walk in the village alone. Everything is peaceful and quiet. The drive to Ma'in takes us a little over four hours with a couple of stops in between. Once there, we are taken on a short tour of the pools of Hamamat Ma'in where locals and tourists come to bask in the naturally hot, therapeutic spring water. Then we head of to the Sofitel hotel, which is nestled softly in a small valley overlooking the famous Ma'in waterfalls, a God-sent wealth of natural healing. (The springs are known to cure diseases from Rheumatism to fibromyalga.) The sight of the waterfalls is breathtaking, a group of tourists sit on a bench under one of the waterfalls. I can't wait to get under the falls myself. Maha suggests we keep the waterfalls till the evening because again some group members are tired and need a rest. I simply cannot rest. How can you sleep while on such an adventure? I need to savour every minute of it. There isn't much to do in Ma'in but the waterfalls, I discover a spa on the eighth floor of the hotel and one of the girls and I treat ourselves to a heavenly sea salt almond oil massage.

Later that evening as I sit on the bench beneath the hot water falls, all memories of the earlier massage are completely erased. Nothing can compare to this natural massage. The waterfalls drench my body and soul leaving me completely relaxed. Later that night in my hotel room, I sleep like a baby.

Talk about adventures!
A rockslide and torrential rains!

Day four: . We wake up and it is raining. My first disappointment. Today we are supposed to be off to the Dead Sea, and I am looking forward to a relaxing day of sun and beach. As we have our breakfast in the restaurant overlooking the waterfalls, the storm gets worse and the waterfalls turn brown in colour as they rage down before hitting the rocks below. I must admit, the view is spectacular no matter how eerie it feels. But suddenly waiters start going back and forth obviously conveying information to one another. Sensing that something is going on, we ask our waiter Saeed, who explains that this is the first time something like this has happened since 1996, and that hotel employees are not able to reach the hotel, because the roads have been blocked by falling rocks. Of course this means that we will not be moving from Ma'in until the storm clears up and the roads are clear. "It might not be till late in the evening," the hotel manager later informs us. For a short while I am excited at the turn of events, but after a few hours it gets gloomy and boring, so I head back to the spa for a relaxing mud facial. Luckily by 2pm we are informed that we can leave.

The Dead Sea
Standing on biblical territory

We are off to the Dead Sea. The lowest spot on earth, 410 metres below sea level. Despite the name Dead Sea, the place is alive with tourists, hotels, sport centres and therapeutic clinics. This sounds ironic, but the high salt content in the water that prevents all living things from surviving, helps cure a multitude of skin illnesses and diseases that nothing else can cure. People with acne problems, and serious fungus ailments come here searching for a natural cure. In ancient times, the Jordan valley was one of the most fertile places in the Middle East and some of the world's oldest civilisations sprang from its soil. It is believed to be the site of five biblical cities Sodom, Gomorrah, Admah, Zebouin and Zoar providing the place with its own historical legacy. Today its eastern shore is one of the most spectacular natural and spiritual landscapes in the world and much of the landscape is virtually unchanged since ancient times.

We reach the newly opened Movenpick hotel. This is a paradise in itself, combining the whole spirit of Jordan where ancient meets modern. Built in a close-to-nature low profile manner with guest rooms in two storey traditional stone and plaster constructions, the hotel stretches over a large area of green landscape offering five-star hotel services.

It is already 4pm and we have no time to lose. As soon as we are assigned our rooms, we change into bathing suits and rush to the seashore. There we smother ourselves with the mineral rich black mud known to nourish the skin and after drying it in the diffused rays of the Jordanian sun, we take a dip in the sea to wash it off. No matter how many times you might have heard about the buoyant water of the Dead Sea, nothing can prepare you for the actual exhilarating experience. You could literally lie down and enjoy reading a book as you float away. After I freshen up, I head to the village terrace where I meet with the group and we enjoy live Arabic music and a belly dancer. The air is cool, the music fresh and lively.

Day five: We are leaving today. And I wake up with that mixed feeling that the end of a vacation usually brings forth. I cannot wait to go back home to see my husband and boys, but at the same time, I regret that there isn't more time to see all the places I haven't been able to visit. Before we head back to Amman, we rush over to take advantage of what the Sanctuary Zara Spa located within the surroundings of our hotel has to offer. And after an aromatherapy facial, and a dip in the large sea view whirlpool, I am ready to start on my journey back home. We head back to Amman, but have the whole day ahead of us so we have a mezza lunch at Fakher Al Dinne restaurant and have enough time to do a little shopping in downtown Amman. I buy loads of Zaatar (Jordanian thyme), which turns out to be the best I've ever tasted. Later that afternoon, we say good-bye to Maha. I know that I will be back - and soon.

Other places of interest

Aqaba: Known to be Jordan's window to the sea, Aqaba is about a four hour drive from Amman along the Desert Highway. With its heavenly setting and clement winter weather, it is Jordan's year round vacation retreat. Divers from all over the world come here to have a glimpse of its prosperous underwater marine life and bask in its crystal clear waters. Aqaba brings a refreshing release from the rose coloured desert to the north. The several first-rate hotels, the aquarium and museum, make it a perfect vacation retreat.

Wadi Rum: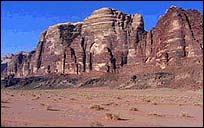 Commended by many as being one of the most stunning deserts in the world, Wadi Rum is the place for nature lovers. The area is speckled with mesmerising sandstone mountains decorated with an assortment of colours. Mountaineers delight in its challenging climbs while casual hikers enjoy the peace and tranquility of its vistas, soaring rock faces and endless empty spaces. The best time to visit is in spring when soft rains bring forth green hills and blooming wild flowers.

Explore Wadi Rum in a four-by-four vehicle or camel caravans, or if you are more adventurous, experience Wadi Rum's grandeur by hiking on foot and camping.

Travel Essentials

Getting there: Royal Jordanian Airlines have direct flights from Jeddah and Dubai to Amman daily.

Visas: GCC nationals can obtain a visa on arrival in Amman or from the Jordanian embassy before departure.

Accommodation: The Movenpick Hotel is one of the newest resorts on the dead sea and includes the fabulous Sanctuary Zara Spa.

For reservations contact tel: +9625-3561111 or fax: +9625-3561122. Source: Arabian Woman


Safar Majlis is for travel buffs. Share your wanderlust with us! Send in your travelogues!

Note: Your travelogue should be accompanied by at least 1-3 photographs of the place you've visited.


Photographs can be scanned and sent as an attachment.Click here


If you'd rather send your photographs by snail-mail, send it to:
Insites Content Developer
SIMA International,
P.O. Box 32695,
Dubai, U.A.E.
---
Please Note : GoDubai reserves the right to edit, amend your works and present them on the website in any manner we deem fit.