Now & Then - The Emirates
About the Author

Yorkshire-born John Nowell completed his first wing over at the age of fourteen as a member of the Air Training Corps, in a De Havilland Chipmunk. He decided then and there that flying was to be his career.

After leaving school, he joined the Royal Air Force but was too late to achieve his ambition of flying Sunderland flying boats. He did serve on some of the great flying boat squadrons, number 206, 205 and 230, where in addition to his flying duties he was responsible for the squadron records, including the photo album and the RAF Form 540s - the monthly operational record of the squadron.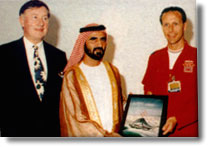 HH General Sheikh Mohammed Bin
Rashid Al Maktoum, UAE Defence Minister
and Crown Prince of Dubai, receives a
framed print showing RAF's Red Arrows
in their formation flypast at Jumeirah Beach
Hotel from John Nowell and "Red 1"
Sqn Ldr Simon Meade.
The Story of the cover shot
It was here that John first saw the amazing records of the exploration flights, made in the 1930s, by the flying boat crews who crossed half the world to Australia and the Far East. The original photographs taken by the RAF aircrews of the coast of what was to become the United Arab Emirates were the seeds that became this book.
John was made a licenciate of The Royal Photographic Society in 1990 on the basis of the photographs in his first book, A Day Above Oman. His photographic interest in history and archaeology was also instrumental in the location of four-thousand-year-old tombs on a remote plateau in Oman. His second book, A Day Above The Emirates, was the culmination of work undertaken since he moved to Dubai. He is working on further books in the A Day Above and Now & Then series.
Now & Then, The Emirates
Presentation photography book on the UAE
At Dhs. 135/-, this historical book complete with rare, never-before-seen photographs, makes for an ideal corporate gift and souvenir. Special volume discounts are also available.
Order your copy now!