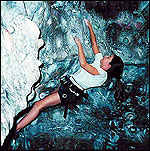 As you're more than likely climbing the walls anyway due to the mindlessly long summer months, why not get stuck into some real climbing and discover a whole new lifestyle.

Having done a little climbing myself over the last few years I can personally attest to the fact that it's the most all-engrossing activity that I have ever attempted.

When climbing, with your whole body up against the rock face, all you can smell, taste and feel is the rock. The minute variations in texture, the dry shell of a gecko that hatched months ago, the deep rich breaths of sun-baked rock. Your eyes are scanning the wall for the next possible hand and foot holds.

One thing is for sure, that while you are out climbing, nothing, and I mean nothing, exists outside planning, feeling for and executing your next move.

Climbing has gained much popularity the world over in recent years and the scene in Dubai is no different. The earliest recorded climbs in the UAE date from the late 1970s in the Al Ain-Buraimi area. Since this time, there has always been a small group of climbers in existence, pioneering new routes and expanding the climbing areas in the emirates.

With the opening of the Climbing Wall in the gym at the Wafi Pyramids a few years ago, suddenly a sport that seemed inaccessible and prohibitively risky to the average person has become quite easily attainable. As an experienced climber, it's also the place to meet and get together with other climbers in the country.

There are even rumours of another climbing wall to open along Sheikh Zayed Road at the new Carrefour Centre soon to be under construction. It's great to have facilities like these, making training possible no matter what the weather.

WHAT'S IT ALL ABOUT?
It's worth pointing out that there are two main styles of rock climbing, notably Traditional climbing and Sport climbing. Trad climbing was the style used for all rock climbing initially and it probably came into existence as a sport around the 1860s.

Using this technique, the climber follows a natural crack (or 'line' as it is called) in the rock, which he uses for placement of the safety equipment as he ascends. The safety equipment is an array of nuts and camming devices known as 'friends'. The idea is that the climber places the appropriately chosen gear in the crack line at fairly regular intervals, which is a finely honed skill in itself.

Once a piece of gear is well placed, a carribiner is then clipped into the protection and finally the rope (which is attached to the climber's harness) is clipped into the free end of the carribiner. The whole idea is that if the climber should fall, the rope clipped into the safety gear should save him from any serious injury. The climber will end up dangling in his harness and can then get back onto the rock and continue climbing.

On the other hand, Sport climbing is a newer technique, where instead of following a natural crack line, the climber clips the carribiner into bolts that have been pre-drilled into the rock at regular intervals. The advantages with this style are that on a fall, the bolts are generally that much more secure than traditional protection and also, it is possible to climb more daring routes, free from the dictates of having to follow any natural line.

It is exactly these advantages however, which give many serious climbers the opinion that Sport climbing is cheating in a way and that the skills involved in being a Trad climber are far more diverse, demanding optimum knowledge of the rock. Ranting purists is what I say!

IS IT SAFE?
Twelve year-old Janey and nine year-old Lucy both climb. They have been climbing for two years now and are passionate about it. Six weeks ago their mum, Gill Kennedy, decided that in keeping with a New Year's resolution to 'get stuck in and try some new things' she was going to learn how to climb (no doubt with a little encouragement from the girls).

Chatting about her very recent experience Gill says that her biggest worry was obviously that of the looming safety issues. "But once I understood how the equipment functioned there were no more worries. Safety was important to me, particularly from the point of view of knowing whether my
children were adequately protected."

Climbing is like absolutely no other activity. It is a remarkable mix; full of very personal challenges and victories, it is highly individualistic, but at the same time you cannot climb alone. You need a partner to belay you and keep an eye on your general safety and well being.

When climbing outdoors your life could well depend on the attentiveness of your belay partner, so the bond is a very special one.

Gill has seen a remarkable boost in confidence levels in Janey and Lucy. It is a confidence born not only from their individual climbing performances, but also from being responsible for watching out for the safety of a partner and the trust involved.

Gill also finds that climbing is an excellent leveler. "Regardless of age and degree of experience, you are constantly learning things from one another." This is why she feels that climbing is also such a successful tool as a team building exercise.

HOW FIT DO I NEED TO BE?
Obviously it helps if you have a certain level of fitness when attempting any physically challenging activity. Climbing is no different, except, contrary to what one may think it is an activity where you can slowly build up your level of fitness as you go. The exertion is very readily controllable, so you can pace yourself within your comfort zone.

Gill has a very good level of fitness as she runs and works out a few times a week at the gym, so she has not found the climbing to be overly strenuous at all yet.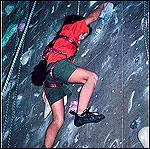 Climbing as a novice is not what you would imagine, in the way that you are never committed to pushing past a point of no return. Basically, as soon as you have had enough, you can ask your partner to lower you off the route and within a matter of seconds your feet are once again firmly back on solid ground.

"What I probably enjoy most is that there is absolutely no pressure," says Gill. "It is you against yourself and you can do as much or as little as you want to. It's like a gym work-out, only fun!"

But it's not only physical fitness, as Gill has
discovered: "I find it totally absorbing. Head-strength is as important as physical strength as you push yourself to ever greater heights."

GETTING STARTED
Understanding the general trepidation of first-time climbers, the system at the Pyramid's climbing wall is very user-friendly.

Every Wednesday at 7.00pm an Adult/Child Trial Class is held. You need to phone and book this ahead of time as it can get fully booked weeks in advance. This is a one-hour initiation giving you a good idea as to the basics of climbing. It is also an excellent opportunity to see how your mind and body react to moving on the vertical plane.

Based on this reaction, you are then free to enroll yourself in the Introductory Course, which is typically three two-hour sessions with the option of adding extra sessions should you need them.

It is only once Pete or Abi, the instructors, are completely satisfied that you are familiar with the basic techniques and safety procedures, that you are then given a climbing card.

This card enables you to attend the open Public Sessions, where you are free to climb whichever routes you choose with your climbing partner.

The course costs Dhs40 per session and there is a Dhs35 charge for entrance to the Public Sessions thereafter. The minimum age for starting at the climbing wall is six years and there is no maximum age, so the sky's the limit.

WHAT WILL I NEED?
As far as equipment goes, you can get away with not having anything at all to start with. All you need is a well fitting pair of running shoes, or any rubber-soled shoe for that matter.

Once you have ascertained that climbing is something you would like to do fairly regularly, there are just a few essentials that you will need to get yourself set up. The 'musts' are a climbing harness, climbing boots, a chalk bag and a belay device. These will cost you about Dhs600-700 to acquire.

There is a small shop at the Wall that is kept stocked with most of what you will need. Otherwise you can check out some of the excellent websites mentioned below for various gadgets and trendy bits of equipment.

It is not wise to buy either your climbing boots or harness without having tried them on first (i.e. over the web). Different brands have very different fits and you will need to find out what suits you best. The comfort of the fit is obviously all-important Đ your life may depend upon it.

If you happen to be going away on holiday it is an ideal time to pop into a climbing shop and pick up all your bits and pieces.

Now, as great as the Climbing Wall is with regards to accessibility and training possibilities, the real buzz about climbing is definitely all about getting out there into the mountains. When you're outside beneath the sky rather than in a box with a roof, surrounded by horizons instead of windows and sunshine instead of fluorescent lighting - you learn very different things.

Climbing wall - Wafi Pyramids, tel 04-3240000
A few websites to get you started:
www.needlesports.com
www.snowandrock.com
www.rockandice.com