Snakes and their stories have always been shrouded in mystery. Exotic and fascinating, they arouse awe and fear in us. The unique exhibition of snakes and reptiles at the Dubai Zoo, which was inaugurated on Friday, May 5th, promises to reveal intriguing facts about this slimy, slick species. Visit the parks in Dubai.

Fifty reptiles are on show which will run till Friday 12th of the same month. "Out of the 50 reptiles, 25 are snakes and the rest are lizards, skinks, agama and turtles," said Dr. Reza Khan, head of the Zoo Section at Dubai Municipality. Read more about Dr. khan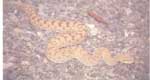 A total of 19 snakes seen in the UAE are exhibited for the show and 10 among them are deadly poisonous, like horned sand viper, false horned viper, saw-scaled viper, carpet viper, reef sea snake, Arabian sea snake, banded sea snake, hook-nosed sea snake, yellow-bellied sea snake and Shaw's sea snake. Diadem snake and Arabian reefer-fang are mildly poisonous while thread snake, blind snake, sand boa, rat snake, wadi racer, leaf-nosed snake and hissing sand snake are harmless.

A four-metre-long python weighing 40kg from the Indian sub-continent is among the biggest attractions at the show. Khan said that there are no large snakes in the UAE with the longest being the two metres long hissing sand snake, which is seen in the desert with little vegetation. There is a reticulated python, which can grow up to more than 10 metres.

Dubai Zoo, the oldest in the Arabian peninsula houses nearly two hundred species of mammals, birds, reptiles and fish. Ideally located in the lush green suburb of Jumeirah, Dubai Zoo is an ideal leisure spot for both adults and children. Any doubts where to go outing this weekend?