A cruise on 'Danat Dubai', the Australian built and operated 'new pearl of Dubai is a unique experience. It is a treat to view Dubai from the aquamarine creek, explore the fathomless depth and the soft surroundings of the Australian vessel. Explore Dubai

'Danat Dubai' a luxurious 34-metre cruising catamaran, built to international standards offers fully air-conditioned comfort for day and evening cruises. It's three decks are packed with cruising, dining, meeting and entertainment facilities. Licensed to carry up to 300 passengers, Danat Dubai has a lower deck seating up to 110 people. The dance floor, DJ and karaoke facilities, audio and visual monitors and a large screen projection... all promise much fun and frolic.

After a refreshing drink at the elegant bar, you can warm yourself with the tangy flavour of kababs as the gentle breeze slowly chills you. The succulent pieces of both chicken tikkas and lamb chops with those home-made Indian spices, are indeed a treat for the hungry stomachs! Visit Bilhana to order your food online.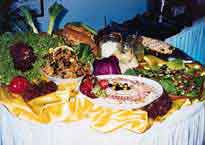 Finally before proceeding for dinner, you can climb up to the sun deck, which offers a breathtaking view. It is ideal for that photo opportunity, for that pre and post dinner entertainment or simply for a quite moment to reflect and enjoy.

The international buffet and the aroma of delicious delicacies are not only inviting, but also appealing and tempting too. The main course consists of a combination of vegetarian and non-vegetarian dishes. Chicken Szechwan, marinated grilled lamb chops and grilled hammour with lemon butter sauce will tantalize the softer taste buds, while the Indian Spicy Mutton Curry and Beef Stroganoff, cooked with demy-glaze mushroom and cream provide a feast to the grating and hoarse meat eaters.

What about the veggies? The assorted saut'ed vegetables, roasted grilled potatoes seasoned with nutmeg, salt and pepper, and the selection of Dal and pulses are their to pamper your palate.

By the time dinner gets over, you can enjoy a generous spread of fruits and pies to cakes and cheese. So that was 'Danat Dubai'... a relaxing cruise in the sparkling blue waters of the Arabian Gulf, admiring Dubai's splendid coastline, the sumptuous three-course dinner, the warm and comfortable atmosphere, the friendly and solicitude service - on the whole, the perfect ambience for a weekend.

Click here to Book your dinner Cruise