By Lorna Hogg

The word 'Princess' still conjures up pictures of privilege, status and unlimited wealth. However, as with so much in life, the lifestyle of today's princesses has changed - modern times have created modern princesses.

In these democratic times you don't even have to be born royal to become a princess. A couple of decades ago, their life opportunities were assured and cushioned by birth and resources. Today's princesses have lives which are as much about challenge (often self-imposed) as privilege.

We expect a lot from our princesses these days. We want them to be intelligent, mature, discreet, travelled, well-educated, good at sports and good communicators. We expect them to have or have had careers. We want them to have excellent media skills, and to perfectly balance formal status with approachable style. We want them to run a charity and get fully involved with charitable interests and to be much more than well-dressed figureheads.

The beautiful fairytale princess remains an ideal - and the eagle eyes of camera lenses are a constant reminder to all of how we expect princesses to have model girl style, but girl-next-door lifestyle. Above all, today's princesses are role models, for style, interests and achievements. Among other things, we also expect them to create their own roles - and live up to them.

Princess Haya Al Bint Hussein of Jordan
Age: 27
Born: Amman, Jordan
Status: Daughter of deceased King Hussein and Queen Alia of Jordan, and half-sister to the present King Abdullah of Jordan
Love and Marriage: Single
Education: Primary education in Jordan, and secondary education at Badminton and Bryanston Schools in England. The Princess has fifteen GCSE qualifications, and five English 'A' levels. In 1995 she graduated from St Hilda's College, Oxford, with an Honours Degree in Politics, Philosophy and Economics. She speaks Arabic, French, English, Spanish, German, Italian and Russian, and understands Arabic and English sign language.

Home: Currently residing in Paris, where she trains as an equestrian. However, the Princess's home remains Amman, Jordan

Personality: Warm, friendly, informal, with impeccable manners. Her mother died in a helicopter crash when the Princess was only three, and she fondly spoke of the part Queen Noor played in creating a warm family life during her childhood

Style: In Europe, informal and sporty due to her chosen career, but when on official duties or attending evening social events can look every inch the traditional Princess

Interests: Wide ranging. Main interests range from television and journalism, to Soviet and Middle Eastern Politics. She is concerned about environmental issues, and enjoys photography. A sporty princess, she enjoys skiing, tennis, squash, basketball, swimming and sailing. She is a certified HAM Radio operator and has a license to drive heavy vehicles and articulated lorries.

Princess Haya is a member of various Jordanian and International organisations. These range from membership of the Asian Olympic Athletes' Committee and the Military Equestrian Committee, to various Presidencies. She is the President and Founder of the International Jordanian Athletes Cultural Association, President of The Queen Alia Foundation for Hearing and Speech impaired, President of the Alumni Club of Jordan University of Science and Technology, President of the Haya Arts and Cultural Society for Child Development and President of Jordan's Anti-Smoking Society.

The Princess once claimed in an interview that being involved in sports is a way to have the best life, and it remains her main interest. She has been decorated by her late father for athletic achievements. In her chosen sport, equestrianism, the Princess is an accomplished show jumper. She started out in dressage and show ponies, and since the age of 13, she has competed in the Asian region at an international level.

In 1988, she was Jordanian National Champion. She has since competed all over the world, and in 1994 was voted Athlete of the Year by the Jordanian public, and also in that year won the BBC Arab Athlete of the Year Award. She has trained in Ireland in flat racing and show-jumping, and gained experience in the European showjumping circuit in Germany.

The Princess carried the Jordanian flag at the opening ceremony of the Sydney Olympics, which took place shortly after the death of her father, King Hussein. Now established and training in France for over a year, Princess Haya has said that she has found a balance in her professional and sports life, while remaining close to her family in Jordan, whom she regularly visits.

Those visits allow her to dedicate time to her numerous Foundations, and improvement of their functioning remains a top priority for her. In her sporting life, the Princess qualified last summer, 'with the faithful rock'n'roll' to participate in the 2002 World Cup in Showjumping, in Spain. Until recently, Princess Haya trained with Alice Debany-Clero. However, she recently decided to train alone while seeking the advice of top riders, and was busy preparing for the international competitions, which were held in January, 2002.

Princess Alexandra of Denmark
Age: 37
Born: Hong Kong
Status: Princess of the Danish Royal House
Love and Marriage: Married to Prince Joachim, younger son of Queen Margrethe and Prince Henrik of Denmark, since 1995. Mother to one son, Prince Nikolai, aged two years
Education: Schools all over the world

Home: Schackenborg Castle in Jutland, Denmark, and an apartment at the Amalienborg Palace in Copenhagen

Personality: Sophisticated, warm, approachable yet dignified. Her father, Richard Manley, is a successful Hong Kong businessman, and her mother is Austrian. Highly intelligent, the Princess speaks German, school French and a little Japanese.

Style: Dark, Anglo-Eurasian looks, with a petite figure. Has a preference for bright, clear colours worn in 'modern classical' styles and loves hats. She has been spotted wearing Chanel, despite claiming that she doesn't always know what's in fashion.

Interests: Wide ranging, including Danish business interests abroad and charity work. She went with the Red Cross on a humanitarian mission to Vietnam. Learned to speak Danish in the six weeks prior to her wedding.

Career: Worked as Deputy Head of Marketing for GT Management, an investment firm in Hong Kong. Gave up her career on marriage. Has represented Denmark abroad with Prince Joachim and by herself at Helsinki. Princes Alexandra has claimed that she would love to represent Denmark abroad, and to become involved with more charities.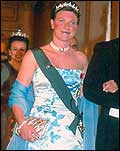 Princess Martha Louise of Norway
Age: 30
Born: Oslo
Status: Only daughter of King Harald and Queen Sonja of Norway
Love and Marriage: Single, and has been noted for her controversial relationships. She was involved with English show-jumper Philip Morris at one point, and more recently embarked on another relationship with New Zealand rider Bruce Goodwin, who represented his country at the Sydney Olympics. She is now dating Norwegian author Ari Behn.
Education: State schools and Kristelig Gymnasium, Oslo. In 1990 she moved to England to develop her riding skills and to study English at Oxford University.
Home: Oslo

Personality: Informal and sporty, and has recently developed much better relations with the press, with whom she could be forthright.

Style: Enyoys sporty and relaxed clothes but with a stylish and individual look, influenced by Oslo designer Wenche Lyche. Wore a striking old rose beaded gown to her brother's pre-wedding festivities. For the wedding, she wore a bronze skirted full length gown, with pink corseted bodice, appliqued with hearts and the word Love.

Interests: Sport - the Princess has achieved international success as a show-jumper. She is also a flautist, and has sung in two choirs. A major interest, however, is her role as Goodwill Ambassador for the High Commission for Refugees of the United Nations. She has also visited South East Asia on behalf of Norwegian charities, to see the plight of homeless children. On a lighter note, Princess Martha Louise narrated a children's fairy-tale for a Christmas television programme.

Career: A qualified physiotherapist, she has lived and practised in the Netherlands.

Crown Princess Mette Marit of Norway
Age: 28
Born: Kristiansand, Southern Norway
Status: Crown Princess of Norway, since her marriage in August, 2001
Love and Marriage: Met the Crown Prince through mutual friends in 1996. A single mother to Marius (now aged four) and ex-party girl, the romance was controversial when it was revealed three years later. The couple started to live together in September 2000, and became engaged in January 2001.
Education: Local school at Kristiansand, and she studied social anthropology at the University of Oslo. She has said that for the past few months, however, she has attended 'princess school'.

Home: The Norwegian royal residence of Skagaum, when renovations to their living accommodation are completed.

Personality: According to her new husband's wedding speech, she is sensitive, easy to please, detail oriented, committed, highly stung, courageous and inscrutable, with a good sense of humour and a warm heart.

Style: Has developed her own style of modern classical, for formal wear. After shopping trips in New York and Paris, has been seen in Dolce and Gabbana, Paul Smith and Miu Miu. Also wears gowns from Ove Harder Finseth, who designed her minimalist wedding gown. Crown Princess Mette Marit was involved in the design of her unusual wedding bouquet, worn on the hand like a muff, and created around wire and beads.

Interests: As a student, she was interested in music, including techno-rock and house. However, at a pre-wedding press conference, she admitted to her party girl past, and all its associations, and said that she was committed to her new role. She hopes to restart her studies at University, and to eventually work with children. At a recent press conference, she added that she looks forward to having more children.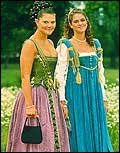 Crown Princess Victoria of Sweden
Age: 24
Born: Stockholm
Status: Crown Princess, and future Queen of Sweden
Love and Marriage: Single. Recently split with her first serious boyfriend, Daniel Collert, whom she first met in 1993
Education: Swedish State school systems and upper level studies at Enskilda Gymnasiet in Stockholm. Learned French at L'Universite Catholique de Louest in France. In 1998, she started study at Yale University in the States, and chose French, Art History and International Relations.

Home: Drottningholm Palace, Stockholm, where she recently established her own residence, alongside the main Palace block.

Personality: Bubbly, informal and sporty. She is also serious about her future role - some say that her problems with anorexia in 1997 were partly stress related.

Style: The Princess has recently chosen more classical styles for official duties. Swedish designer Lars Wallin has designed some of her dresses. Her evening wear is invariably glamorous, and shows her taste for bright, jewel colours. She has been seen recently in jewellery by Efva Attling, who designed a striking cross necklace.

Interests: Sports, including riding and skiing. The Princess also enjoys art and painting. As a student, she gained some work experience on the Swedish Royal Collections, and at the Collections of National Antiquities

Career: In training for her future role, the Princess has worked for a 'stage' at the United Nations. She now carries out official duties, and earlier this year visited Jordan, (where she went to some refugee camps), and more recently, Japan and California. She will soon start on another period of observation of government work.

Princess Madeleine of Sweden
Age: 19
Born: Stockholm
Status: Younger daughter of King Carl XVI Gustaf and Queen Silvia of Sweden
Love and Marriage: Single
Education: Local schools, and the Enskilda Gymnasiet, from which she just received her 'baccalaureat'. Currently studying English in London
Home: Drottningholm Palace, Stockholm

Personality: Charming, social and sympathetic

Style: Often to be seen in casual, sporty clothes, but loves fashion and shopping. One of the most beautiful of the young Euro-princesses, she invariably looks glamorous, whether sun bathing at the family residence in St Tropez, or in official ball-gowns.

Interests: Riding, which she started when aged four. Now a skilled rider, she participated in equestrian events when school-work allowed. Princess Madeleine enjoys skiing and water sports - she has made many trips to the family villa on the Cote-d'Azur. Thanks to a relaxed family relationship with the Press, the Princess has enjoyed a relatively normal life with her friends, with whom she is often seen in fashionable Stockholm cafes and restaurants. The Princess is also reported to be interested in architecture and interior design.

Crown Princess Mathilde of Belgium
Age: 28
Born: Belgium, of Flamand and Walloon extraction
Status: Crown Princess, Duchess of Brabant and future Queen of Belgium, since her marriage to Crown Prince Philippe in 1999. She is mother to Princess Elisabeth, born in October 2001
Love and Marriage: Met Prince Philippe in 1996, through mutual friends, and has remained discreet about the courtship
Education: Attended L'Institut de la Vierge Fidele de Shaerbeek, where she studied modern languages. She speaks French, English, Dutch and Italian. The princess then studied speech therapy and took a degree in psychology
Home: The Royal Palace at Laeken

Personality: Noted for her warmth and informal attitude

Style: She has been compared to model Claudia Schiffer in looks. She prefers modern classics, and her style has won her public interest - she has been hailed as Belgium's Princess of Wales because of her youth, beauty and love of children and the vulnerable.

Interests: Sport and travel. The Princess visited South America, Nepal and China before her marriage, and also accompanied sick children to Chile with the Order of Malta.

Career: The Princess had her own speech therapy clinic in Brussels before her marriage. However, she now carries out royal duties and has accompanied Prince Philippe to China, New York, London, Japan, Thailand and Paris on official visits.

Crown Princess Pavlos, Marie Chantal of Greece
Age: 33
Born: London
Status: Crown Princess of Greece, following her marriage to Crown Prince Pavlos, in 1995. She is the mother of Maria Olympia, aged five, Constantin, aged three and Achilles, aged one year.
Education: Hong Kong, France and Switzerland. She studied Liberal Arts at Sarah Lawrence College, and Art History at New York University. She is fluent in French, and speaks Italian.

Home: New York City, and a country estate in North East Connecticut.

Personality: Sophisticated and charming. Princess Marie Chantal, the daughter of Robert Miller, who made his fortune in 'duty free' shops, grew up in homes around the world - including New York, Gstaad, Hong Kong and London.

Style: Has been named in New York society 'Best Dressed' lists, and featured in People Magazine's list of the world's most Beautiful People. Favourite designer names include Armani, Valentino, Oscar de la Renta and Chanel.

Interests: The Arts - she has studied art history, is an accomplished skier, and also enjoys riding and sailing. Princess Marie Chantal is an established hostess and enthusiastic cook. Recently, she has become involved with her own line of baby clothes, which retail in the United States.

Courtesy: Arabian Woman